BusinessCom offers the complete range of iDirect VSAT products and services including broadband satellite Internet access solutions, WAN networks, VNO and private networks based on Star and Mesh topologies.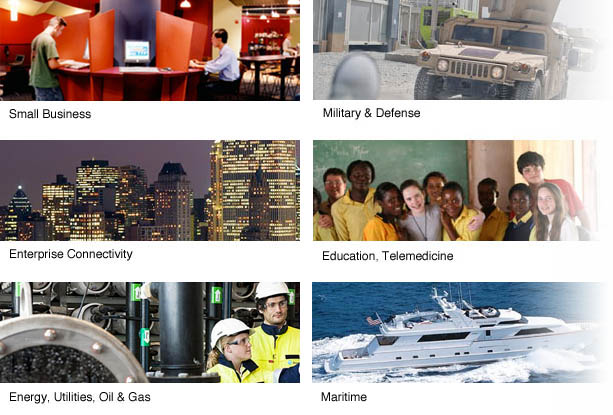 Leading VSAT platform
In 2003, iDirect Technologies was listed as one of the fastest growing companies in America. Since the introduction of the VSAT iDirect Modem, this pure IP-over-the-air platform started to gain popularity rapidly as the standard for high performance TDMA VSAT installations with mixed data, voice and video environments. NetModem-II has also been the very first platform to implement Turbo Product Code (TPC) FEC algorithm on both out-route and in-route, providing 41% power savings when compared to RSV-based platforms. The introduction of the innovative iDirect Infiniti series platform in October 2004 further strengthened iDirect Technologies' position in the satellite industry.
The iDirect VSAT system is a simple, one-box solution with the VSAT modem, IP router, TCP acceleration, optimization and encryption — all in a single, reliable package. iDirect's VSAT modem fully supports application QoS, providing guaranteed bandwidth availability for mission-critical applications and allowing the support of toll quality voice over IP and video conferencing applications concurrently with the broadband internet access. BusinessCom leverages this feature and provides fully customized QoS profiles per each iDirect VSAT installation, delivering highly efficient custom tailored communication solutions for every customer. During the phases of maintenance and installation, VSAT iDirect platform features GUI-based iSite software that greatly simplifies these processes and allows the system administrator to configure and observe remotes on both RF and IP levels.
The iDirect VSAT network system is probably the most efficient TDMA communications system in the market. This is because bandwidth efficiencies are built in on both satellite and IP communications levels. Increased efficiency of the iDirect VSAT means lower costs of operation and faster, more reliable services for the end customers. You can read more about iDirect VSAT technology at the BusinessCom iDirect VSAT Technology section.

iDirect Evolution 8000 Series Satellite Router
BusinessCom iDirect-enabled services based on the Evolution 8000 series routers provide highly secure IP over satellite connectivity with the support of Star, Mesh and Point-to-Point topologies. The 8000 series features DVB-S2/ACM technology and FIPS140-2 certified TRANSEC with 256-bit AES encryption.
Service Availability:
Africa, Europe, Middle East, Americas, Asia