Land Fixed Services, Land COTM and Maritime
Jun 10, 2023
OneWeb is the first real competition for Starlink in the LEO (Low Earth Orbit) market. We have followed OneWeb in the BusinessCom blog for several years, and now that the service is available, we are adding a BusinessCom-enhanced service to our portfolio. A recent article discussed the merger with BusinessCom Networks' long-time partner Eutelsat. OneWeb and Eutelsat Announce Merger. We plan to leverage the synergies that come with the partnership between Eutelsat's high-powered GEO satellites, and OneWeb's LEO satellites, to provide enterprise class services to our clients. This is an overview of the basic OneWeb constellation and the enhanced services we are offering.

OneWeb is headquartered in London and has offices in Virginia, as well as a joint venture with Airbus Defence and Space to manufacture satellites in Florida. The company underwent some severe financial challenges, but pulled out of them, and began deploying satellites in February 2019. Following a delay to incorporate some modifications, the company began deploying satellites in earnest in 2021, reaching 218 satellites, about one third of the final total. Russia was launching OneWeb's satellites, but following Russia's invasion of Ukraine, a scheduled launch of 36 satellites was canceled due to disagreements between the UK and Russia. $50 million worth of OneWeb satellites has not been returned by Russia thus far.
OneWeb switched launches of the remaining satellites to SpaceX and the 18th launch in late March brought the total up to 618 satellites, with 588 required for global coverage. One more launch should bring the total to the expected 648 satellites, adding additional spares. At the same time OneWeb has been building out SNPs or Satellite Network Portals (Ground Stations) to land traffic and then hand it off to a OneWeb POP where it can be terminated in the internet, Customer Clouds or content providers such as Amazon AWS and Azure. By Q3 of this year (2023), OneWeb should have about 21 SNPs and 21 POPs. Coverage has is being extended from 50 degrees latitude to 35 degrees latitude in any region with coverage and a SNP. By Q3 this will be extended to at least 25 degrees, and in Q4 there should be full global coverage. By Q3 2023 the system will provide about 500 Gbps of capacity. During Q4 of 2023 the constellation will be completed and activated with 42 SNPs and 29 POPs. Capacity will be around 1.1 Tbps and service will be available globally if there is an SNP in the region.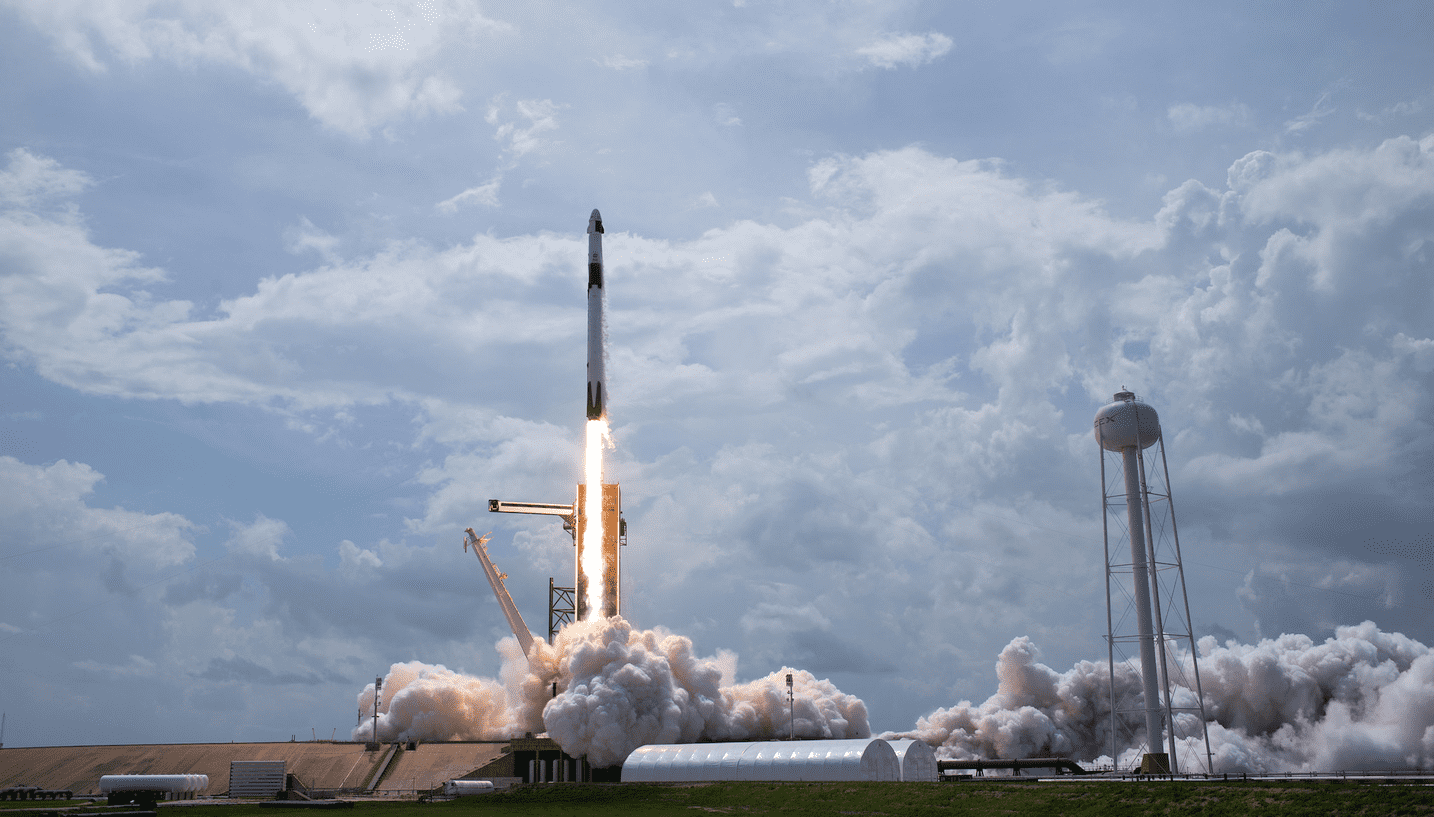 SpaceX Rocket Launch. Credit: NASA
OneWeb Constellation
Because the OneWeb orbit is higher than Starlink the constellation can cover the Earth with 588 satellites, instead of thousands, which Starlink must use because of their lower orbit. Like a flashlight beam that expands as you raise the flashlight, each OneWeb satellite provides a larger footprint than the Starlink satellites so fewer satellites and SNPs are required. However, because OneWeb is in a higher orbit (about 1200 km compared with Starlink at about 550 km), they must have mitigation plans to bring the satellites down at the end of their life or due to a problem. Because they are so low, Starlink satellites are coming in anyway, in about 5 – 7 years, so they don't require mitigation techniques, but they will be constantly replenishing the constellation as the first ones launched burn up in the atmosphere one by one. OneWeb satellites will contain enough fuel to actively deorbit satellites at end-of-life, which is expected to be longer than Starlink satellites. They are also equipped with an Altius Dog Tag magnetic grappling fixture so another spacecraft can grab them and change the orbit. While today no such commercial services exist, they are being planned and developed.
BusinessCom OneWeb Services
BusinessCom Networks' OneWeb Service is designed to provide enterprise-grade, low-latency satellite connectivity for businesses and similar enterprises. The fiber optic-like service delivers sub-150 ms RTT (Round Trip Time) anywhere in the world. Lower latencies result in support for higher speeds, not to mention typical latency-sensitive applications like VoIP, video conferencing, and IPSec VPNs. New applications such as VR/AR or Virtual Reality and Augmented Reality require lower latency. VR requires headsets; AR experiences don't necessarily need them. VR creates environments and modifies the real-world, while AR enhances real and virtual worlds. AR applications such as remote surgery or remote control with haptic feedback (touch feedback), require low latency for optimum performance. There are other latency sensitive applications such as real-time drilling telemetry streams, and or course, for the boss's kids using the service after hours, interactive video games often do not perform well on GEO satellites!
The service is provided on high-power Ku-band OneWeb satellite beams using CDMA (Code-division multiple access) technology delivering industry leading network uptime in all weather conditions. These links have higher average link margins as compared with traditional Ka-band GEO links. Adaptive coding and modulation (ACM) is used on the upload and download, unlike GEO services which typically have this on the download only. ACM provides significantly better reliability during adverse weather conditions, enabling the BusinessCom OneWeb service to remain connected at full bandwidth, while other links experience rain fade outages.
MSO and Sentinel PF™
Not all LEO services are created the same, or equal. As with our GEO services, bandwidth management and optimization are integral parts of our BusinessCom OneWeb service. Multi-Service Optimization (MSO) is a policy-based combination of bandwidth management and optimization policies implemented on IP layers from 3 to 7. A set of technologies ranging from traditional class-based shaping to DPI (deep packet inspection), intelligent session tracking and BusinessCom's proprietary IP traffic classification routines assure bandwidth availability for important applications. Our in-house developed Sentinel Server is placed at the remote site providing secure login access, firewall, caching, LAN bandwidth management, VPN, load-sharing, and a variety of other features. Many remote sites do not have experienced IT support, and the advanced remote monitoring and diagnostic tools on Sentinel allow us to place a virtual IT technician on-site to diagnose and repair issues on the data side of the circuit. When a Sentinel is located at the remote site, we can provide bi-directional MSO, further increasing efficiency and throughput.
SecureLink
Another feature provided as part of our GEO services is SecureLink threat management, which helps assure trouble-free operation of remote networks. Traditional firewalls do not keep up with all current risks. SecureLink provides extensive application control and intrusion prevention functionality. Clients are sent notifications of malware traffic on their circuits so they can chase down the offender, with help from Sentinel.
Portal
Finally, the BusinessCom portal provides management and support for our clients. All contracts are managed via web interface from anywhere you have internet access. On the portal, our clients place orders for services and hardware, manage upgrades and downgrades, pay bills, and suspend or schedule disconnections. Clients have access to all open and closed invoices and credit notes in real-time. Documentation can be downloaded in PDF format, while account data can be exported to CSV and Excel formats. The portal provides real-time and historical SATCOM and IP statistics for services, including per-application bandwidth usage charts, transmit power, remote modem temperature, uptime, TDMA statistics and symbol and frequency offset. For our Reseller Partners, throughput and protocol statistics can be privately extended to their end customers.
Service Options
There are three options available: BusinessCom OneWeb Land Fixed service is for fixed locations. The BusinessCom OneWeb COTM (Comms on the Move) service supports mobile applications on land, and the BusinessCom OneWeb Maritime service is a global service available to vessels. These services are supported by the same 99.5% SLA, guarantee of network availability that we offer on practically all other services. There are options for burstable bandwidth with dedicated CIR (committed information rate) or best-effort service with data quotas, so clients can match the best plan for their requirements. Services will support any IP application, toll-quality voice, and video conferencing. Like our other services, we will provide bi-directional QoS application prioritization, threat management, network intrusion prevention systems, antivirus and 256-bit AED encryption.
A range of service plans are offered with a selection of BIR (burstable information rate) and CIR (committed information rate) bandwidth options. There are different service prices based on the hardware kits used. A larger antenna yields lower pricing. Most of the services are Premium, providing guaranteed throughput with unlimited bandwidth, while some of the plans are "best-effort" with data quota options.
Hardware
Hardware options range from a single 53 cm Intellian LEO Tracking Receive/Transmit Ku satellite antenna to a dual 73 cm kit, a triple 73 cm kit or an FPA (Flat Panel Antenna). The triple 73 cm kit is an optional redundant solution for critical missions. Traditionally, all non-geostationary satellite services may operate using two parabolic reflectors, a single fast-retrack reflector or an electronically scanning flat panel antenna. BusinessCom OneWeb Service adds an option for a third antenna to act as a redundant element in the array to support mission-critical connectivity.

BusinessCom OneWeb services are now available, as mentioned above, primarily in the northern hemisphere from 35 degrees longitude. The coverage is steadily increasing as the latest batch of satellites are brought online and SNPs deployed. Full global coverage is anticipated during Q4 2023. Features such as MSO, Secure Link, and other valuable features supported on our legacy GEO service platforms, differentiate BusinessCom OneWeb services from other generic offerings of the service. We have decades of experience delivering broadband satellite solutions and solving problems for a broad range of enterprise clients around the world. We look forward to your enquiries regarding this exciting new service.