SD-WAN is the next generation enterprise connectivity technology that replaces traditional private circuits at an increasing pace. As business applications are moving to clouds, clients now require broadband access to all their data sources. BusinessCom addresses these requirements with SD-WAN over Satellite solution that provides up to 90% savings, compared to traditional VSAT and MPLS circuits.
Software-defined WAN over Satellite
BusinessCom® SD-WAN over Satellite services provide optimized broadband connectivity between your branches worldwide and your headquarters and cloud service providers, such as Amazon, Microsoft and others. The connection allows to mix satellite connectivity with third party terrestrial links, including MPLS, cable, DSL, LTE and others.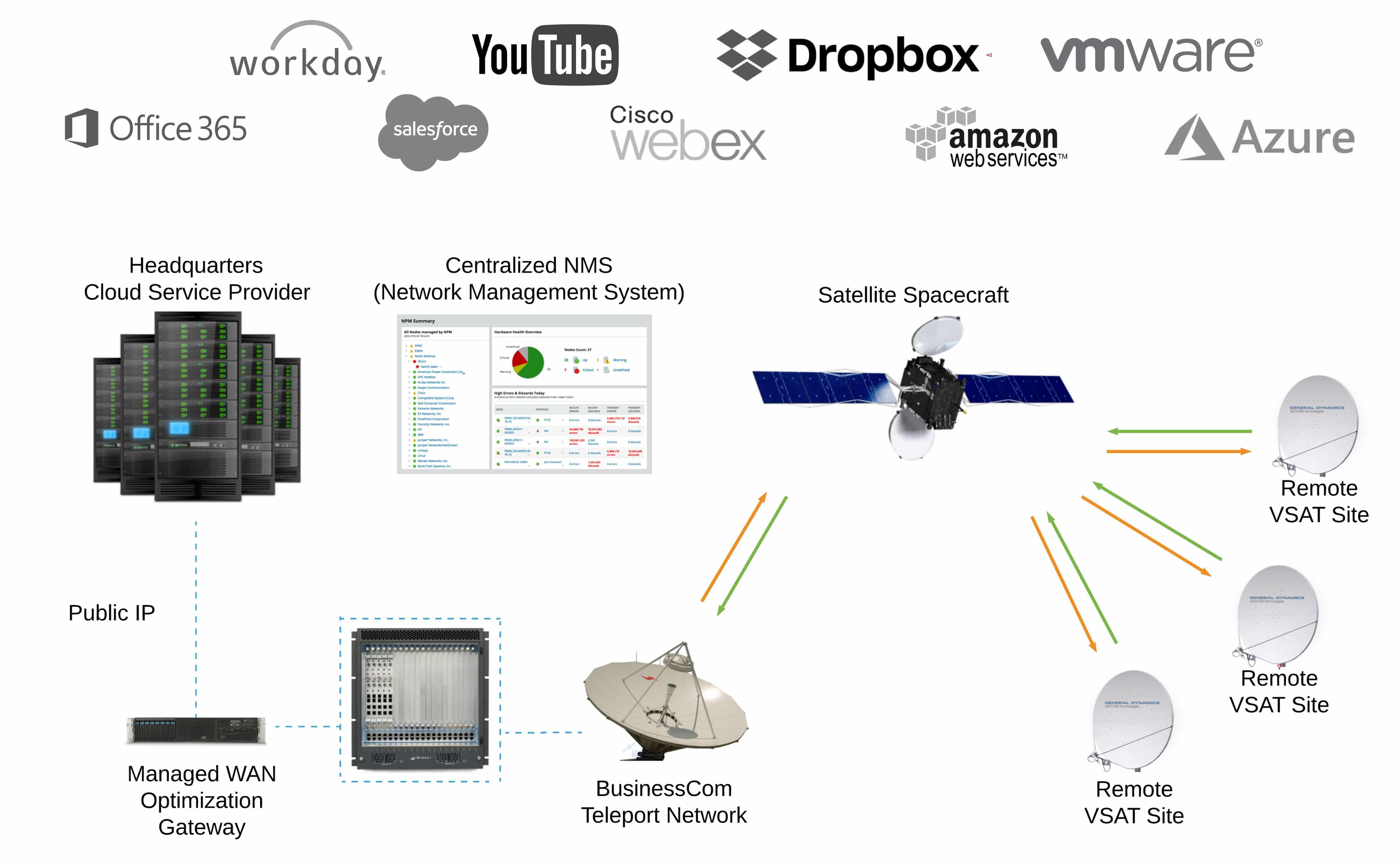 All-in-one branch solution
BusinessCom SD-WAN solutions are easily deployed over traditional BusinessCom VSAT connectivity services, such as iDirect, DVB-S2/ACM, SCPC and others. Secondary connections can be incorporated at all branch terminals, providing dynamic path control capabilities with automatic fail-over due to brownouts and outages. All user data is 256-bit AES-encrypted, providing secure end-to-end connectivity, all without any additional appliances.
BusinessCom SD-WAN solution includes path conditioning to address packet loss and out-of-order packets, as well as latency mitigation, TCP acceleration, compression and deduplication capabilities. This enables MPLS-like quality of service over VSAT links, even with public IP path between BusinessCom teleport network and your headquarters, data centers and cloud service providers.
The key features of BusinessCom® SD-WAN solution are:
Mesh IPSec topology
Bond VSAT, MPLS and other terrestrial connectivity paths into a single logical SD-WAN connection
Latency mitigation via L3 Deduplication and Compression and L4 TCP acceleration
CIFS acceleration
Packet coalescing (aggregation) for data and voice traffic
256-bit AES IPSec encryption
FEC
Define QoS and map applications to different virtual WAN overlays inside your SD-WAN
Real-time, policy-based traffic assignment and fail-over over multiple physical connections
Path conditioning: overcoming negative effects of out-of-order packet arrival
SaaS applications are identified automatically at L7 and routed directly to the cloud
VLAN, IPv6, GRE, IPSec, VRRP, WCCP, PBR and BGPv4 support
Routed or bridge mode
Centralized administration
Real-time monitoring and reporting tools
High performance service and skilled 24/7 technical support
Software-as-a-Service (SaaS)
A key advantage of SD-WAN over traditional rigid MPLS extension is the ability to have direct access to cloud providers and third party data centers. Rather than routing all the traffic via a private circuit to headquarters, BusinessCom SD-WAN solution automatically establishes direct cost-effective connectivity to clouds, ensuring the fastest path to your applications and data. This includes, for example, SalesForce, DropBox, Microsoft Office, SAP, Siebel, Oracle, and general services, such as Voice over IP.
Transition
Your existing terrestrial or VSAT connectivity can be transitioned to BusinessCom SD-WAN solutions seamlessly. When you need to upgrade current capacity or improve quality of service at remote branches, consider migrating to BusinessCom SD-WAN. Start by initiating a migration process to transition your connectivity to one of the BusinessCom VSAT services with as much equipment re-use as possible, and proceed with non-critical cloud applications. Existing IP connections of any type can also be augmented instead of replaced with full transparency and control.
In addition to overcoming performance issues associated with traditional VPN over satellite, there are numerous other reasons to choose BusinessCom® SD-WAN for your branch connectivity worldwide:
Private Line-like performance without MPLS costs
Broadband branch connectivity deployed by BusinessCom anywhere in the world
Add, remove and relocate branches as your business requires
SD-WAN fully managed by BusinessCom NOC with 24 x 7 support
Global on-site maintenance service
Add additional physical connectivity paths (MPLS, DSL, LTE, Wireless) as you see fit
Network-wide centralized QoS visibility and control
Cost-effective: use VSAT only where it is needed or as a backup to terrestrial paths