EchoStar Jupiter-3 Begins Its Journey
Jul 30, 2023
On July 28th, SpaceX launched the massive EchoStar Jupiter-3 communications satellite into geosynchronous transfer orbit using its powerful Falcon Heavy rocket. Lifting off from Kennedy Space Center in Florida late in the evening, the successful mission deployed the largest commercial communications satellite ever built at over 9 metric tons.
The Jupiter-3 satellite was built by Maxar Technologies for EchoStar Corporation, a global provider of satellite communication solutions. Positioned in geosynchronous orbit 22,300 miles above the equator, Jupiter-3 will provide high-bandwidth connectivity services across the Americas and Europe. Its size and power will enable new capabilities and increased capacity for EchoStar's customers and partners.
"Deployment of JUPITER 3 confirmed", stated in @SpaceX Twitter.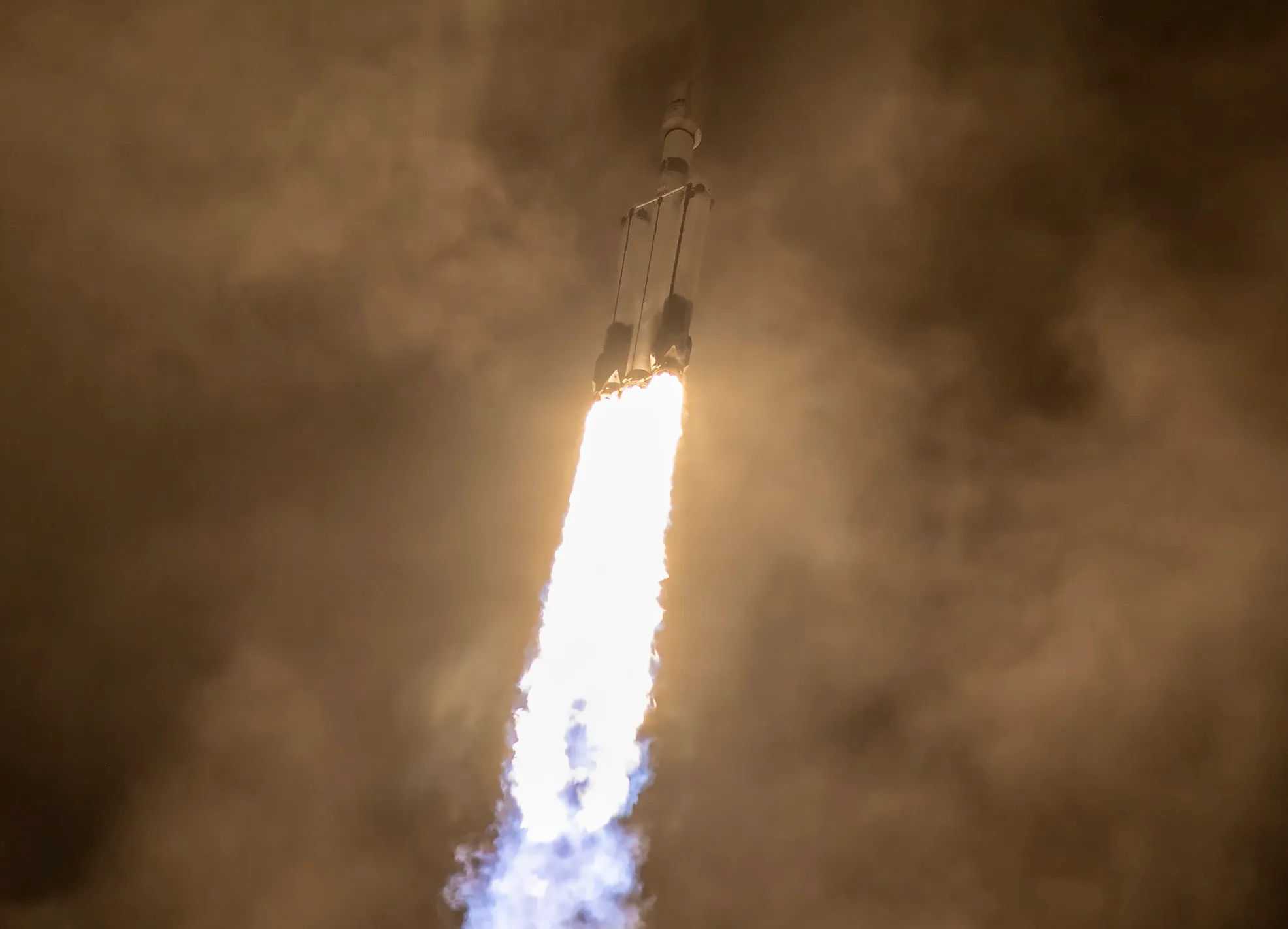 EchoStar's Jupiter-3 satellite launches on a Falcon Heavy. Credit: SpaceX
To lift the enormous satellite required SpaceX's Falcon Heavy, currently one of the world's most powerful operational rockets. Consisting of three Falcon 9 first-stage boosters strapped together, Falcon Heavy provides extreme thrust at liftoff. Shortly after clearing the tower, the two side boosters separated and returned to land in unison back at Cape Canaveral less than eight minutes after liftoff.
Meanwhile, the center core continued to fire and burn fuel to push the upper stage and satellite into orbit. The upper stage ignited multiple times over several hours to gradually raise the orbit altitude and accelerate the spacecraft to the high speeds needed to achieve geosynchronous orbit. The Jupiter-3 satellite finally deployed around three and a half hours after leaving the pad.
This success represents the fifth flight for the Falcon Heavy rocket and its first commercial mission in over three years. The previous four flights included demonstrating the rocket's capabilities, two missions for the U.S. Air Force, and launching a satellite for Saudi Arabia. This EchoStar payload was Falcon's first full commercial launch since its debut in 2018.
Both side boosters for this mission were reused from prior Space Force flights, demonstrating SpaceX's efforts to make rocket reuse and recovery routine. By landing and reflying the boosters, significant costs are saved compared to expendable rockets. Reusability enables more affordable and frequent launch services.
EchoStar Jupiter-3 ushers in a new era of ultra-high-capacity communications satellites. Its cutting-edge digital payload features over 300 spot beams and next-generation technology to drive higher speeds and throughput. Combined with SpaceX's proven heavyweight launch capability, the two companies are positioned to deliver transformative broadband services worldwide.
This monumental satellite is a culmination of years of work by the public-private EchoStar-SpaceX partnership. Engineers overcame immense challenges in designing, manufacturing, and testing Jupiter-3's unprecedented size and power systems. The successful launch now clears the way for final on-orbit checkouts and the start of operational services later this year.
Jupiter-3 proves the immense possibilities when combining SpaceX's innovative reusable rockets with EchoStar's high-capacity satellite technology. Customers across multiple continents will soon benefit from the unparalleled capabilities this satellite offers. The launch paves the way for further collaboration between the two companies as they continue driving the commercial space industry forward.