The Ups and Downs of Partnering Agreements
Oct 01, 2019
OneWeb is a first mover in the field of Low Earth Orbit (LEO) satellite telecommunications. Their goal is to launch a constellation of LEO satellites that will provide connectivity around the world. The company plans to offer high speed, low-latency broadband services to aeronautical, maritime and terrestrial clients. OneWeb launched its first six satellites on February 27, 2019 from the Guiana Space Center in Kourou, French Guiana. See: OneWeb Takes Flight. The company plans to launch 30 satellites a month starting in December of 2019. The plan is to deploy 648 satellites consisting of 600 operational and 48 spares. Following the launch, the company obtained additional investment which we will discuss in more detail below.
OneWeb & Iridium MoU
First the good news. In mid-September 2019 it was announced that Iridium and OneWeb had signed a Memo of Understanding (MoU) to join forces to develop a service offering that would combine both company's LEO services. The Iridium satellite constellation is a system of 66 active satellites providing global voice and data communication using hand-held satellite phones and other transceiver units. The idea is to combine Iridium's Certus L-band service (See What Next for Iridium) with OneWeb's Ku-band service with the goal of providing a "complementary, full-service option for applications such as heads of state comms, critical tactical services, maritime, disaster response and more."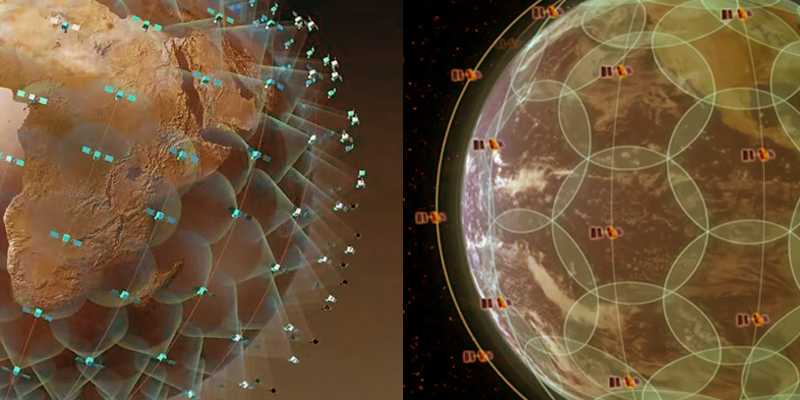 The OneWeb (Left) and Iridium (Right) constellations – credit Via Satellite Sept 17, 2019

The MoU is still in the early stages, with no timelines established for launching the service. Ground segment collaboration may include having terminal manufacturers design joint-terminals that host both technologies, or the companies may explore ways to bundle and co-market each company's services. The companies find it likely that complementary L-band services from Iridium will act as companion services to OneWeb's Ku/Ka band terminals.
This is the first collaboration between LEO constellation operators. OneWeb will provide high-speed broadband connectivity for a range of applications such as in-flight WiFi, government and maritime services. Iridium's cross-linked Next constellation L-band service is weather resilient, so it can offer regulation-required capabilities including safety services for ships, aircraft, vehicles and deployed personnel. These markets overlap very nicely with OneWeb's markets. This creates an opportunity for Iridium and OneWeb partner to offer innovative seamless services to their subscribers. Should these services come to fruition, a partner such as BusinessCom Networks could, for example, offer a high-speed broadband service to maritime clients, bundled with an Iridium phone(s) for the use of the captain and crew for emergency or support services.
OneWeb's services are expected to start providing partial service in late 2020, and global coverage the following year. Iridium has completed the launching of its second-generation Next constellation consisting of 66 active satellites (plus 9 in-orbit spares, and 6 on the ground spares). Iridium's next Certus platform based on L-band will offer higher speeds, but it is not positioned to compete directly with OneWeb's services that are designed for VSAT platforms, rather than telephone platforms.
It should be noted that this partnership agreement came a few months after former OneWeb COO and SVP Suzi McBride left OneWeb and returned to Iridium where she was previously employed. She stressed that she did not see Iridium competing directly with her former employer, pointing out the synergies between the two companies – Iridium's lower bandwidth, remote communications and OneWeb's high bandwidth, low latency broadband services. "…I don't see them as direct competitors, but a different player in a similar market space," said McBride.
Intelsat Sues OneWeb
Now the bad news. Intelsat has announced that it has filed a lawsuit in the New York Supreme Court accusing OneWeb and Softbank Group of fraud, conspiracy, and breaching contract. The court document reads: "Upon information and belief, SoftBank and OneWeb intentionally and knowingly made or caused to be made materially false statements and/or omissions in their communications with Intelsat and/or its agents with the intent to defraud Intelsat…"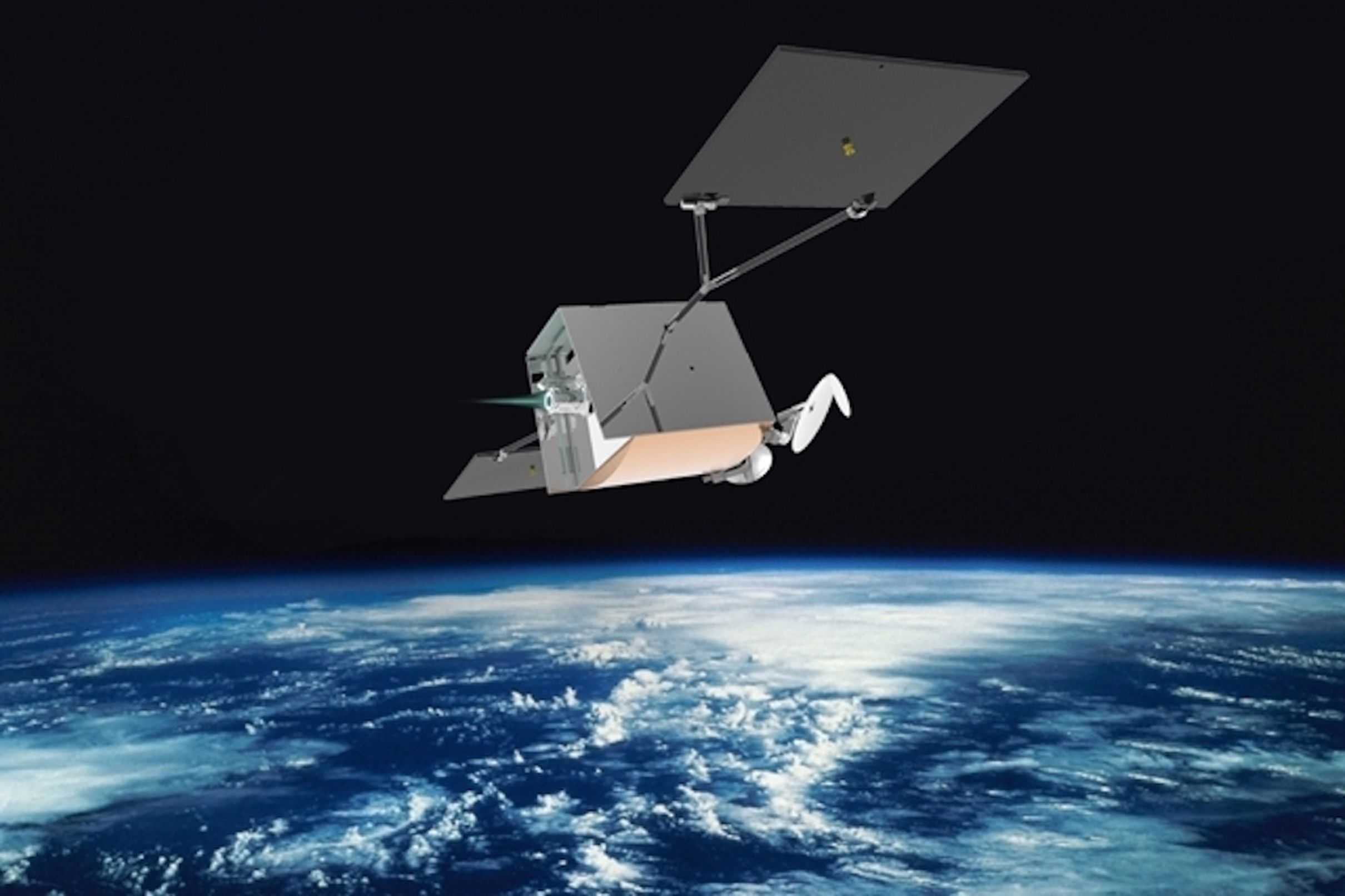 OneWeb Broadband Nanosatellite.

Softbank a Japanese telecommunications company was an early investor in OneWeb, helping them to get their satellite production facility off the ground. Back in 2017 there were talks between Intelsat and OneWeb to merge the two companies, creating a giant of satellite telecommunications. Softbank committed $1.7 billion in the combined company, if the deal were completed. In February 2017 the companies entered into an agreement to merge and to give Softbank decision powers in selecting some members of the new board of directors. This effort has blown up.
Intelsat is charging that Softbank and OneWeb were not negotiating in good faith, accusing the companies of making false or misleading assurances and representations. Intelsat accuses OneWeb of having already planned to renege on the deal and to compete with Intelsat in the Intelsat Exclusivity Markets, which would have provided Intelsat with exclusive rights to market OneWeb services in specific markets. Instead of negotiating in good faith, Intelsat charges OneWeb and Softbank of ferreting out confidential forecasts, business cases, marketing, pricing and capacity information from Intelsat. They accuse OneWeb of having already determined to compete directly with Intelsat.
Intelsat has a fleet of 52 large satellites in GEO (Geosynchronous Earth Orbit) and the merger would have put them into the LEO market with an early adopter and major contender in this new market. It was expected that the merger would result in a stronger Intelsat – albeit 39.9% of the new company would be controlled by Softbank. The deal fizzled a few months after it was announced in February 2017, and now two years later it has terminated in a lawsuit. Intelsat accuses OneWeb of breaking a 2015 commitment to provide Intelsat of exclusive marketing rights as its "sole and exclusive worldwide and regional distributor" but instead OneWeb sold 40% of its shares to Softbank and told SoftBank that it would be the exclusive global distributor. Intelsat did not react favorably to this, so a workaround was arrived at by which Intelsat would distribute OneWeb's services via SoftBank. Everything looked great, and Intelsat began providing technical assistance and divulging its commercial secrets to OneWeb.
Negotiations continued till Intelsat learned that SoftBank was thinking about selling its stake in OneWeb to a third party. OneWeb, early in 2019 insisted that Intelsat "cease and desist" from representing that they still had exclusive distribution rights to their services – because they were attempting to resell these rights to others. To summarize, Intelsat believes it still has distribution rights to OneWeb services, but OneWeb says otherwise, so it's going to the courts. Intelsat is seeking punitive damages, and an injunction that will force OneWeb to affirm that Intelsat has exclusivity.
Intelsat appears to be more upset with OneWeb than with SoftBank, and SoftBank's efforts to sell off their share of OneWeb does not indicate a high degree of faith in the ability of the company to deliver. Who might benefit most from all this? SpaceX? Amazon? Telesat LEO? The investors are watching closely, as are the rest of us, who wonder how the new LEO market will shake out.