Mar 10, 2018
Known as a world leader in inflight entertainment and connectivity (IFEC), Panasonic Avionics Corporation (PAC), a subsidiary of Panasonic North America headquartered in Lake Forest, California, has been working to upgrade its inflight connectivity offering by leveraging the power of HTS (High Throughput Satellites).
Partner, Eutelsat provides satellite coverage over most of the globe and is one of the largest in terms of revenues. The Eutelsat 172B satellite, based on an HTS platform will greatly enhance PACs offerings for live television, mobile phone service and inflight broadband across the Asia Pacific region. The satellite provides high speed services from western North America to Asia, including Australia and Pacific islands.
Beginning in the first quarter of 2018, airlines from various airlines will upgrade to PACs new network. Panasonic's subsidiary ITC Global will be leveraging the same technology and platform to deliver services to maritime and other customers. Hideo Nakano, Chief Executive Officer of Panasonic Avionics Corporation, said: "Our new satellite communications network is more than just greater bandwidth – it represents a major evolution in our approach to partnering with customers to deliver the highest standards of service and to ensure that their passengers enjoy an unmatched, connected experience inflight."
HTS satellites provide a significant improvement in throughput and capacity by leveraging "spot beams" and "frequency reuse."  Instead of providing a large, but weaker satellite beam, HTS uses small hot beams that can deliver higher speeds to clients.  Because the beams are smaller, the same frequencies can be used again, as long as they are far enough away from each other not to cause interference. Normally the amount of capacity a satellite can provide is limited by the frequencies it has available.  Being able to use the same frequencies in different spot beams, can provide a large boost in capacity, and therefore in user satisfaction with improved performance.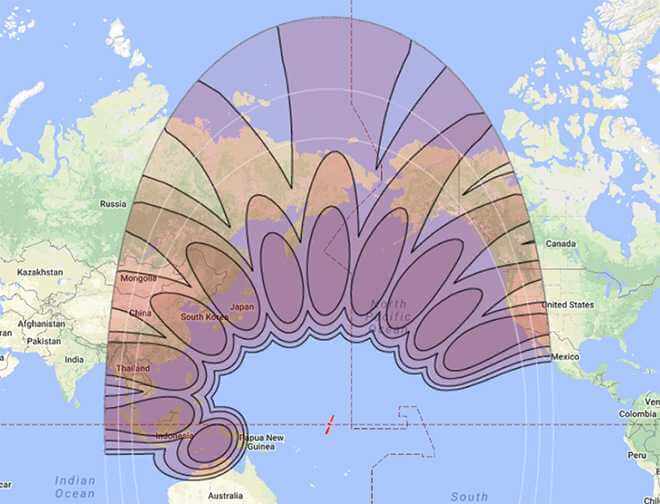 In addition to these standard HTS benefits, Eutelsat 172B is the first to deploy a "multi-port amplifier," or MPA. This allows power from the satellite to be moved from spot beam to spot beam dynamically, in order to meet user demand.  This essentially allows HTS beams to "follow" or lock on to an aircraft, delivering high speed services while the aircraft is within its beam.
As a result of this upgrade, PACs Global Communications Service (broadband) offering will be 20 times faster. The new capacity will support faster internet, video streaming, support for VoIP and better TV images and a wider choice of channels. The capacity will provide the ability to support 3G phone services, and provide greater bandwidth for crew and aircraft applications.
To leverage the additional capacity and performance of this and other HTS satellites PAC will add to its portfolio, is the new BC-03 modem developed in partnership with Newtec. The new modem will support future growth and demand by supporting up to 250 Mbps per aircraft. The modem supports three demodulators.  This allows it to, for example, receive TV services on one satellite beam, while automatically and seamlessly switching between two HTS spot beams as the airplane travels between them.
Approximately 1800 aircraft are flying around the world using PACs global high-speed connectivity service. Projections call for more than 10,000 connected aircraft by 2025.