Second Generation O3b mPOWER Launches Begin
Jan 28, 2023
Formerly known as O3b, which stood for the "Other 3 billion" and referring to underserved users, the company became a wholly owned subsidiary of SES S.A., and the name changed to SES Networks in 2016. The satellites continue to use the O3b name. The SES Networks constellation resides in medium Earth orbit (MEO) at an altitude of 8,062 km (5,009 mi). This is in contrast to GEO satellites operating at 36,000 km (22,300 mi), or LEO satellites such as Starlink 550 km (342 mi) and OneWeb 1,200 km (745 mi).
At this higher orbit, O3b does not need nearly as many satellites to provide world coverage, as does an operator like Starlink, which might be compared to many small flashlight beams, each covering small areas. While the latency is not quite as good in MEO, it is still significantly better than GEO satellites. After some startup issues, the company began launching satellites in 2013, and deployments continued until April 2019 when the total was raised to 20 satellites, including 3 backups. By comparison, Starlink has nearly 3300 satellites deployed as of this article.
In 2017 SES Networks announced the development of the next generation of O3b satellites called O3b mPOWER. These satellites offer a very large increase in capacity, moving from first generation satellites with 10 beams per satellite, to a new software-designed constellation supporting 5,000 beams per satellite. These beams can scale capacity from 10 Mbps to 10 Gbps through a single link to a single location. Additionally, perhaps taking note of Amazon's planned Kuiper Constellation Amazon Project Kuiper with its very close ties to AWS and other Amazon products, SES Networks designed the constellation as an extension of cloud services, planning perhaps to leverage its extensive partnerships with Microsoft.
In December of 2022, the new era began for the company with the launch of the first two mPOWER satellites. Launched by SpaceX, the satellites were released and are working their way towards their MEO orbit in April of 2023. Additional launches are being scheduled for the first quarter. SES Networks expects the service to go live in the third quarter of this year (2023).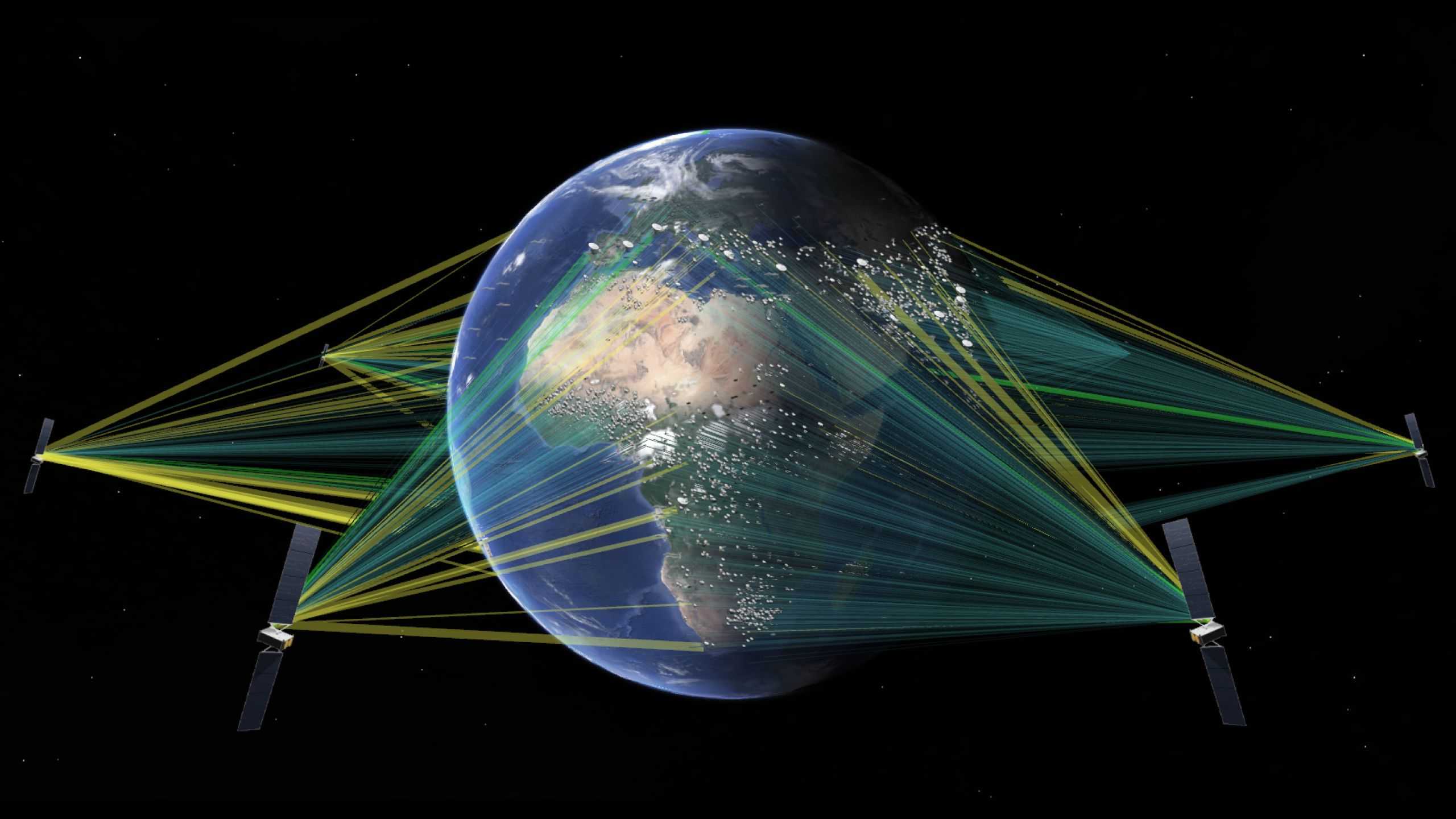 O3b mPOWER Constellation Credit: SES
A major advantage with O3b mPOWER is the ability to have an unlimited number of local gateways. LEO networks have small satellite beams covering small regions. However, traffic can only be landed at a gateway that satellite can "see," so many gateways are required, and they must be networked together in complex and expensive networks. Otherwise, additional satellite capacity must be used with inter-satellite relay links, passing the traffic from satellite to satellite until the desired gateway is in view. This uses capacity on the satellites involved, reducing the amount of customer traffic that can be passed. O3b mPOWER satellites at a higher altitude can "see" a much wider range of potential gateways, and traffic need not be directed back to a small number of centralized gateways. Gateways can be located anywhere there is access to the terrestrial internet backbone. A large target for SES Networks is MNOs or Mobile Network Operators, who would prefer to keep local traffic local, rather than have the traffic land far from where it originated. Instead it can land anywhere there is internet backbone access. An MNO can have their own gateway(s), and manage their own traffic, which has the additional advantage of enhancing security.
SES Networks has taken another step to support MNOs as the only satellite-enabled service provider with Carrier Ethernet MEF certification. The Metro Ethernet Forum is a global industry alliance with over 200 members including telecommunication providers and related industries. With this certification, SES Networks ensures interoperability with the market they are pursuing. They can ensure interoperability to telcos, MNOs and cloud services using standard Layer-2/Layer 3 interconnection capabilities and SLAs used throughout the industry.
mPOWER is also equipped to deliver multi-orbit resilience and coverage, using intelligent SD-WAN technology supporting a flexible, adaptable network architecture. The SES GEO satellites can provide reliable backup and extend coverage to high-latitude locations where the MEO satellites lose coverage. SD-WAN automates the routing by using deep packet inspection to determine application type, and then direct the traffic accordingly over GEO, MEO or terrestrial links.
SES Networks has already installed several gateways within Microsoft Azure data centers. This will maximize cloud application performance and privacy. A wide suite of Azure-based network features including analytic network functions, and cloud-access capabilities can be seamlessly delivered to end users. The net result is placing end users and network operators closer to their enterprise cloud content. LEO satellites, on the other hand, require an extensive, complex, interconnected ground network, or they will eat up satellite capacity transporting traffic from satellite to satellite by inter-satellite relay links. For O3b mPOWER, the reduction of all those extra hops contributes to less jitter and lower latency.
For enterprises, an SLA (Service Level Agreement) is critical. O3b mPOWER offers up to 99.5% uptime. Resiliency is built into the spacecraft and ground architecture making it possible for organizations to sustain business continuity. To back up superior performance claims, mPOWER provides a self-service portal providing compliance assurance monitoring.
A key advantage is new flexibility. The mPOWER phased-array antennas permit configuring beams for gateways or customer edge terminals (phased array or reflector based), giving enterprises the freedom to choose gateway locations that was not possible before. Beams can be created and steered to meet specific requirements, such as keeping traffic within a particular country, or carving out a route regularly traveled by sea vessels, or meeting a disaster response situation. Further, bandwidth can be reallocated at any endpoint in mere minutes, based on changing data transfer requirements.
Normally the forward/return ratio for satellites is fixed by the satellite design, but mPOWER has exceptional flexibility in forward and return path allocation, and this allocation can be changed over time as required. Given the exponential growth in upload traffic from surveillance missions, cruise ships, and other streaming applications, being able to use capacity for upload or download, without being limited by pre-designed allotment, is a major flexibility advantage. Users themselves have the control over their resource unitization. The ability to quickly set up bandwidth where you need it, is a boon to short-term applications like sporting events and music festivals, or to provide disaster recovery.
SES Networks intends to target the energy market, cruise market, aerospace market and most of all government market, to whom this new flexibility is very interesting. Each of these industries can benefit in different ways from the mPOWER platform. We will follow the deployment of their additional satellites and look forward to reports when the service goes live in the fall of 2023.