Star Sensors May Enable More Satellites To Monitor Space Junk
Oct 23, 2023
Sensor upgrades could empower satellites to detect hazardous orbital debris and bolster efforts to monitor the space environment. Companies like Belgium's Arcsec and Florida's Redwire are developing star trackers capable of spotting tiny debris particles threatening active missions.
Star trackers orient spacecraft by identifying star positions. Now, adding supplemental object detection allows them to find dark, hard-to-see pieces of debris too small for ground radars to pick up. Redwire aims to launch enhanced star trackers this year, while Arcsec plans an in-space demo by 2025.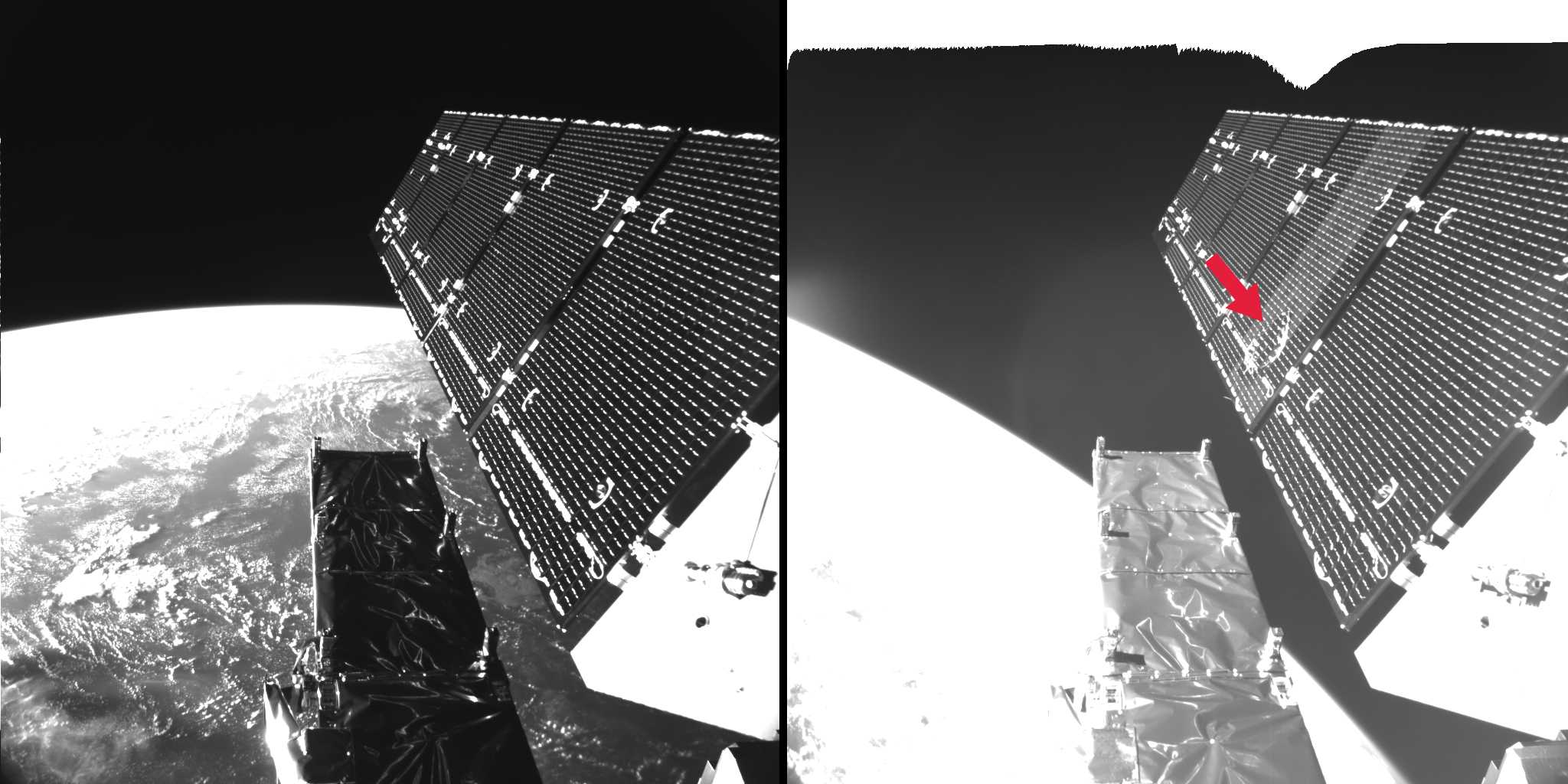 Copernicus Sentinel-1A satellite was hit by a tiny piece of debris. Credit: ESA
For Arcsec, the upgrade leverages a €1.3 million European Innovation Council grant to reprogram star trackers for dual use. Partnering with space traffic management firm Neuraspace of Portugal, Arcsec's sensors would feed debris data to enhance the tracking of even centimeter-scale objects.
According to Neuraspace's Chiara Manfletti, aggregating observations from multiple satellites will better illuminate the congested orbital environment. Along with ground telescope data, debris-hunting star trackers act as wide-area "spotters" to locate hazards. Redwire states their SpectraTRAC system can already detect uncooperative objects when paired with cameras. This aids rendezvous, proximity maneuvers, and situational awareness. The tech will fly soon on a satellite from True Anomaly Solutions specialized for debris reconnaissance.
Though optimized for stars, the sensitive photometers in star trackers can find debris with software upgrades. But reconfiguring the computing priorities is an ongoing challenge, said Arcsec's CEO Tjorven Delabie. The goal is to preserve attitude control while adding debris vigilance.
According to the European Space Agency, even millimeter-sized debris can critically damage satellites. A 2016 strike on Sentinel-1A's solar array by a tiny particle still caused notable power loss. Enhanced awareness of these small but dangerous pieces bolsters space safety.
Rather than launching dedicated tracking satellites, outfitting existing star trackers for dual-use provides an affordable way to expand debris monitoring. Redwire's Don Wesson said the detection upgrade can be added to customers' units easily pre- or on-orbit. As risks mount from congestion in valuable orbits, comprehensive debris mapping is increasingly critical. By leveraging star trackers already bound for space, companies like Arcsec and Redwire aim to illuminate hazards and help preserve the space environment. Their sensor innovations could soon provide a new view of debris, priming more assets to aid search and tracking efforts.
Arcsec is a spacecraft component company headquartered in Namur, Belgium that was founded in 2014. Led by CEO and co-founder Tjorven Delabie, Arcsec specializes in developing advanced star trackers and other attitude control devices for the space industry. Their goal is to provide high-performance, affordable solutions that meet the needs of the rapidly evolving space sector.
Arcsec aims to democratize access to space by making precision satellite components available to companies of all sizes. They are focused on constant innovation to push the limits of what star trackers can do. This includes their work on dual-use star trackers capable of debris detection. By leveraging in-space demonstrations and strong R&D capabilities, Arcsec seeks to enable the next generation of space missions and constellations.