Nov 27, 2017
On September 29, 2017, AsiaSat 9 was launched without incident from the Baikonur Cosmodrome in Kazakhstan where it will replace AsiaSat 4 at 122 degrees East Longitude.  The satellite successfully arrived at its planned location on October 9, 2017, where it commenced transmission, replacing AsiaSat 4 after 14 years of service.  Andrew Jordan, President and CEO of AsiaSat said, "I am delighted to report the AsiaSat 9 launch mission has progressed according to plan, and that the efforts of our mission team have come to result in the successful positioning of our largest satellite ever, serving the Asia-Pacific for the next 15 years or more at the key orbital slot of 122 degrees East."
Where AsiaSat 4 provided a C-band beam and two Ku-band beams, AsiaSat's most powerful satellite, generating total spacecraft power of 20,700 watts, will deliver a C-band Global beam, and 5 Ku-band beams including the world's first Ku-band Myanmar beam. Additional regional Ku beams will cover East Asia, Indonesia, Australasia and Mongolia.
The Proton launch of AsiaSat 9 was declared a success by ILS (International Launch Services) after the 58 meter (191 ft.) Proton rocket blasted into an overcast sky, from the Cosmodrome, the site of the Space Age's first launch of a satellite 60 years ago.   The six RD-276 main engines fueled by hydrazine and nitrogen tetroxide, delivered nearly 2.5 million pounds of thrust to deliver the satellite into orbit.  A total of three Proton stages placed AsiaSat 9 into its proper orbit.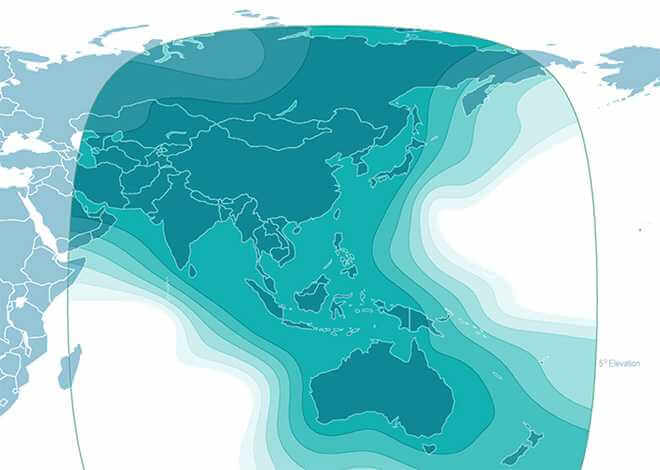 The AsiaSat 9 next generation satellite is equipped with 28 C-band transponders and 32 Ku-band, along with a Ka-band payload.  C-band transponder bandwidth is 36 MHz while Ku transponders deliver 54 MHz.  The satellite features cutting edge technology including 110 watts C-band TWTA (traveling-wave tube amplifier), a special filter design, hall-effect thrusters and star tracker.
A hall-effect thruster is an ion thruster in which an electric field accelerates the propellant. These thrusters trap electrons in a magnetic field, use the electrons to ionize propellant, (i.e. convert atoms into ions by removing electrons), accelerate the ions to produce thrust for the spacecraft, and then neutralize the ions in the plume.  The thrusters are used to control the orientation and position of the orbiting satellite.
A star tracker on the satellite uses photocells or a camera to measure the position of stars.  Since the position of many stars have been accurately mapped with a very high degree of accuracy, a star tracker on a satellite may be used to determine how it is oriented with respect to the known positions of the stars, enabling it to maintain its own precise location.
These features allow AsiaSat 9 to deliver enhanced performance, operational stability, and higher efficiency, all while extending the coverage of fast growing markets in Asia.  AsiaSat 9 will relay direct-to-home (DTH) television broadcasts, along with video programming and broadband data services to clients from the Middle East to Australia. This powerful new satellite is intended to significantly reduce costs to customers, and will support new markets with video applications, data and mobility services, aviation and maritime broadband.