Fast, Easy Setup with Plenty of Bandwidth
Sep 27, 2023
Organizers for fairs, music festivals, sports events, concerts, and similar activities understand that attendees demand internet access. We live in a connected world, and attendees want to check their email, text their mom, and post video clips on social media. At the same time, vendors and event registrars rely on internet access to process credit cards and other means of electronic payments for tickets, merchandise, and food. The requirements for internet bandwidth have exploded, which means these events must be located where they can get access to high-speed internet, typically by installing fiber or microwave links, both of which can take a very long time. Using legacy GEO (Geosynchronous Earth Orbit) satellites to deliver sufficient capacity in rural locations has been a costly and cumbersome task requiring the deployment of large antennas, that are only going to be used for a short time.
There is a much faster, simpler way to bring unlimited, high-speed internet to events such as this, without relying on proximity to cities or towns, and dealing with all the licensing, regulatory issues, right of way, contracting, and infrastructure that may be largely abandoned after the event. One or more high-speed, unlimited internet links can be deployed quickly, and cost effectively, when, and where needed.
BusinessCom OneWeb provides a solution for event organizers to deploy large chunks of internet capacity on short notice, at remote locations. By leveraging a very transportable FPA (Flat Panel Antenna), the Kymeta LEO Hawk Terminal supports unlimited bandwidth rates up to 150 Mbps x 30 Mbps that can be delivered to support vendor PoS (Point of Sale) terminals, and WiFi access for attendees. Multiple systems may be quickly deployed, providing bandwidth to WiFi access points deployed throughout the event. Using optimization and bandwidth management tools built into the service, the PoS traffic can be prioritized or isolated from the attendee WiFi traffic to ensure that those critical systems are always operational.
Point of Sale (PoS)
PoS terminals are critical to the success of events for registrars and vendors alike. Bandwidth requirements for these devices can range from a few kilobits per second (kbps) to as much as 6 Mbps for PoS terminals that are integrated with CRM (Customer Resource Management) and other business add-ons. Typically, this kind of bandwidth is required for shops, restaurants, etc. For events, the primary use is normally financial transactions and perhaps some inventory data, which generally requires as little as 64 kbps per terminal. This traffic is also bursty and intermittent because there are short delays between transactions with customers. This means dedicated bandwidth may not be required to support PoS terminals.

WiFi for Attendees
Event managers estimate bandwidth needs based on their past experiences. One provider, TradeShow Internet recommends the following:

Another Event company, One Ring Networks, provides a calculator they use to estimate bandwidth needs: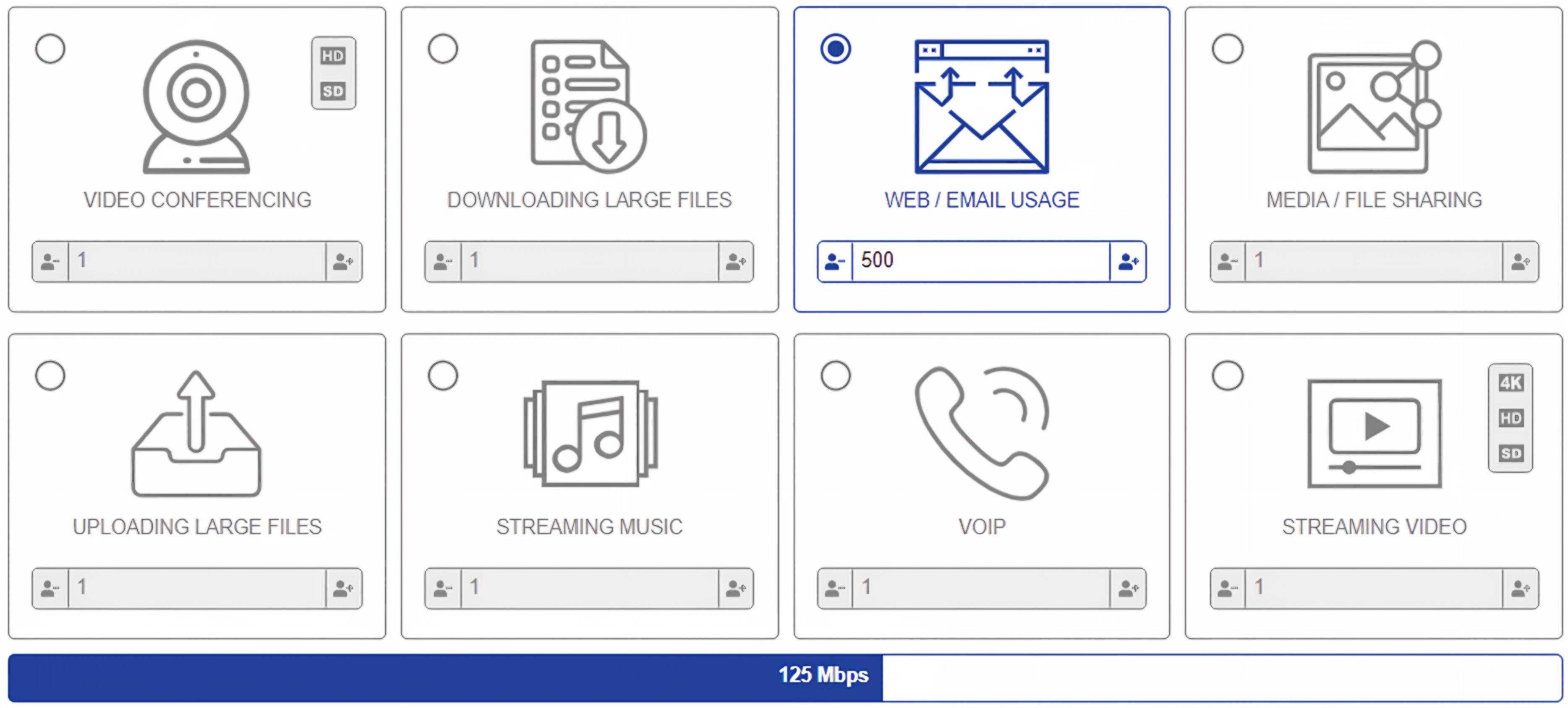 How much bandwidth the Event company wants to provide will depend on the quality of service desired and the cost associated with it. BusinessCom Networks can assist in helping to estimate bandwidth needs. The bandwidth allocated for WiFi users can be optimized and bandwidth managed to provide different levels of service for different classes of users, if desired. Access can be provided in blocks of time or can be associated with a data quota.
BusinessCom OneWeb Solutions
Three BusinessCom OneWeb service options are applicable here:
On-Land Fixed Premium service delivers a typical broadband service including shared and dedicated (CIR) bandwidth. Service options range from 10 Mbps x 2 Mbps with 2560 kbps x 512 kbps of CIR, up to 150 Mbps x 30 Mbps with varying amounts of CIR (Committed Information Rate). There are two different sets of prices depending on whether one uses the 73 cm parabolic terminals or either a single fast-retrack 53 cm parabolic antenna or an FPA (Flat Panel Antenna) from Kymeta. The FPA solution provides for a fast and simple installation. Larger antennas require less power on the satellites, so pricing is lower. The On-Land Fixed service also provides a Best Effort service of 100 Mbps x 20 Mbps. This service has no CIR, and it comes with options for a data quota ranging from 100 GB to 1 TB, with options for customized data quotas if needed. A best-effort service might not be the best solution for an Event, unless the Event company has a good handle on how much traffic to expect based on history and experience.
For very large events, the On-Land Fixed Dedicated service delivers fully dedicated, guaranteed CIR (committed information rate) capacity ranging up to 100 Mbps x 20 Mbps using dual 73 cm parabolic antennas. An optional third antenna can deliver 2+1 failover redundancy. Since this bandwidth is all dedicated, the service is unlimited with no data quotas, caps, limits, FAPs or throttling. A 100 Mbps x 20 Mbps dedicated service will support from 500 to 1000 WiFi devices, or more, depending on the service quality desired. For intermittent occasional use by event attendees, the number of users may range higher.
On-Land COTM or Comms on the Move is another option for fast deployment using the Kymeta LEO Hawk terminal. There are two options: a) an Unlimited Premium service like the On-Land Fixed service, ranging from 10 Mbps x 2 Mbps to 150 Mbps x 30 Mbps, with similar CIR options to the On-Land Fixed service. The COTM service also offers a 100 Mbps x 20 Mbps best-effort limited service with data quotas ranging from 100 GB to 1 TB. In the case of multiple concurrent, or irregularly scheduled events, a pool of capacity may be shared between the sites.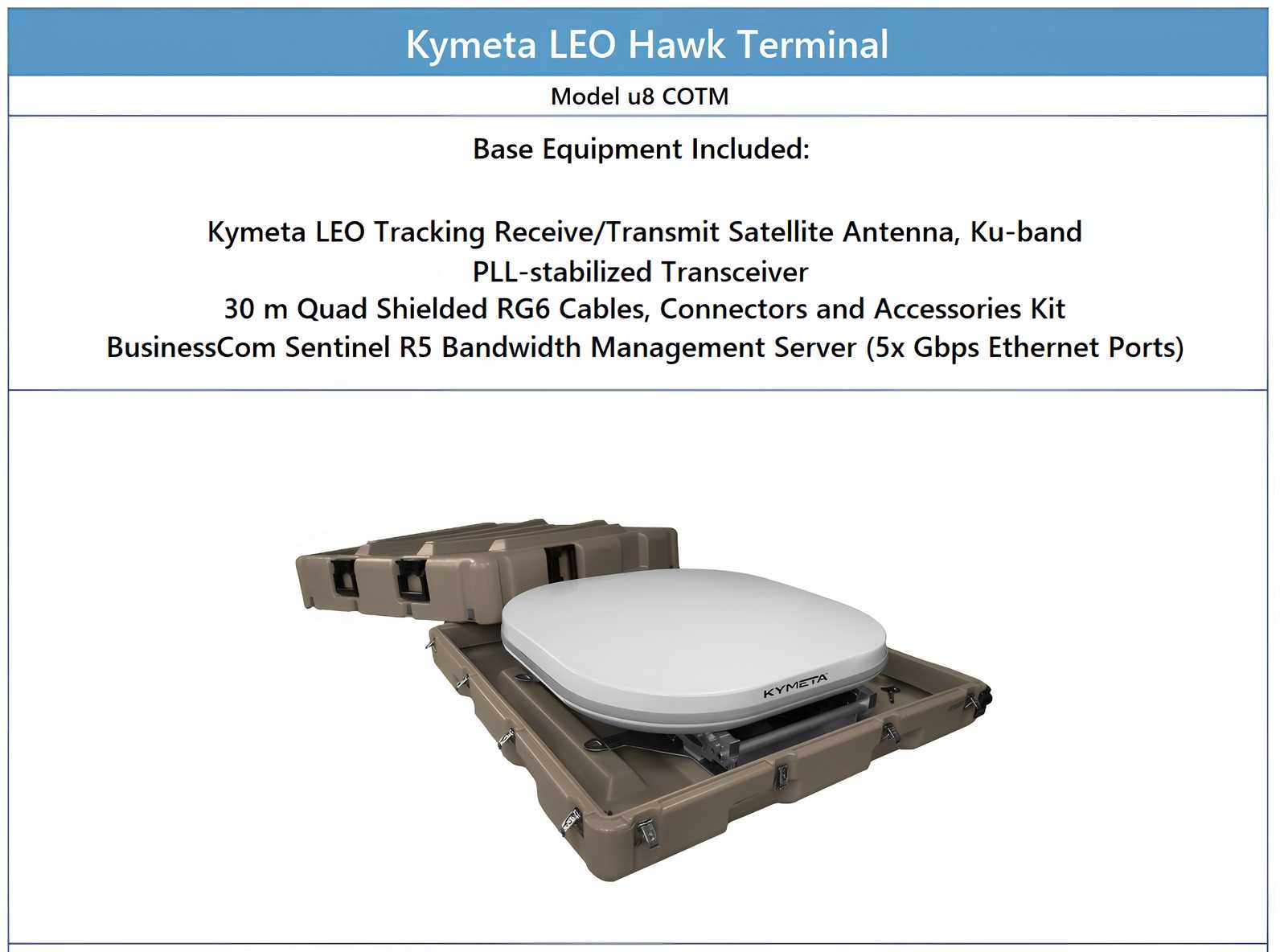 The BusinessCom customer portal will provide throughput statistics which can help Event managers with future planning. The portal provides secure access to place orders, upgrade, downgrade or disconnect service, place trouble calls, pay bills, and more. The service is backed up by an SLA guaranteeing at least 99.5% uptime and less than 150 ms of round-trip latency, with typical latency about half that. In addition to optimization and bandwidth management, the system provides thorough screening for security issues, and notifies clients when these occur.
The hardware kits include the BusinessCom Sentinel, a full-featured server that provides routing, access control, captive portal, load sharing, VPN, bandwidth management and other features. It is very valuable for NOC engineers, providing them with remote access to the extensive monitoring and diagnostic tools. It's like having a virtual IT technician on-site.
With two decades of broadband satellite experience, BusinessCom Networks can help make your Event go smoothly, and support large events in more rural locations than normally possible without extensive advance planning to ship, install and commission large VSAT hardware required in the past. In most cases the BusinessCom OneWeb capacity will be less expensive. The BusinessCom OneWeb solution will let companies focus their attention and efforts on their event with confidence that the internet communications to support the point-of-sale terminals and user WiFi traffic are taken care of.