Ariane 6 Hot-Fire Test Delayed Again Over Ground System Glitch
Aug 30, 2023
The European Space Agency (ESA) recently announced another postponement of the Ariane 6 core stage hot-fire test, citing problems with ground support equipment this time.
Per an August 30 update, ESA called off the planned August 29 test of the Ariane 6 core stage on the Kourou spaceport launchpad in French Guiana. This was due to a "technical issue with the control bench" that oversees critical pre-launch operations like propellant loading and automated countdown.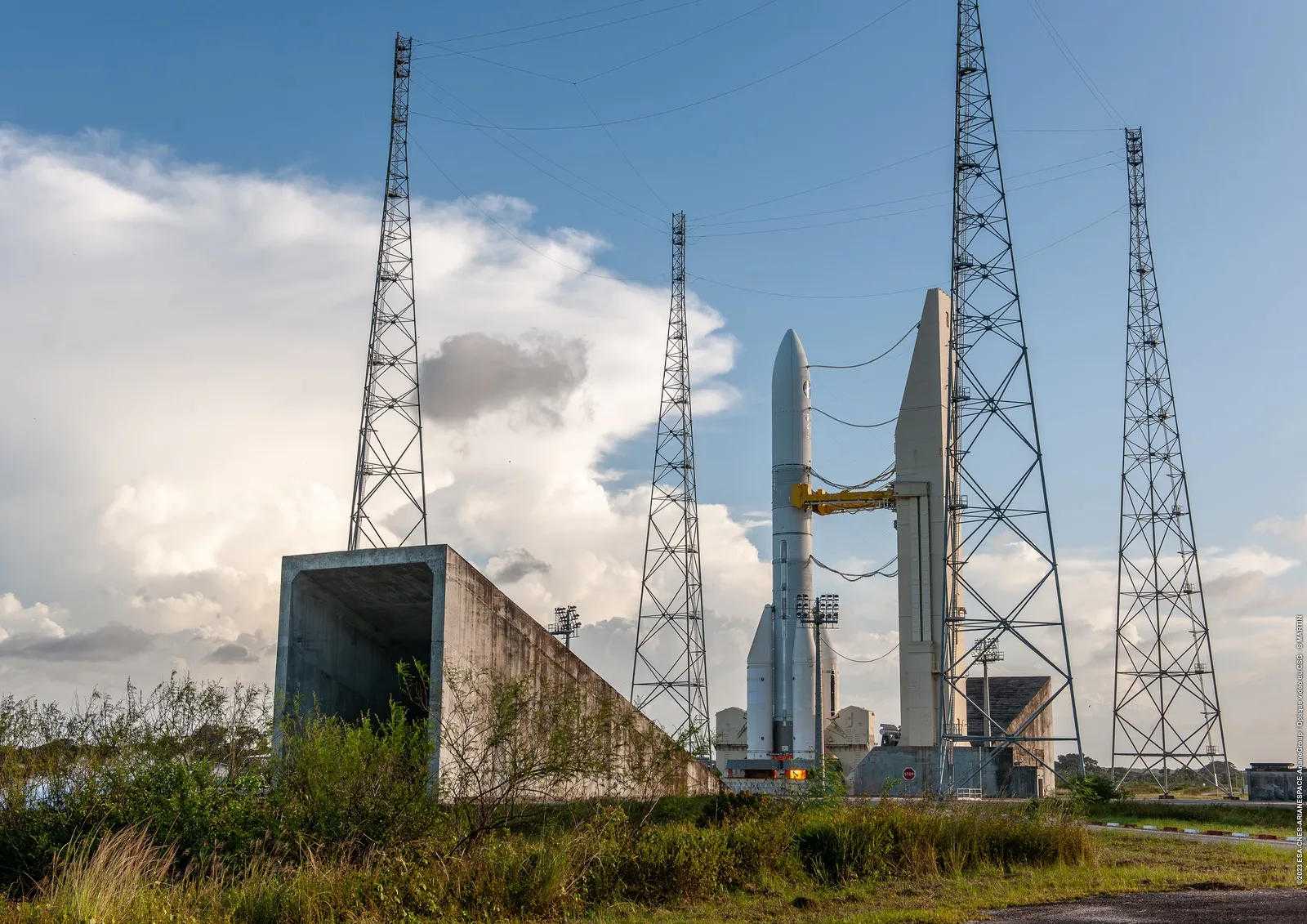 Ariane 6 on the pad in French Guiana. Credit: ESA
The short test, which will fire the Vulcain 2.1 main engine briefly, is now rescheduled for September 5. A longer firing is still slated for September 26 at Kourou as well.
Originally planned for July, this test was first pushed back when the allotted window expired. ESA later shared that the automated countdown had automatically aborted "after certain measurements breached preset limits." The agency opted to delay until late August, allowing teams a summer break and repairs to a damaged hydrogen burn-off basin.
Separately in Germany, an upper-stage engine test should still occur around September 1 at the Lampoldshausen site after software issues caused a late July postponement. Meanwhile, ESA plans a September 4 media briefing to update testing progress and preparations for the long-delayed first Ariane 6 launch now expected sometime in 2024.
The new Ariane 6 rocket is ESA's next-generation launch system designed to succeed the veteran Ariane 5 and ensure European access to space. It will be offered in two variants – the 62 and 64 – capable of lofting various payloads into different orbits. The maiden launch was originally scheduled for 2020 but has faced numerous delays stemming from development challenges, the COVID-19 pandemic, and Russia's invasion of Ukraine which disrupted supply chains.
ESA officials have reiterated their steadfast commitment to Ariane 6 as a more flexible, cost-effective rocket with major commercial viability. Once safely operational after overcoming lingering obstacles, the new technologically complex launcher aims to be far more competitive in price against disruptive market rivals like SpaceX. But successfully reaching the launchpad has proven to be an unexpectedly difficult journey filled with challenges, and these latest frustrating ground system issues clearly illustrate Ariane 6 still has some key remaining hurdles to methodically overcome. Dedicated ESA engineering teams are working extremely meticulously with precise attention to detail in order to rigorously ready the highly complex new rocket for its absolutely crucial, high-stakes first liftoff.
The upcoming tests will provide critical insight into how the engines and stages perform before the actual flight. While further delays remain possible, ESA is progressing Ariane 6 milestone by milestone to ensure it meets all requirements. The agency likely wants to avoid a premature launch that could damage the rocket's reputation. A successful debut launch will be key to instilling customer confidence in this brand-new vehicle designed to be the future of European access to space.
The European Space Agency (ESA) is an intergovernmental organization established in 1975 and headquartered in Paris, France. With 22 member states, ESA coordinates space exploration programs for Europe, including the development of launch vehicles, satellites, and space science missions.