New Kymeta Terminal Provides Military with GEO and LEO Connectivity
Oct 16, 2023
Seattle-based Kymeta has unveiled its newest satellite terminal, the Osprey u8 HGL, designed specifically for military users requiring connectivity on the move. As a hybrid GEO/LEO terminal, the Osprey u8 HGL provides access to both geostationary orbit (GEO) and low Earth orbit (LEO) satellite constellations, making it a versatile and future-proof solution for defense applications.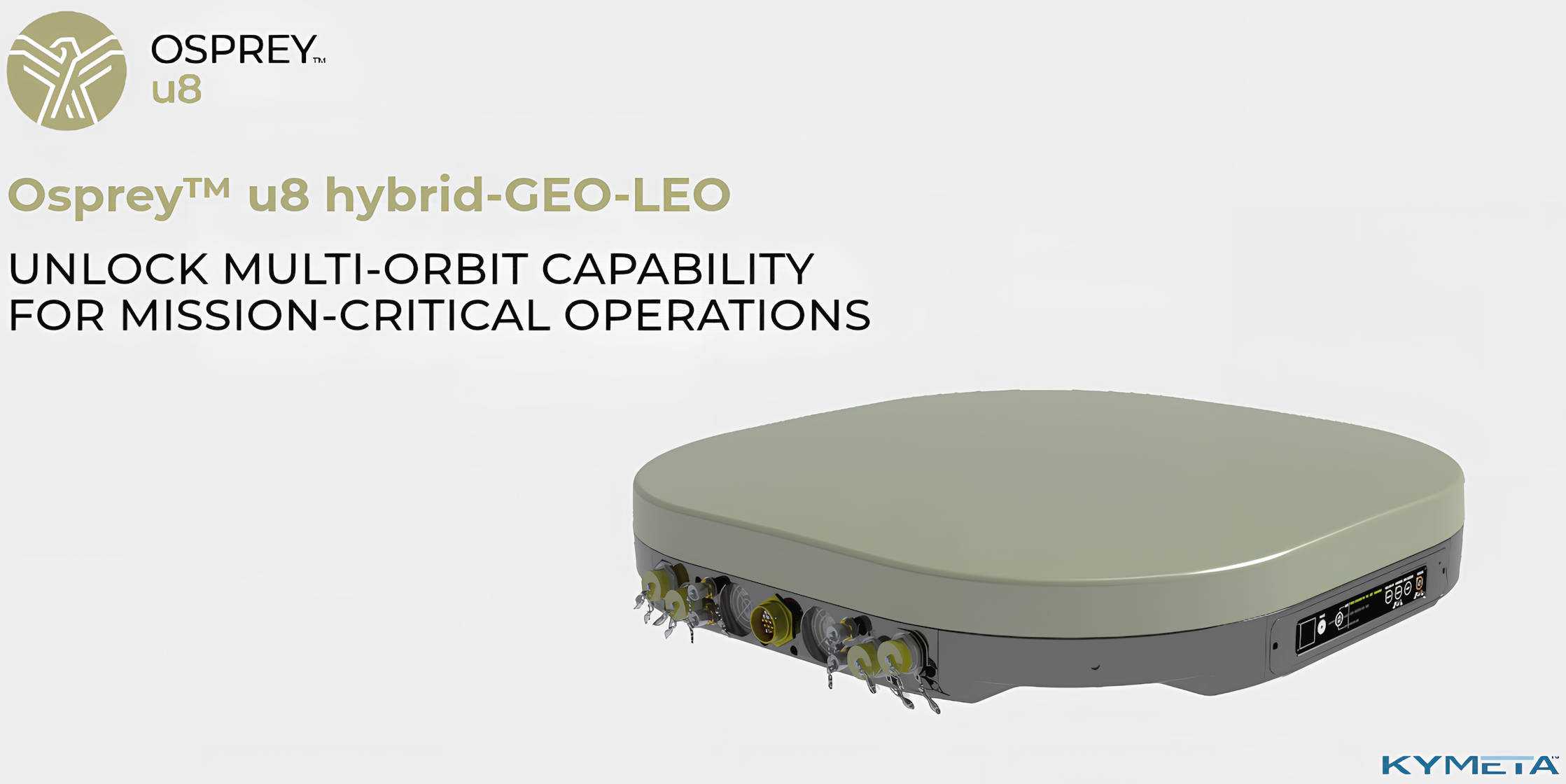 The Kymeta u8 Osprey terminal. Credit: Kymeta
The Osprey u8 HGL builds on Kymeta's proven u8 terminal family. It is compatible with the OneWeb LEO network, in addition to providing access to GEO capacity. The terminal features Kymeta's proprietary metamaterial-based electronically steered flat panel antenna technology, which enables rapid satellite acquisition and tracking without any moving parts. This makes the Osprey u8 HGL ideal for use on military vehicles, vessels, and aircraft that need reliable communications while in motion across land, air, or sea.
A key benefit of the Osprey u8 HGL is its simplicity of operation. The terminal provides satcom-on-the-move connectivity without requiring specialized skills or training to set up and use. Its antenna automatically finds and connects to the strongest available satellite signal, whether GEO or LEO, providing an always-on broadband link. The terminal can be mounted on vehicles, ships, or aircraft in just minutes and operated through a simple web-based interface.
For military users, the Osprey u8 HGL delivers the flexibility to leverage both GEO wide beam and LEO narrow beam satellites to maintain critical communications in evolving conditions during missions. Its hybrid architecture enables resilient connectivity even in contested environments where GEO or LEO signals may become jammed or blocked. The terminal seamlessly fails over between available satellites and beams to ensure bandwidth for crucial battlefield communications or command and control functions.
The hybrid architecture also provides an advantage over relying solely on SpaceX's Starlink LEO constellation. While Starlink offers immense broadband capacity, its network is centrally managed by SpaceX. This became an issue for Ukrainian forces who found their Starlink service disabled during a critical operation, reportedly on direct order from SpaceX CEO Elon Musk.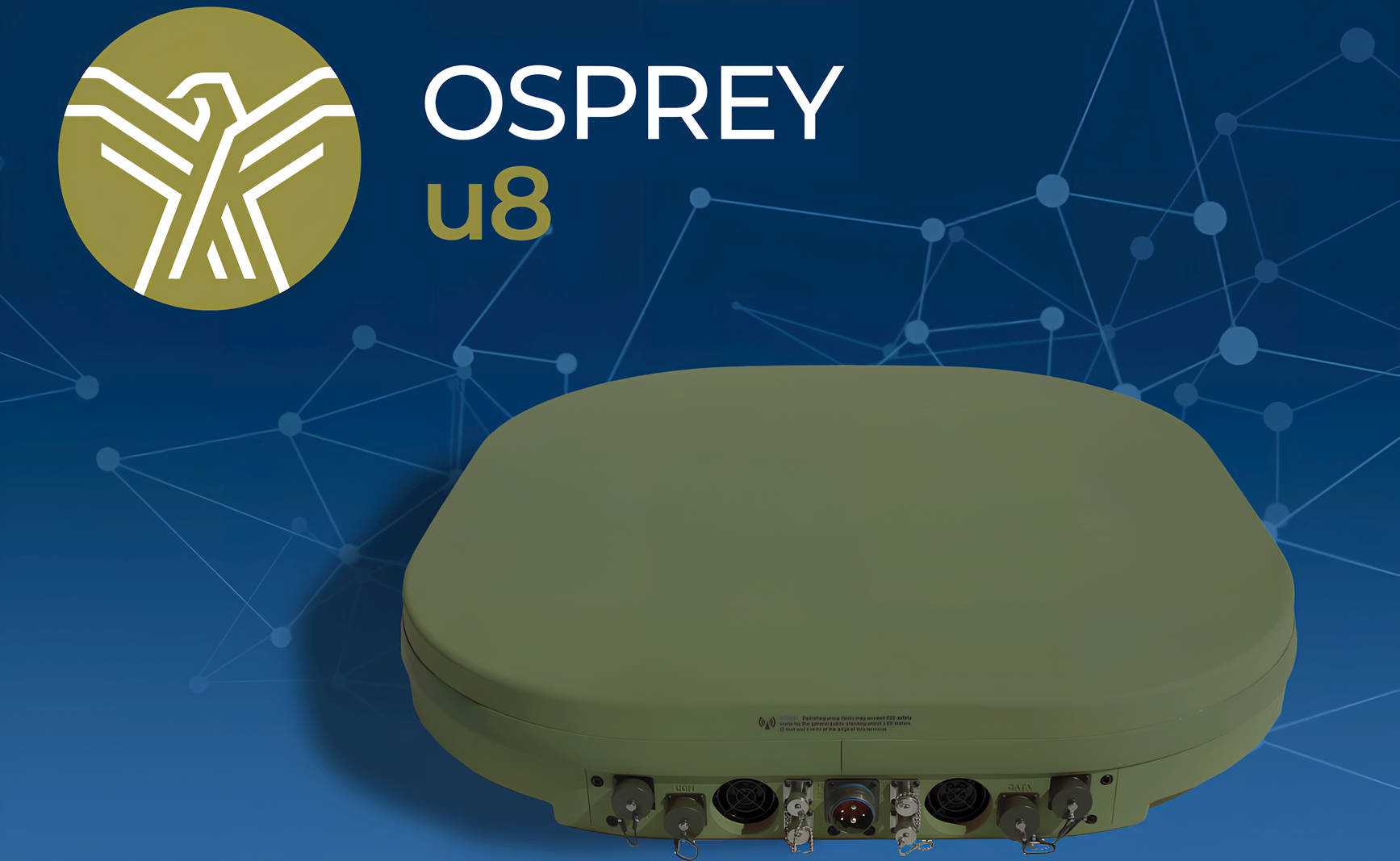 The Kymeta u8 Osprey terminal. Credit: Kymeta
With the Osprey u8 HGL, military forces remain in control of communications. If one network is ever restricted or disabled, the terminal can quickly failover to alternate satellites. By combining GEO wide beam capacity with OneWeb's LEO network, constant coverage is assured regardless of disruption to any single system. Kymeta designed the Osprey u8 HGL to meet the rigors of military use, with its rugged, compact form factor optimized for vehicles and vessels. The terminal comes with military-grade encryption built in, providing secure communications right out of the box. Kymeta has received interest from multiple branches of the U.S. military, with the first units shipping in early 2024.
The Osprey u8 HGL adds to Kymeta's existing satcom terminals tailored for government and defense. In March 2022, the company introduced the Osprey u8 GEO terminal, which is now deployed by the U.S. Department of Defense to provide secure communications on military platforms globally. Kymeta also offers the Peregrine u8 LEO terminal for maritime connectivity.
"More than any sector, the military demands truly reliable, flexible, and durable on-the-move communications to enable its operational and training requirements," said Walter Berger, president and co-CEO of Kymeta. "Our new terminal delivers military customers the resilient communications they need by allowing them to easily switch between LEO and GEO multi-orbit networks, always ensuring availability and redundancy.
Kymeta aims to provide easy-to-use, high-throughput satcom solutions that meet the modern communications needs of military and government customers. With the addition of the unique hybrid Osprey u8 HGL terminal to its product lineup, Kymeta is enabling the evolution of defense communications toward seamless GEO/LEO integration that can reach remote regions and deliver reliable bandwidth for mission-critical operations worldwide.
BusinessCom Networks is pleased to introduce our cutting-edge BusinessCom OneWeb services. BusinessCom now provides OneWeb services focused on the northern hemisphere from 35 degrees longitude and beyond. Our OneWeb offering includes proprietary capabilities like MSO, Secure Link, and other valuables not found in other OneWeb offerings of the service.
Backed by deep enterprise satcom experience, BusinessCom has a demonstrated record of delivering for clients worldwide. With decades of enterprise satellite broadband expertise, BusinessCom has a proven history of providing solutions and solving complex challenges for diverse global clients. Contact us with any questions, like estimated service rollout in your area.