Completed RF Testing Advances O3b mPOWER Toward Operations
Sep 14, 2023
SES's groundbreaking O3b mPOWER medium Earth orbit (MEO) broadband satellite network has reached a critical point on its path to radically improve global connectivity. The company recently finished the first successful end-to-end radio frequency (RF) testing between the satellites already in orbit and ground stations on Earth. This important accomplishment paves the way for O3b mPOWER to enable high-performance broadband internet across the globe through its innovative satellite constellation design and advanced capabilities.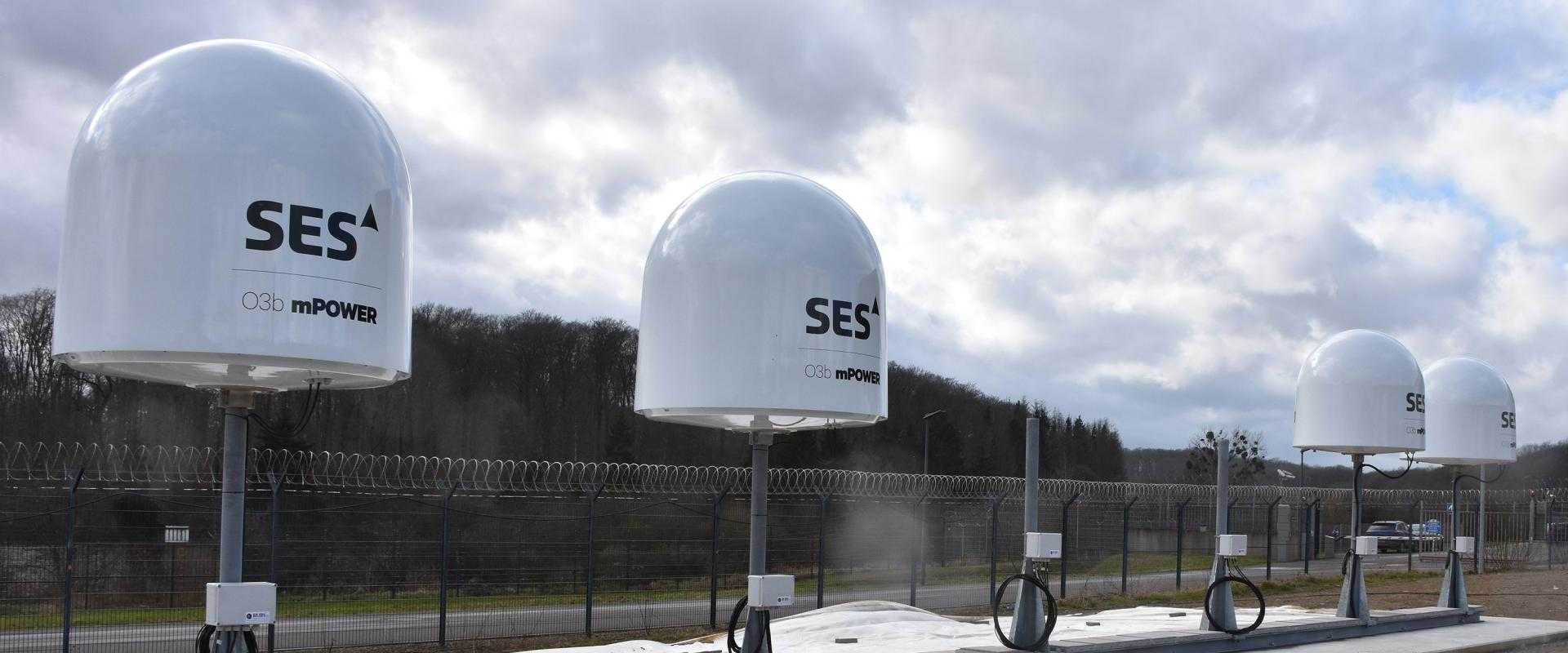 O3b mPOWER Antenna Field. Credit: SES
RF end-to-end testing validates the vital communications links between satellites and gateways to ensure seamless service delivery. This process confirmed that O3b mPOWER's sophisticated ground infrastructure can reliably operate the new satellites and their high throughput payloads.
The tests also validated SES's unique Adaptive Resource Control software, which smartly allocates bandwidth between the satellites in space and ground stations based on real-time needs. This dynamic capacity management is crucial for optimizing O3b mPOWER's incredible terabit-level throughput worldwide. By intelligently directing bandwidth to where it's most required at any given time, the proprietary software enables O3b mPOWER to deliver optimized high-speed broadband internet globally, even to remote areas. The flexibility of this customized capacity allocation technology will allow SES to provide premium customized connectivity services everywhere using its advanced MEO satellites.
With initial RF validation complete, O3b mPOWER progresses to final comprehensive end-to-end system testing. This will fully characterize constellation performance and pave the way for serving customers worldwide with low-latency, fiber-like connectivity.
What are the features of O3b mPOWER that make it a major innovation in satellite broadband technology? This new MEO system represents SES's most advanced fleet to date, with several innovative advantages.
One major asset is that each O3b mPOWER satellite possesses unprecedented power resources and payload flexibility. The satellites feature thousands of fully shapeable beams that can be shifted and scaled in real-time to deliver anywhere from 50 Mbps up to multiple Gbps per beam. This enables O3b mPOWER to direct enormous capacity with laser-like precision. Customers ranging from mobile network operators to governments and cruise ships can be served with guaranteed performance, even in the most remote areas.
Secondly, O3b mPOWER leverages a next-gen MEO constellation design optimized for cloud computing era connectivity. The satellites orbit at ~8000 km with automatic dynamic beamforming. This delivers a fiber-like round-trip latency below 150 ms competitive with terrestrial fiber optics. Such low latency enables the high interactivity needed for 5G networks, online education, telemedicine, and other emerging applications. O3b mPOWER is the only global satellite system purpose-built for low latency from the ground up.
Finally, O3b mPOWER offers unrivaled security and resilience. The satellites feature sophisticated anti-jamming technology and encrypted beams. With multiple interconnected satellites and ground stations, O3b mPOWER has no single point of failure. This makes the network extremely robust against disruptions on land or in space.
By combining revolutionary throughput, latency, and adaptability, O3b mPOWER delivers the reliable high-performance connectivity demanded in today's digital world. The completion of RF end-to-end testing marks a major achievement for SES in deploying this game-changing MEO constellation that will shape tomorrow's networks both in the sky and on the ground.