Astranis Receives New Satellite Orders from Philippines
Nov 18, 2023
Astranis will build a second broadband satellite for the Philippines, the company announced this week at the Asia-Pacific Economic Cooperation conference in San Francisco. A local satellite service provider ordered a second MicroGEO satellite from Astranis, expanding on its initial order. One spacecraft will launch in Q1 2024 as previously planned, while the second will fly later in 2024 on a dedicated mission.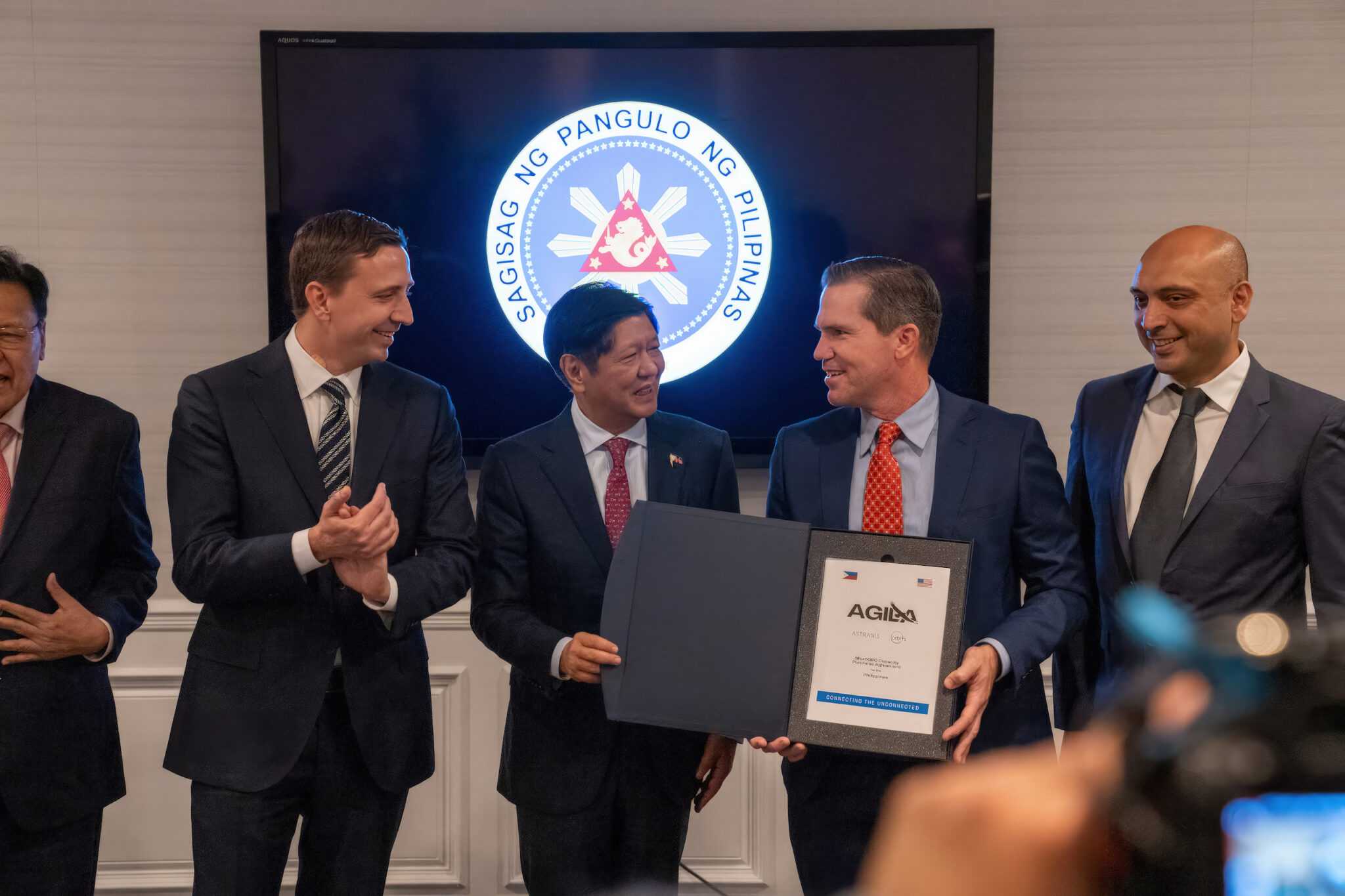 The Astranis team and Philippine President Ferdinand Marcos Jr. Photo: Astranis
Philippine President Ferdinand Marcos Jr. attended the contract signing ceremony and revealed he is naming the new satellite "AGILA," after the national bird. Last month, Marcos announced a national broadband plan to provide free Wi-Fi and build fiber infrastructure by 2026. Astranis CEO John Gedmark said this two-satellite expansion will double the number of rural Filipinos connected, reaching 4 million people across remote islands. The program is estimated to create up to 10,000 direct and indirect jobs.
The Astranis business model involves selling dedicated MicroGEO satellites to regional partners, who provide focused broadband services. At around 400 kg, Astranis' MicroGEO platforms are much smaller and cheaper than traditional large geostationary satellites. This allows customers cost-effective dedicated coverage for their geographic area. Astranis launched its first MicroGEO satellite in early 2023 but it experienced a solar array failure. The company will also operate satellites for partners via long-term capacity leases.
President Marcos has prioritized expanded connectivity, launching programs to provide free Wi-Fi and improved internet to all Filipinos. This expanded Astranis order will be key to achieving universal broadband access across the nation's small and remote communities.
"Generally speaking, Astranis provides bandwidth as a service and given that our satellites are software-defined, we have the ability to shift satellites around in our production queue to meet customer needs as they arise," said Astranis chief of staff Christian Keil.
With two dedicated satellites covering the Philippines, Astranis can help bridge the digital divide and empower rural towns through reliable, high-speed internet. The MicroGEO platforms can deliver meaningful impacts on healthcare, education, jobs, and quality of life by unlocking the full potential of the Internet.
In addition to Astranis, a few other new space companies are working on small geostationary satellites to offer targeted regional connectivity. One example is the UK-based SEN, which is building its first microwave-sized GEO satellites to provide low-cost internet access in developing nations. Another is Saturn Satellite Networks in Israel, designing very small GEO platforms to enable broadband services.
In the government sector, DARPA's Blackjack program has funded the development of small GEO satellites like NRL's Monolith and SA Photonics' Solstar. These aim to provide resilient tactical communications for the military using disaggregated constellations in GEO. Traditional aerospace companies are also introducing new compact GEO platforms, including Lockheed Martin's LM 500 satellite series and Northrop Grumman's MEVsat. These leverage proven GEO spacecraft design expertise in smaller form factors.
As launch costs decline, purpose-built MicroGEO satellites can offer an affordable way to deliver dedicated bandwidth for underserved regions or specialized applications. Multiple companies are innovating with small GEO spacecraft to connect the world.