Jul 28, 2018
On July 21, 2018 at 1:50 AM Eastern time SpaceX launched the second of its upgraded "Block 5" Falcon 9 rockets.  Telstar 19 VANTAGE, the heaviest commercial communications satellite ever built, went along for the ride and was successfully placed into orbit at 138 degrees EL.
Telesat's Telstar 19 VANTAGE
Telstar 19 VANTAGE (Telstar 19V) is an HTS (High Throughput Satellite) intended to support growing markets for video, data, and mobility (maritime and aeronautical) across the America's and Atlantic.  Telstar 19V was ordered by Telesat, a leading global satellite operator based in Ontario, Canada.  Telesat is currently claimed to be the fourth largest fixed satellite services provider in the world. Telesat announced in November 2015 that it had procured the powerful Telstar 19V from Space Systems Loral (SSL).
A significant commitment to utilize the high throughput Ka-band capacity of Telstar 19V, was made by Hughes Network Systems LLC, who signed a 15-year agreement.  Hughes plans to expand its broadband satellite services in five S. American countries. They will refer to the capacity as "Hughes 63 West."
Thanks to pre-launch agreements, Telesat has long-term contracts for all the Ka-band capacity of Telstar 19V over Northern Canada.  This includes Bell Canada subsidiary Northwestel, who will use the Ka HTS spot beam capacity to provide high-end broadband connectivity for as many as 25 communities in Canada's northernmost territory, Nunavut.
As the third HTS to be deployed by Telesat, Telstar 19V will be collocated with the Telstar 14R satellite located at 63 degrees West, a premier orbital slot for servicing the America's. Telstar 19V will deliver both a Ku regional beam and a series of Ka spot beams to support maritime and aeronautical services in the North Atlantic.  It will deliver a series of Ka-band spot beams in Florida and the Caribbean, as well as Northern Canada.  A regional Ku beam will cover Brazil and several Ku spot beams will provide Andean and Brazilian coverage.
SpaceX
For SpaceX, this was the second time that it launched its "Block 5" Falcon 9 rocket.  Coming in at 15,600 lbs. (7067 kilograms), its payload, Telstar 19V, was the heaviest commercial communications satellite ever built.  SpaceX landed the rocket successfully on the droneship "Of Course I Still Love You" in the Atlantic Ocean.  The huge satellite is a perfect fit for the Block 5, intended to be the final version of the Falcon 9.  SpaceX versions of the Falcon 9 are referred to by their block number.  Recent Falcon 9 rockets that have landed and then flew a second mission have been referred to as Block 3 or Block 4 (which were also called "Full Thrust") rockets. Block 5 is expected to be the final upgrade for the Falcon 9. It provides some additional lift and can be reused up to 10 times without being refurbished.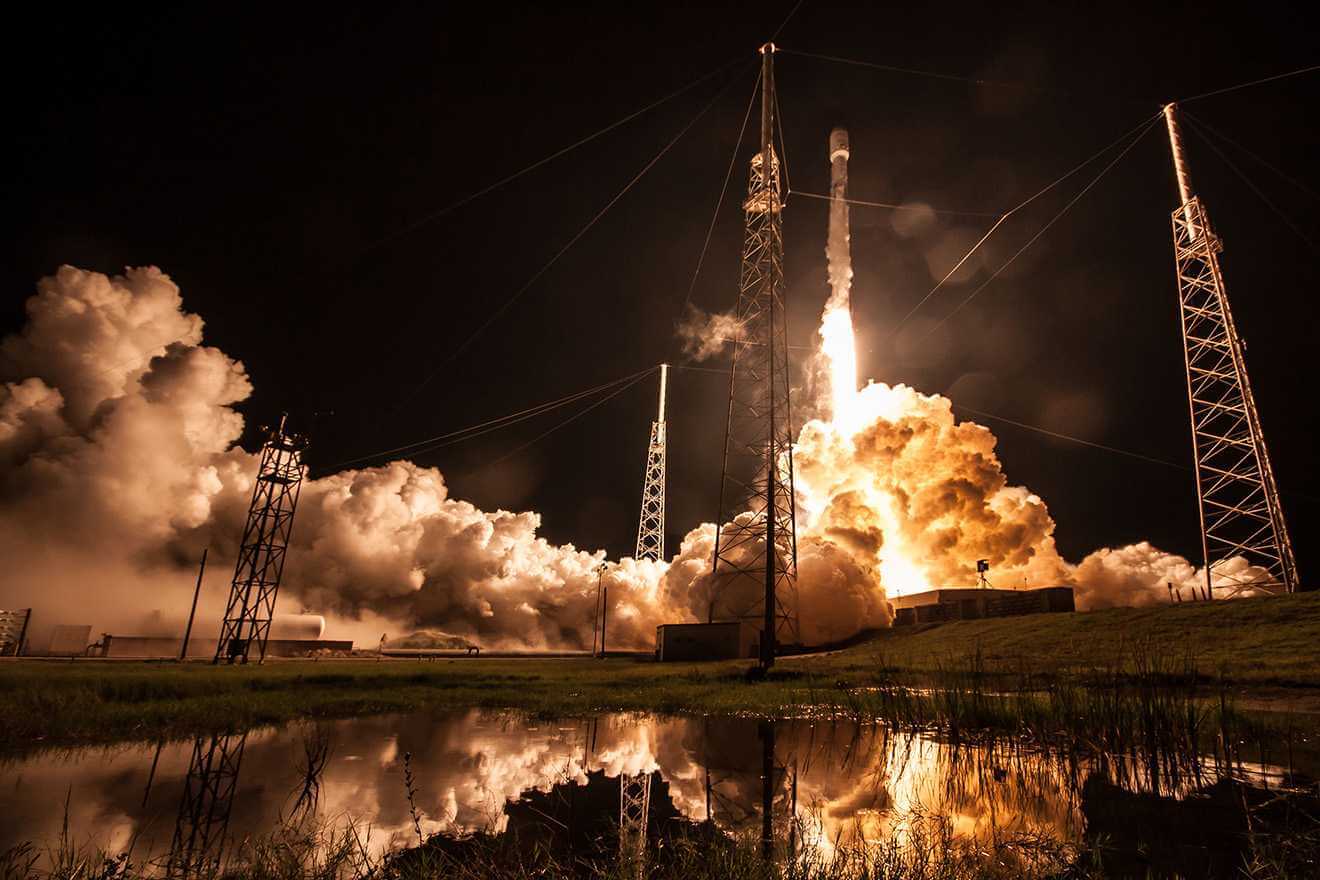 Photo: Mike Brown / SpaceX
 
Up till now, the Falcon 9 rockets were intended to be flown just a few times, and so far, none has flown more than twice.  Block 5 will launch 10 times in a row. After that, they will be brought in, refurbished and set out for 10 more flights. The expectation is that the Falcon 9 boosters may be reused up to 100 times over a full lifetime.
All SpaceX launches going forward will use the Block 5 rockets.  The first one launched in May, this is the second, and a third will be placed into rotation days a few days later, delivering a batch of 10 Iridium communications satellites.  That launch will take place at Vandenberg AFB in California. A few weeks after that, Telstar 18 VANTAGE will be launched by SpaceX to provide service over Asia.
Update
Late note: The Falcon 9 launch on July 25 successfully placed 10 Iridium satellites into orbit.  This launch was conducted under the harshest weather conditions thus far and required a launch window of one second!  This launch advanced the deployment of Iridium's new constellation, which we've discussed in a prior article. This brought the Iridium constellation up to 75 NEXT satellites, which, with 10 additional units meant to launch later this year, will provide tracking services for IoT (Internet of Things) devices. Despite the harsh conditions, SpaceX landed the booster on the drone ship "Just Read the Instructions." An attempt to recover the fairing was not performed due to the weather conditions.