AFP extends deal with SES for 'AFPTV Live' distribution
Aug 13, 2023
Satellite operator SES is expanding its collaboration with the French news agency Agence France-Presse (AFP) to improve real-time access to live news and events worldwide through AFP's AFPTV Live platform.
The two companies announced on August 1st that they were extending their existing partnership. AFPTV Live is based on SES 360, SES's content delivery platform. It provides broadcasters and other users access to AFP's live video news feeds and allows them to securely deliver that content to their studios over IP.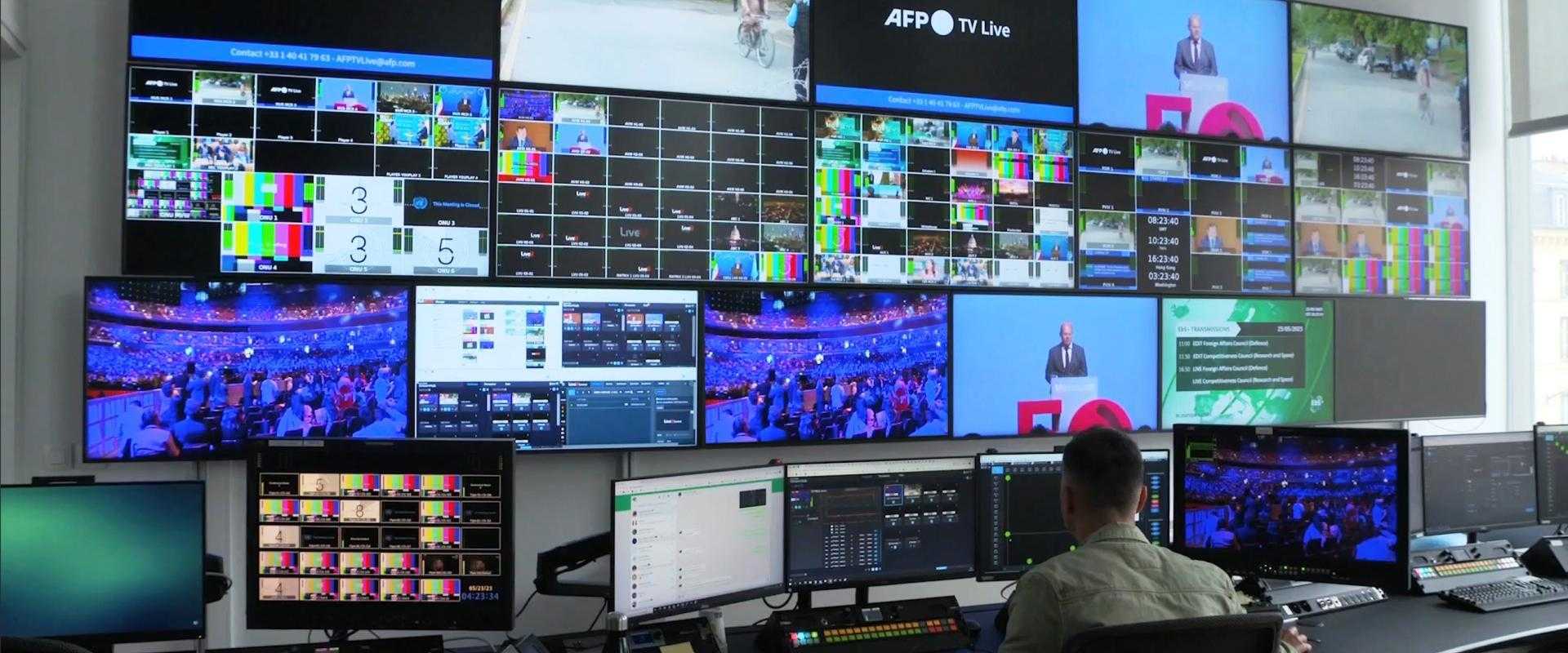 Agence France-Presse studio. Photo: SES
AFPTV Live offers an intuitive interface for finding and accessing AFP's breaking news footage as it happens. Customers can browse upcoming events and schedule coverage using the platform's real-time collaboration tools. A chat feature also connects users directly to AFP's editorial teams for coordinating live video.
Since its launch in 2018, AFP and SES have continuously enhanced AFPTV Live's capabilities. It is now the first platform to allow replaying, redownloading, and clipping live feeds all from a unified interface. This gives broadcasters more flexibility in repackaging and redistributing AFP's content.
The AFP news agency has a network of journalists in 151 countries. Its video service, AFP TV, produces over 100 hours of video content per day with stories delivered in English, French, Spanish, German, and Arabic. With SES's worldwide satellite infrastructure combined with AFP's global network, customers can access breaking news and live events as they occur. The platform's interactive features also enable better planning, collaboration, and communication for news organizations.
Agence France-Presse (AFP) is a French news agency headquartered in Paris. It is the oldest news agency in the world, founded in 1835 by Charles-Louis Havas. Today, AFP is one of the three largest news agencies along with The Associated Press and Reuters. AFP has a network of journalists in 151 countries delivering news in 6 languages.
In 2019, AFP produced and distributed over 3000 hours of video content per day. Through its Global News Agency Services, AFP provides reporting to thousands of radio, TV, newspaper, and websites globally. AFP is consistently viewed as one of the most trusted sources for breaking news worldwide having earned multiple awards for excellent journalism over its 185-year history. With its global reach and multimedia content, AFP continues to be a leader in news reporting.
BusinessCom® provides dependable, high-performance end-to-end linear playout services for all channel types to help you connect with your target viewers worldwide through satellite distribution. The BusinessCom playout service utilizes your media content stored in the cloud or on NAS with automatic backup. Our 24/7 NOC monitors the service to guarantee all SLA commitments are fulfilled. BusinessCom's playout solution completely manages your satellite playout, including audio and video encoding, satellite modulation and uplink equipment, and co-location. We support H.264, HD/SD DVB and EBU R128 subtitles by default.
Please contact BusinessCom Networks and tell us about your content distribution requirements, regardless of how simple or complex they might be.