Paradigm Communications-on-the-Pause Terminals
May 28, 2021
Once a field engineer's territory, now a field operative's fiefdom. The transformation of satellite terminal operability is perhaps the best illustration of how far the satellite communications industry has come in developing a user experience that is simple, intuitive and replicable.
For those who are time-served in the industry, a picture of cumbersome systems, missing or worn tools and long setup processes won't sound alien. From identifying clear lines of sight to installing ancillary components, there was a time when the thought of a non-engineer taking a satellite terminal out of a backpack and getting it on air in minutes, would have sounded like a huge stretch. But, we're there…
Flat panel terminal with integrated modem, RF signal analyser and router, attached to a paratrooper entering hostile territory. On the ground it's setup in 90 seconds and on air within 4 minutes, with a throughput of 10Mbps. No engineer. Less than 30 minutes training. How? And, more importantly, why?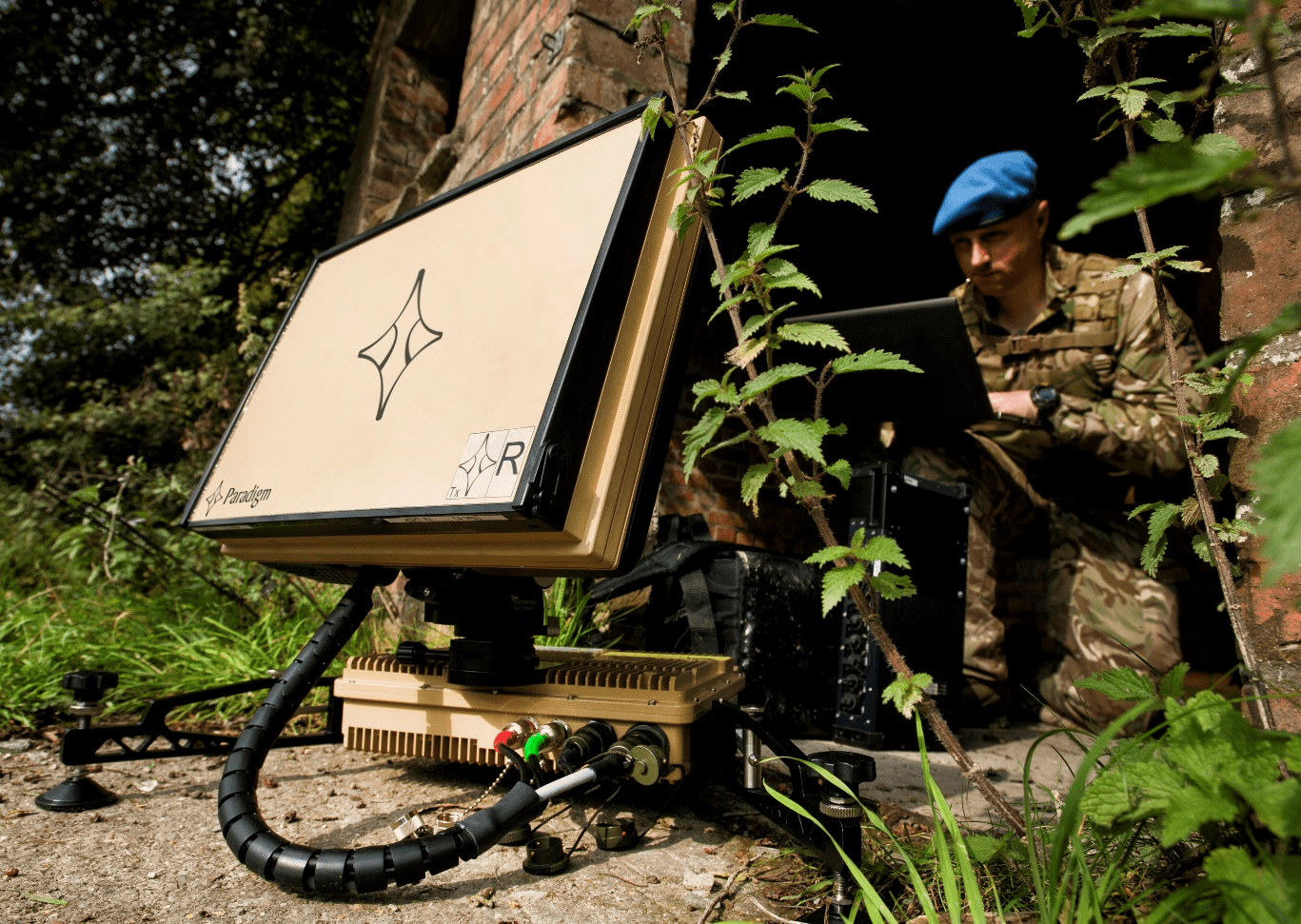 According to Warren Ackerley, Business Development Director of Paradigm, the objective is confidence: 'we've seen the industry make incremental gains in portability, throughput and power efficiency. Terminals have become smaller, more modular and have been packaged in more practical ways. Where we see real opportunity for improvement is in the user experience. It's very easy to get small powerful satellite terminals to where you need them but, it must be equally simple for field operatives to use them, under pressure'.
The prevalence of tool-free satellite terminals has increased, removing the need for specialist equipment. The advent of auto-acquire technology – using an antenna control unit (ACU); control motors integrated into orientation axis – allows users to point terminals at the press of a button, removing the need for specialised personnel. However, the additional weight and cost typical of these solutions means they're suitable in some contexts and not others.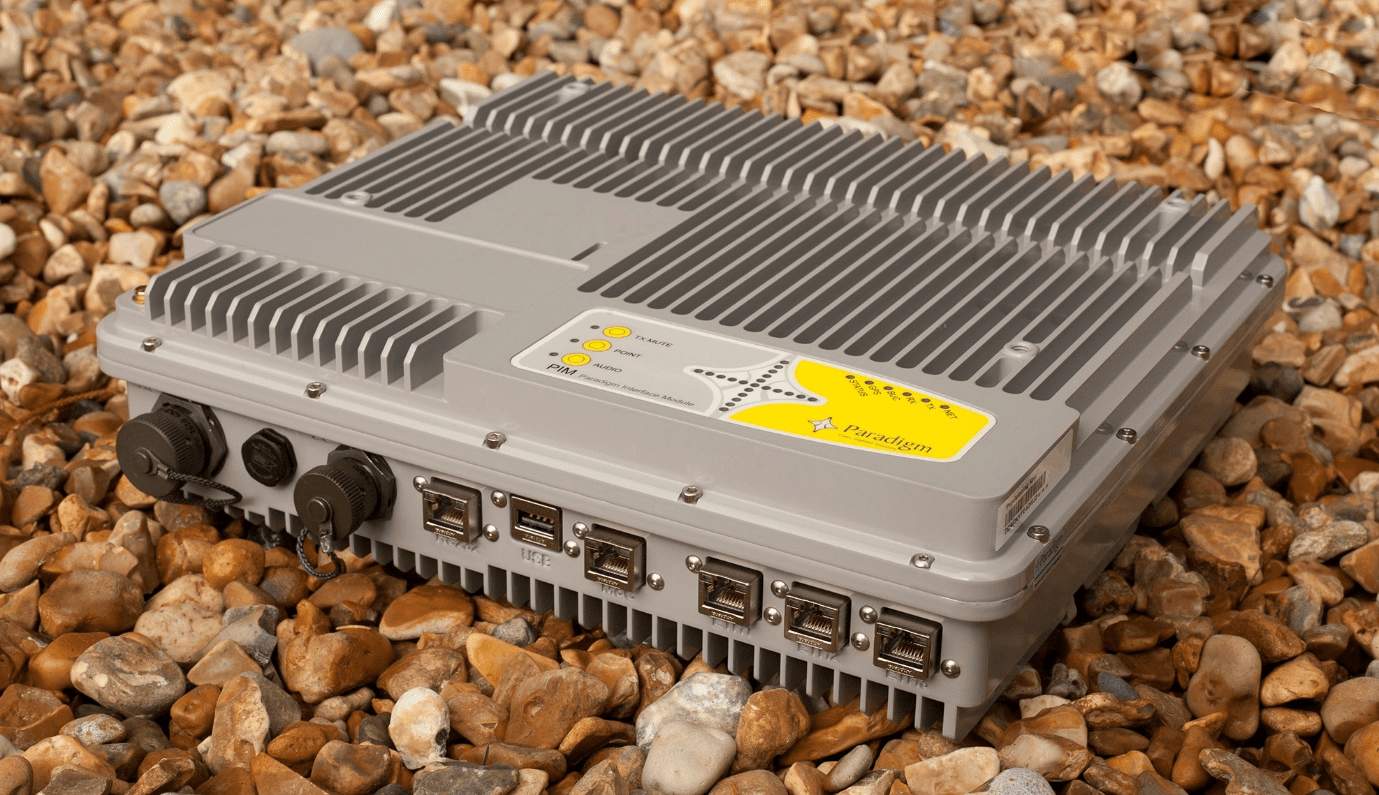 How then is this simplicity achieved while maintaining low weight, reduced cost and increased portability?
The key, suggests Warren, is focusing the user's attention on one element: 'we took the decision a few years back to power all terminals with a common interface. It integrates the modem, router, satellite alignment tool, management and power distribution. This brings a series of practical benefits but, one of the biggest problems it's solved for field operatives is the need for familiarity.'
By having the same interface replicated across the end user's terminal range, the need for training is significantly reduced and the level of familiarity increases rapidly. 'This provides confidence to users, who are often dependent on satcom equipment in critical situations' continues Warren. 'By using a simple LED orientation display and touch button operation, the manual pointing process has become as simple as using a motorised, auto-acquire version but, with significant cost savings, reduced weight and increased portability, while often delivering quicker speed to satellite acquisition.'
This technology is available in the form of the PIM® (Paradigm Interface Module) and is terminal- and modem- agnostic, meaning it can be integrated with existing terminal ranges as well as with Paradigm's own satellite terminal range, which includes the compact, rugged HORNET, popular among military and special operational forces.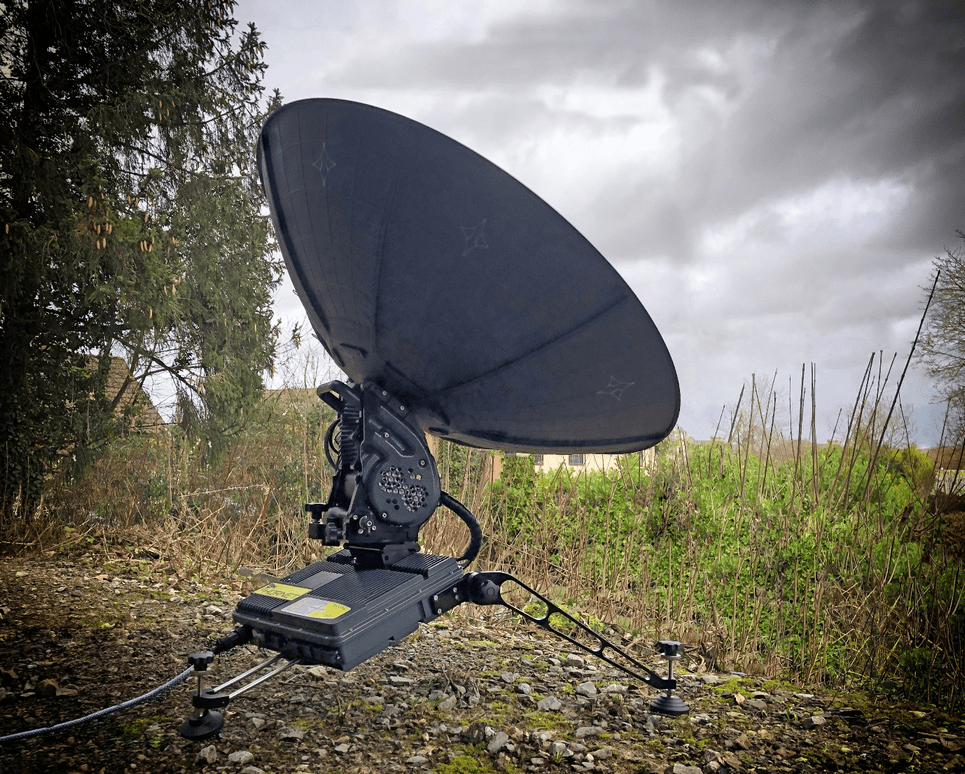 Warren concludes 'it's important that this technology benefits as wide a user base as possible and helps to bolster confidence in the satcom category as an incredibly reliable communications medium, which is why we haven't restricted its integration to our own terminal range. Further developments such as the inclusion of TRANSEC/FIPS140-2 capability, also means that our military clients in particular, can realise their ambitions for flexibility and performance without sacrificing certainty of security. Essentially, it's about developing the world's most advanced satcom technology and then making it simple to use. This gives operatives real confidence in their communications capability, however critical their mission, wherever they are in the world. We're pleased to be working with BusinessCom to achieve this goal'.
Paradigm will be demonstrating the PIM® and their satellite terminal range at the following US tradeshows and exhibitions:
SATELLITE 2021, Washington DC – 7-10 September
Modern Day Marine, Quantico VA – 21-23 September
SOFIC, Tampa FL – May 2022
BusinessCom Networks Services for Paradigm Antennas
BusinessCom offers a full suite of broadband satellite services that work with the Paradigm antennas. Our iDirect Broadband satellite services are available on a fleet of satellites located around most of the world. Our enterprise class services are designed for businesses, government, education, petrochemical, and a host of other industries. We have provided COTP (Communications on the Pause) services for a long time. The author's first COTP client was a client called Tough Mudder who produced and managed obstacle course races and outfitted an SUV with a parabolic antenna to provide internet access at the game sites that moved from place to place. That antenna was huge compared with the Paradigm antenna.
Our services are unlimited with no data quotas, caps, limits, FAPs or throttling. Unlike highly oversubscribed residential consumer services, ours are designed to support the bandwidth needs of enterprises. In a mission critical application of the sort where a Paradigm antenna might be deployed, there must be confidence that the service will deliver the contracted service as well at the beginning of the billing cycle as at the end. BusinessCom Networks offers a wide range of bandwidth rates and sharing options. Normal business traffic generally works fine with our Standard 10:1 sharing, but for applications with a lot of voice or video, our Premium 4:1 service will deliver more consistent quality, and if desired, we can customize dedicated bandwidth. All our shared services include CIR (committed information rate) which is dedicated bandwidth, generally used, along with QoS prioritization, to support real-time applications such as VoIP, or other critical applications. BusinessCom Networks can offer VoIP call termination and Direct Inward Dial services as well.
One feature we can offer to multiple users of Paradigm antennas is a managed private network. In this case, instead of purchasing separate commercial services for every antenna, a pool of bandwidth can be reserved and shared by any antennas that happen to be active, thus reducing costs, if it is unlikely all will be active at the same time. Further, since the pool of bandwidth is dedicated to a single client, upgrades offer more predictable performance.
Services are supported by our full time NOC (Network Operations Center), staffed by highly experienced engineers. The NOC can be accessed by email, phone, or our client support portal. The portal will provide the customer with traffic throughput and protocol statistics to see how they are using their bandwidth.
BusinessCom Networks provides organizations with broadband satellite and private networks around the world. How can we help you?