Amazon Launches First Two Project Kuiper Satellites Aboard Atlas 5
Oct 08, 2023
Amazon took a big step forward for its ambitious Project Kuiper broadband constellation on October 6 as an Atlas 5 rocket carrying the first two prototype satellites to orbit. Lifting off from Cape Canaveral at 2:06 pm Eastern, the United Launch Alliance rocket deployed the KuiperSat-1 and KuiperSat-2 satellites around 18 minutes into the flight.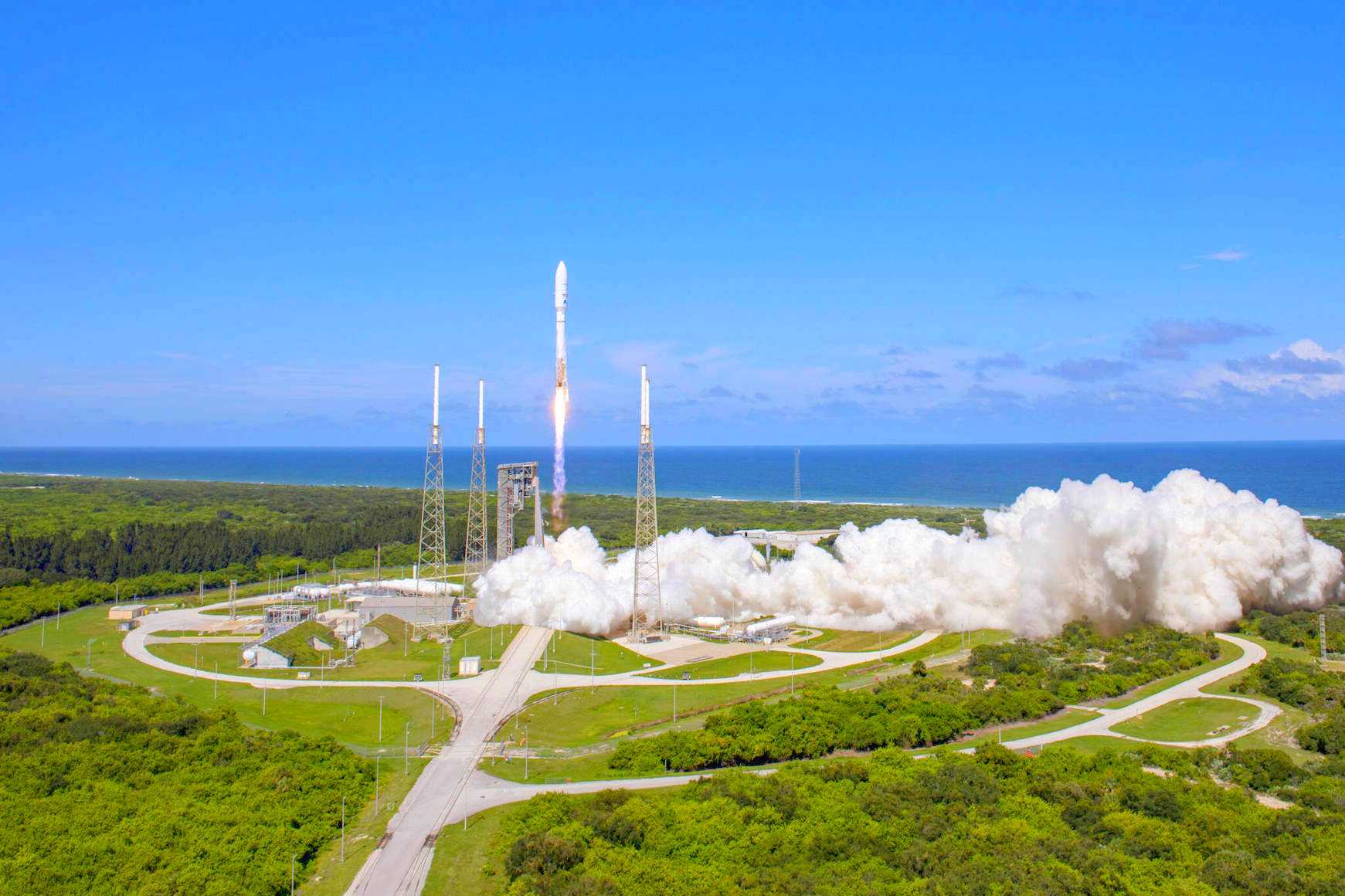 An Atlas 5 rocket carrying the Protoflight mission for Project Kuiper. Credit: ULA
"This is Amazon's first time putting satellites into space, and we are going to learn an incredible amount regardless of how the mission unfolds," Project Kuiper vice president of tech Rajeev Badyal said in his blog about the launch.
This launch marks a milestone for Amazon as it works towards deploying over 3,200 satellites by 2029 for global high-speed internet service. The prototypes will validate key systems before production satellites start launching next year to meet Amazon's FCC deployment deadline. Originally, the satellites were slated to launch in late 2021 aboard ABL Space System's RS1 rocket before delays. They were then booked on the inaugural flight of ULA's new Vulcan Centaur rocket also delayed into 2023. Switching to the proven Atlas 5 ensured Amazon's test schedule stayed on track.
This was the 99th Atlas 5 launch and the 20th commercial mission for ULA. Amazon has contracted ULA to launch 8 more Atlas 5 flights as well as 38 missions on Vulcan Centaur when ready. Amazon's ground station in Redmond, Washington acquired signals from both KuiperSats around 40 minutes after deployment, confirming they were functioning as intended in low Earth orbit. From 500km up, they can thoroughly test critical satellite and ground systems.
The prototypes weigh far less than the 500kg+ operational satellites needed to deliver high-throughput Ka-band services. But they will validate essential technologies to keep Project Kuiper on schedule, even as its contracted launch vehicles face delays.
Amazon has booked a diverse launch manifest, including 18 Ariane 6 rockets from Arianespace and 27 New Glenn missions from Blue Origin, Amazon CEO Jeff Bezos' space venture. Despite rocket delays, executives remain confident Amazon's network can still deploy on time. To meet FCC requirements, Amazon must launch half its constellation by July 2026 and finish deployment in 2029. The initial production satellites are expected to launch in early 2024 to enable customer beta testing later that year.
Few technical details have been revealed about Amazon's spacecraft. But to serve consumer and enterprise users worldwide, analysts expect advanced satellites likely exceeding 500kg each. Amazon showcased user terminal prototypes earlier this year ranging from portable units to a 48x76cm dish antenna capable of 1 Gbps speeds. The KuiperSats will prove out terminal links and ground infrastructure along with space-based systems. Following their technology demonstrations, Amazon intends to deorbit the satellites in a controlled manner. This will safely dispose of them before reentry rather than letting them decay uncontrolled.
With the first two prototypes now demonstrating key systems in orbit, Amazon is primed to ramp up Kuiper's deployment starting next year. While its contracted launch vehicles face development delays, today's Atlas 5 flight keeps Amazon's constellation on the path to start delivering global high-speed satellite broadband services within this decade.