May 14, 2015
BusinessCom is proud to deliver state of the art satellite connectivity solution that is designed from the ground up
to suit Enterprise, Government and Military environments. BusinessCom Enterprise Services combine innovative
technology and intelligent routing of IP data to support voice, data and video virtually anywhere on Earth.
BusinessCom Enterprise Services deliver legendary broadband experience to every customer. Our service features
dedicated CIR bandwidth quota, custom tailored QoS configuration precisely matching your specific business
applications, robust SLA with annual network uptime guarantees and Immediate Replacement Warranty for the VSAT
hardware. Developed to meet the most rigorous mobility and security requirements, the solution provides fast,
reliable quality of service enabled connections with Communications on the Move (COTM) and Communications on the
Pause (COTP) applications.
BusinessCom Difference
BusinessCom Enterprise Services integrate all the hardware and software needed to deliver bi-directional broadband
connectivity easily and efficiently using industry-standard Ethernet connections and TCP/IP
protocols—all while delivering the highest data throughput speeds in the industry today. And, because this system is
highly scalable for both inbound and outbound data rates, it allows users to easily accommodate current and future
bandwidth requirements.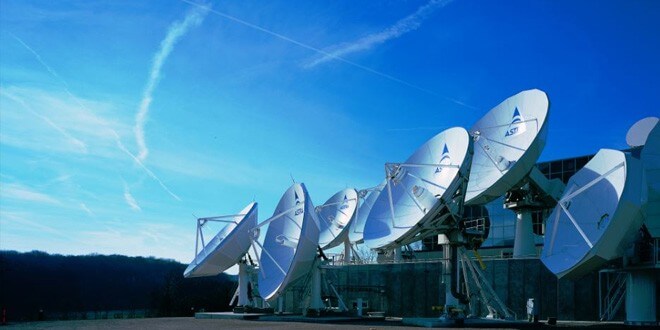 Superior technology delivers speed, scalability, and is highly reliable BusinessCom Enterprise
Services are based on a compact set-top terminal that delivers a satellite modem, IP router,
TCP optimization over satellite, encryption, and QoS/prioritization all in one easy to deploy solution.
BusinessCom Enterprise Services provide the networking power you need to support enterprise applications such as Voice over IP, ERP systems, Internet
access and many others. The Satellite
Router was developed to include all the functionality you need to get broadband access anywhere.
The Satellite Router supports the highest TCP/IP throughputs in the industry. And, since our networks can be
configured in very small increments, you can get exactly the bandwidth you need in the most cost-effective manner.
Support all network user demands. Not only can the service support any application, it can
simultaneously support data, voice and video to multiple locations while guaranteeing the delivery quality. Remote
locations will have the same capabilities as offices on landline broadband IP networks.
Manage all your remote units from a central location. BusinessCom can provide iCNO access to Network
Management System for all essential monitor and control operations from a centrally located network operations
center (NOC).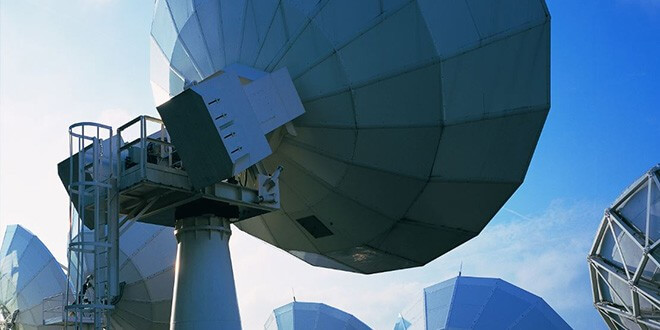 Support more applications and carry more traffic over your available bandwidth. Deterministic
TDMA (D-TDMA) algorithms allocate bandwidth among multiple remote sites, based on instantaneous conditions. Several
times a  second, our D-TDMA feature allocates bandwidth based on criteria such as the queued depth at each remote
site, the CIR (Committed
Information Rate) configuration, Quality of Service and Prioritization requirements, as well as any Rate
Limiting established at each remote site.
Leverage the most
flexible and granular Quality of Service (QoS) capabilities in the industry. You can
automatically identify, classify and prioritize data traffic across the network to provide flexible service and
application options to your remote sites. Our networks support service levels for different applications (i.e., VoIP) or locations — prioritize traffic
by protocol, source or destination ad- dress, port numbers, and other criteria. Network QoS options allow you to
prioritize real-time or non-real-time traffic over shared bandwidth.
Optimize your available capacity. Our solution is designed to help make the most of your
available bandwidth. As a pure "IP over the air solution", BusinessCom Enterprise Services save 10-50%
capacity compared to legacy TDMA solutions. Additionally, our networks are inherently designed with:
MF-TDMA
– allows the most efficient use of satellite capacity
D-TDMA – allows 98% payload efficiency
Uplink Power Control – provides higher availability
TCP and HTTP Acceleration – reduces overall bandwidth allocation
Satellite solutions made practical
Our industry-leading broadband solution is simple to install and service.
We provide everything you need—the set-top box, antenna, and outdoor electronics. This integrated, easy-to-use remote
solution also utilizes an L-band that requires fewer physical resources and allows for lower cost equipment. All
that's needed is electricity for the indoor unit and rooftop access for the antenna. Remote sites do not even
require an exterior electrical power supply.
BusinessCom Enterprise Services combined satellite coverage, both C-Band and Ku-Band satellites.
Why You Should Choose Us?
Star topology
C-Band beams for enhanced network availability
Deterministic MF-TDMA return channel
Automatic end-to-end Uplink Power Control
Optional SCPC support and AES 256-bit encryption
Ethernet interface
Automatic Beam Switching (ABS) and Global NMS support
Global Availability
The need for uninterrupted enterprise connectivity is fueling the growth of broadband services that can support many
enterprise IP applications—from data to voice to video and extend to any location; be it land, sea, or air. Advances
in satellite technology have made IP-over-satellite
the cost-effective solution for enterprises that want to expand connectivity to every location and individual no
matter where they are, ensuring total business continuity under any circumstances and in any environment.
High Performance
The benefits of true enterprise connectivity via iDirect technology touch nearly every facet of the business: greater
efficiencies, lower operating costs, increased productivity. Whether it's enabling faster, more secure financial
transactions, assuring business continuity despite network failures, or keeping a mobile, dispersed workforce
connected, IP connectivity drives business success in the enterprise.
How We Are Different
98% Uplink Efficiency
Contention-less access scheme has approximately 98% payload efficiency no matter what the congestion state of the
network. Most competitive solutions have an efficiency of about 60%. This provides an efficiency gain, which results
in better
IP performance
High Rain Fade Tolerance and AUPC
BusinessCom Enterprise Services use lower frequency ranges that are less
tolerant to rain fade, as well as Automatic Uplink Power Control for rain fade compensation. This provides higher
availability of service and more user IP throughput.
QoS
BusinessCom Enterprise Services ensure bandwidth guarantees to mission-critical applications. Service can be sized to
meet the actual requirement rather than "throwing bandwidth at the problem". Results in better IP performance.
Unlimited Traffic
Flat rate VSAT service wth no traffic limits or quotas, no overage or per MB charges.
Immediate Spare Parts
Replacement Warranty
BusinessCom delivers replacement parts immediately without waiting for manufacturer repair.
SLA and Dedicated CIR Bandwidth
Guaranteed network availability and 24 / 7 / 365 dedicated CIR bandwidth availability.
MPLS/IP VPN Extensions
Remote satellite links can be extended to your headquarters via private circuits.
Support For Business Applications (Citrix, SAP, Oracle, VPN, CAD,
etc)
Custom QoS profiles, all TCP and UDP protocols are supported, accelerated SSL-VPN tunnels.
SCPC
Ability to upgrade to SCPC (Single Channel Per Carrier) to support dedicated bandwidth links.
Private Networking (Group QoS and VNO)
Ability to pool remote terminals in groups to share bandwidth in a private environment.
WAN Optimization
TCP & HTTP Acceleration, Local DNS Caching, Compressed RTP (cRTP) for Voice over IP channels.
Managed
Bandwidth and M&C
BusinessCom Enterprise Services manage bandwidth on a per-user basis in the LAN.
With BusinessCom Enterprise Services, the subscriber gets a VSAT terminal that acts as a managed networking central
at the remote site. Instead of just routing packets over satellite, our solution delivers Layer 7 bandwidth
management, optimization and PEP acceleration, NAT firewall, user authentication, accelerated VPN, fail-over, load
bal- ancing, real-time reporting and monitoring, and many other advanced networking features and services.
The core of our service is based on strong bandwidth management. The VSAT allows to deliver guaranteed level of
service to customer's LAN on a per-host basis. The subscriber or BusinessCom NOC can control maximum bandwidth (MIR)
per each device in the network, as well as prioritize certain applications via QoS, in order to prevent band- width
abuse. For example, the VSAT service can be configured to allocate each PC a certain bandwidth level, and allow
bursts when idle capacity is available on the satellite link. The service can be configured to support business
quality Voice over IP and Videoconferencing on 24/7 basis.
Delivering reliable uplink was always a challenge in the VSAT business. If the uplink circuit is congested then
acknowledgment packets will not be able to get out of the remote network. BusinessCom Enterprise Services feature
PEP (Performance Enhacing Proxy) acceleration proto- col that allows to reduce outbound traffic up to 90% if compared
to standard HTTP and TCP protocols. This eliminates sluggish response time and speeds up Web page downloads, even
with very busy uplinks. PEP also helps to mitigate packet loss effects during adverse weather conditions. All this is
already included in our service costs. No changes to PC software settings required.
Need to deploy a VPN network? The VSAT now includes full client and server. The built-in VPN solution accommodates a
wide range of configurations, including remote access and site-to-site VPNs. It supports clients on a wide range of
operating systems including all the BSDs, Linux, Apple OS X, Solaris and Windows. The security model is based on the
SSL and is fully accelerated via satellite. It implements OSI Layer 2 or 3 secure network extension using the
SSL/TLS protocol
Among Our Customers
"We have been extremely happy with the service to date. We have been using your service on 5 terminals in varying
parts of the world and your staff has went above and beyond to ensure we acquire and maintain connectivity. Your
company and especially Maxim Usatov has been very responsive to our needs and seems to be very customer oriented and
dedicated to ensuring your services are top quality." Steven
The BusinessCom Difference
iDirect was the first in the industry to look at satellite networking as more than just a remote link. Our solution
was developed to be an extension of existing IP networks, delivering all the functionality and capability you expect
from traditional broadband networks.
As a pure end-to-end IP solution, our networks can offer our customers the tools, solutions, and expertise necessary
to enable the enterprise applications that increase profit potential, improve efficiency and advance their competitive
situation.
Unique capabilities increase your profitability, decrease your costs. Take advantage of the unique combination of
highly-efficient bandwidth usage, enormous flexibility, and superior reliability and performance. Extend your broadband
service anywhere in the world, economically, quickly and easily.