Alaska Left Without Internet Due to Fiber Optic Cable Break
Jun 26, 2023
Last week, residents in rural Alaskan towns such as Utqiaġvik, Point Hope, Wainwright, Kotzebue, Nome, and other communities were left without internet or cellular connectivity due to a 1,200-mile fiber cable break caused by an ice-scouring event. The disruption is expected to last six to eight weeks, prompting individuals to seek alternative solutions such as satellite internet to mitigate the impacts of the prolonged service outage. With reliable satellite technology, those affected by the fiber cable break can stay connected and access essential services during this challenging time.
The outage has resulted in extensive disturbances throughout the whole region, leading to a significant impact on the community residing in the area. Emergency 911 calls have been impeded, forcing individuals to seek alternative ways of communication during critical moments. Multiple businesses have been forced to close their doors due to the disruption, and financial transactions have also been severely impacted, including credit card transactions. The situation has caused frustration and inconvenience, as residents struggle to go about their daily lives in the absence of essential services.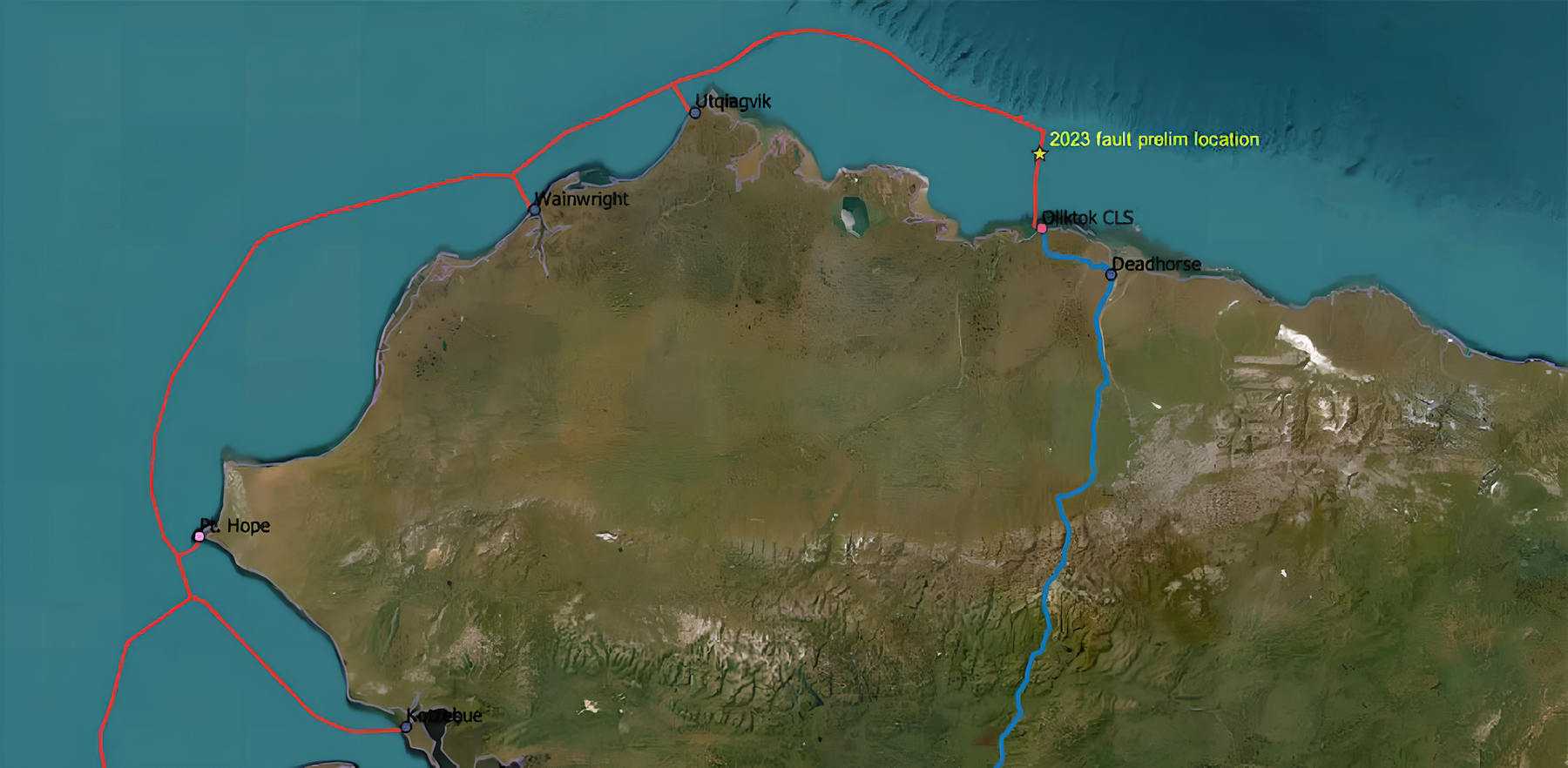 A map displaying the location where the cable has been damaged. Credit: local internet provider
As fiber cuts have left many Alaskan communities without essential connectivity, local internet providers are turning to satellite solutions to fill the gap and provide reliable internet access to their customers. This move towards satellite internet is set to become a reality in Alaska, as it offers a viable alternative to traditional internet infrastructure. The implementation of this technology will greatly benefit those who previously lacked access to reliable internet services and improve overall connectivity throughout the state.
To tackle the issue, regional internet providers have resorted to utilizing satellite technology. For instance, a local provider has collaborated with OneWeb to extend high-speed internet access to its users through satellite connectivity. This remedy not only addresses the immediate requirement for internet access in areas impacted by the recent fiber cable disruption but also has the potential to benefit other isolated communities throughout the state.
"Our sub-sea system is currently out of service," a local internet provider states. "Our dedicated team of experts is actively engaged in diagnosing and resolving the issue."
Satellites have become a favored remedy for inadequate internet connectivity in rural parts of the United States and war-torn countries such as Ukraine, which have been experiencing service interruptions. OneWeb, which has approximately 600 satellites orbiting the Earth, competes with industry giants like SpaceX and Amazon's Project Kuiper. In the past year, the company merged with Eutelsat to provide satellite connectivity all over Europe. It completed its initial constellation by launching its final batch of satellites over India in March.
The recent fiber cut in Alaska has highlighted the need for alternative connectivity options in remote areas. Satellite internet is one such option, and companies like OneWeb are working to make it a viable solution for those who are currently underserved by traditional broadband infrastructure. While there are still challenges to overcome, satellite technology could be key to bridging the digital divide in rural and remote areas around the world.
For over two decades, BusinessCom has been delivering reliable satellite services. Please contact us with any questions, such as the estimated roll-out of services in your region.