High Speed Internet on Coastal Waters
Jul 19, 2022
Many of our clients and partners are interested in the new LEO (Low Earth Orbit) satellite services being offered by current providers, SpaceX Starlink and OneWeb. BusinessCom continues to evaluate and research the various LEO options coming to the market, with particular interest in enterprise-class services that include an SLA (Service Level Agreement). The market continues to evolve, based mostly on services provided by SpaceX's Starlink constellation, which has just announced a new maritime service.
Astronomers hate the term "constellation" when it's applied to a network of LEO satellites, rather than star formations as it was originally intended. That said, the Starlink constellation is now advertising a 350 Mbps download service for the maritime industry. The new service costs $5000/mo. with a one-time hardware cost of $10,000 for two high performance terminals. Starlink Maritime will target merchant vessels, oil rigs, and premium yachts, all customers who can generally get by with best effort services. The dual, high-performance antennas are the key to maintaining connections in choppy seas and heavy storms. Presumably they will operate with similar performance as traditional radome-based parabolic tracking antennas.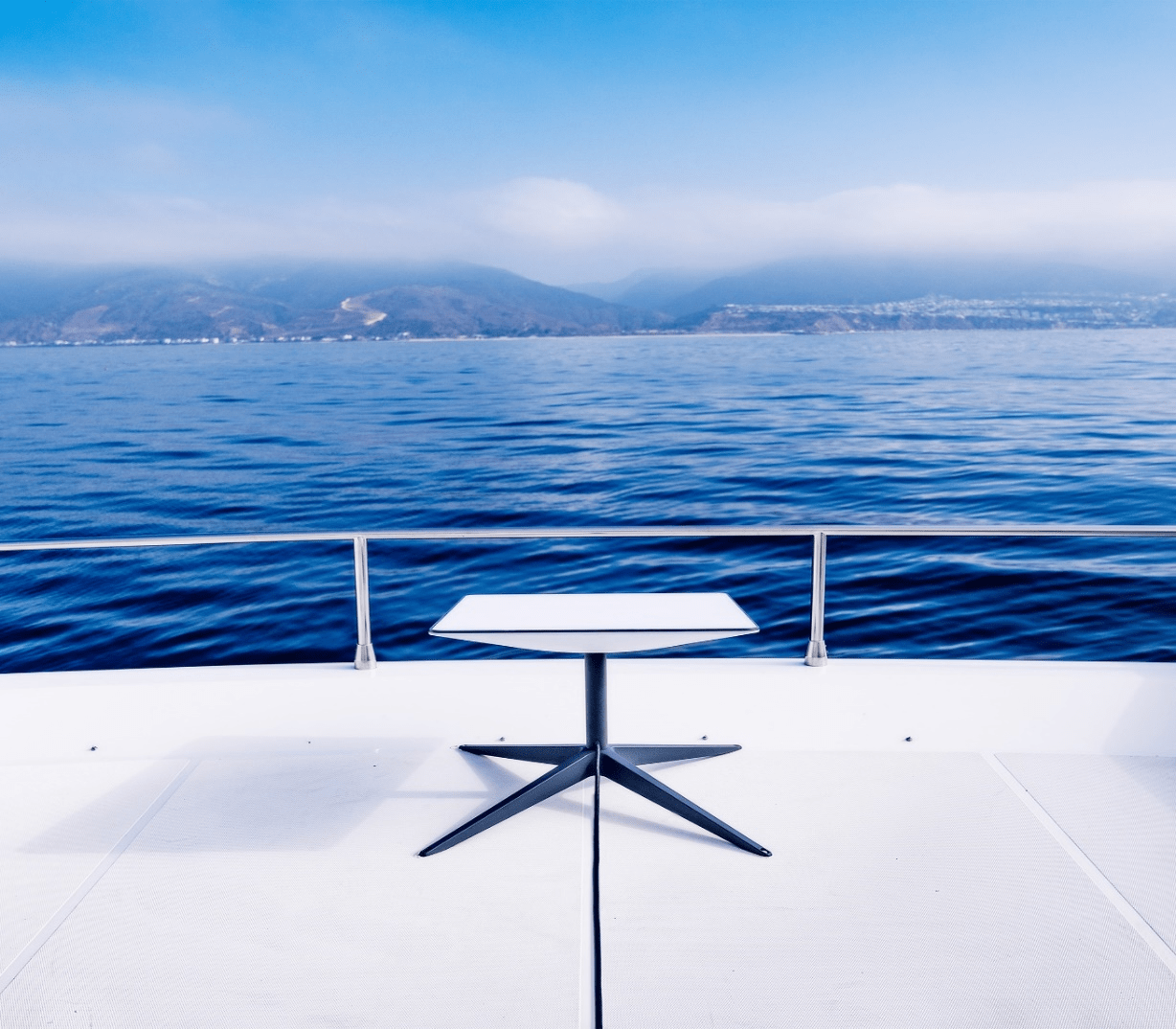 SpaceX announces Starlink Maritime. Photo: SpaceX
Starlink has confirmed that latency will not be as good as the standard terrestrial services, and the stated speeds and uninterrupted use of services is not guaranteed. This is essentially an expensive consumer class service. Please see our article, Consumer LEO – Are There Enough Unconnected? for a discussion about what deliverables are required for enterprise class services in any market, but particularly the new LEO market.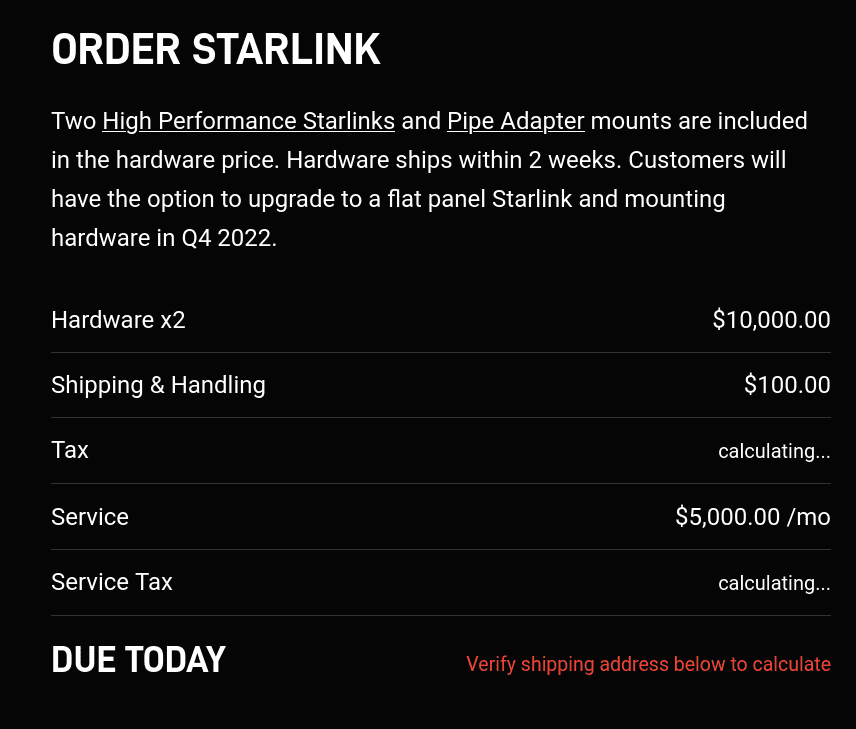 The new maritime service will leverage LISR or laser inter satellite relay links, to pass maritime traffic from satellite to satellite in space, and then bring it down to an Earth station on the ground where it is connected to the internet backbone. Laser links provide high speed low latency connectivity because light travels faster through the vacuum of space than through fiber optic or other cabling. This makes possible one terminal communicating with another directly, without having to go through the internet. The laser links are also more secure than normal radio frequency terminals which can be jammed. Passing traffic from satellite to satellite also relieves the load on ground infrastructure.
SpaceX started launching satellites with laser links in January of 2021, and all new Starlink satellites launched in 2022 are supposed to be equipped with laser links. The first satellites manufactured with the new links were in polar orbits designed to service Alaska and polar regions. The laser links mean no ground stations are needed over the poles. Traffic is passed satellite to satellite till it gets to one that is over an Earth station. Due to a limited number of satellites with laser links, the initial rollout provides maritime service primarily over coastal waters, however the service is expected to be expanded to provide global service starting in 2023.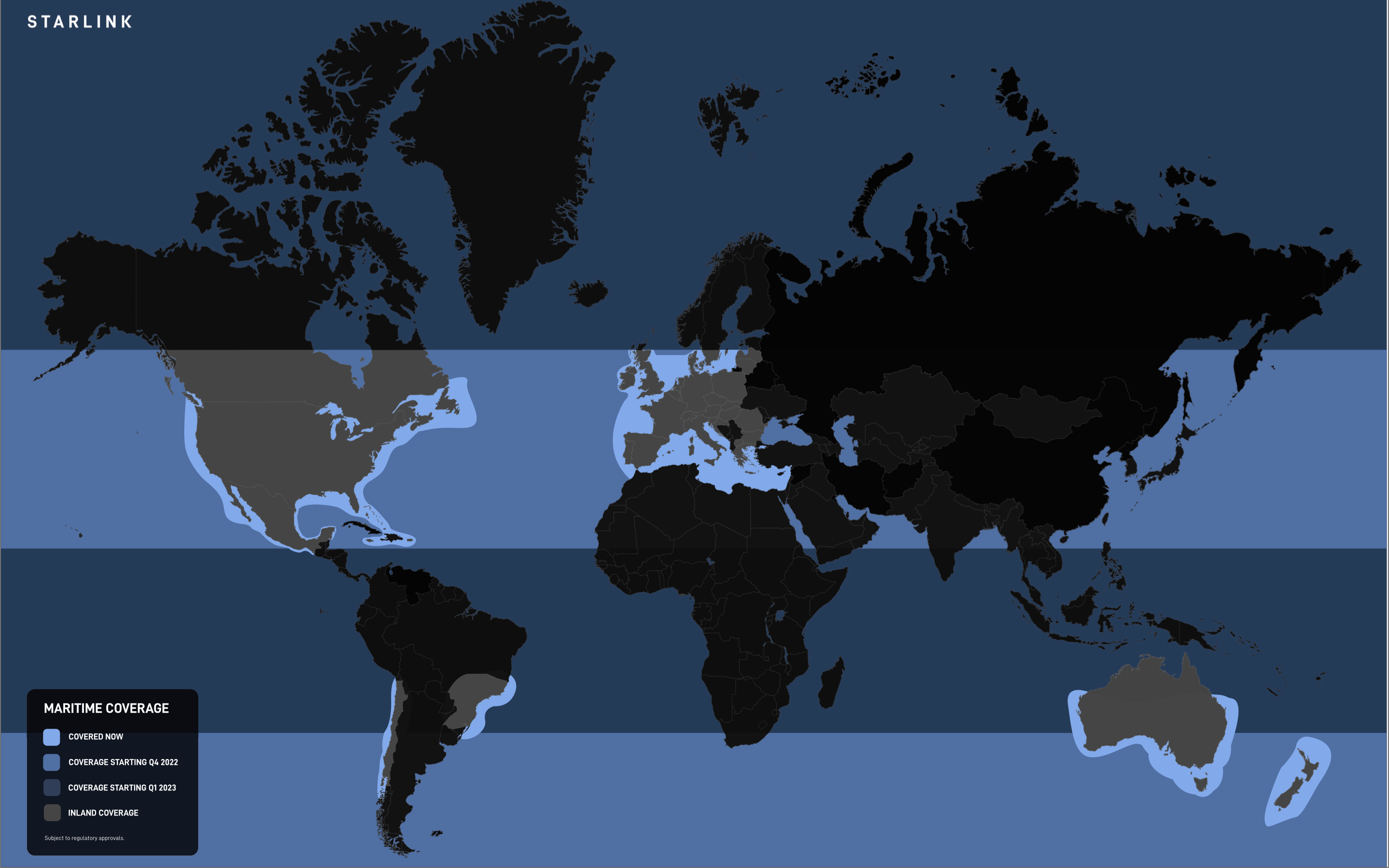 Starlink Maritime coverage map. Photo: SpaceX
Starlink is advertising 350 Mbps, but the fine print on the agreement reads, "Stated speeds and uninterrupted use of Services are not guaranteed," and goes on to say, "Actual speeds will likely be lower than the maximum speeds during times of high usage. Starlink may temporarily reduce speeds if our network is congested." Starlink performance towards the end of 2021 indicated dropping speeds for US services. Starlink's median download speed had decreased from 97.23 Mbps during Q2 2021 to 87.25 Mbps in Q3 2021, which could be a function of adding more customers, which may be offset by deploying more satellites, but it raises the question of what kind of throughput users can expect to see in what is essentially a best-effort service. There is no mention of an SLA (service level agreement) that upholds certain bandwidth levels and uptime guarantees. With the make and break connections required for LEO satellites, discussed in the "Consumer LEO" article referenced above, guaranteed uptime probably won't be an option until many more satellites are launched. As that article cautions, the number of connections that SpaceX must make and break as the satellites pass over terminals on the ground or at sea, the more processing and memory overhead the satellites will have to deal with, and the new laser links will only add to the load. Whether this can scale without impacting throughput remains to be seen. Costs will also be a factor, meaning even more subscribers will be needed for Starlink to get profitable before it's time to start replacing satellites in a handful of years.
The company allows users to pause and restart maritime service at any time, with billing in one-month increments, like BusinessCom's month-to-month service plans. This is expected to be of real interest to the leisure market. Multiple Starlink units deployed across a fleet can be remotely monitored and managed through a web portal interface. It will be interesting to see how other maritime providers react to the new service. For example, SES-Maritime's service options recently increased, while pricing for those services, decreased. Are LEO services finally starting to push down space capacity costs across the board?