BusinessCom® provides VSAT satellite services for broadband Internet access, business connectivity, service providers, mobile operators, and a wide range of industries. Our satellite fleet covers Africa, Americas, Middle East and Asia-Pacific.
Broadband Internet Access
The iDirect Broadband service provides broadband Internet access anywhere in the world. It supports all IP voice, data and video applications with quality of service guaranteed by the SLA. A wide range of bandwidth options is available, delivering up to 20 Mbps download and 2 Mbps upload bandwidth, depending on the satellite beam.
 
The remote VSAT requires only electricity to operate and can be powered from AC power or solar photovoltaic system. The iDirect Broadband service provides fully unlimited data with a quota of dedicated CIR bandwidth to support streaming applications.
The iDirect Broadband service is available in multiple frequency bands (Ka-band, Ku-band and C-band). BusinessCom selects the most appropriate frequency band to assure high service availability in any climatic conditions. This enables to support mission-critical applications even in tropical climate zones and during the monsoon seasons.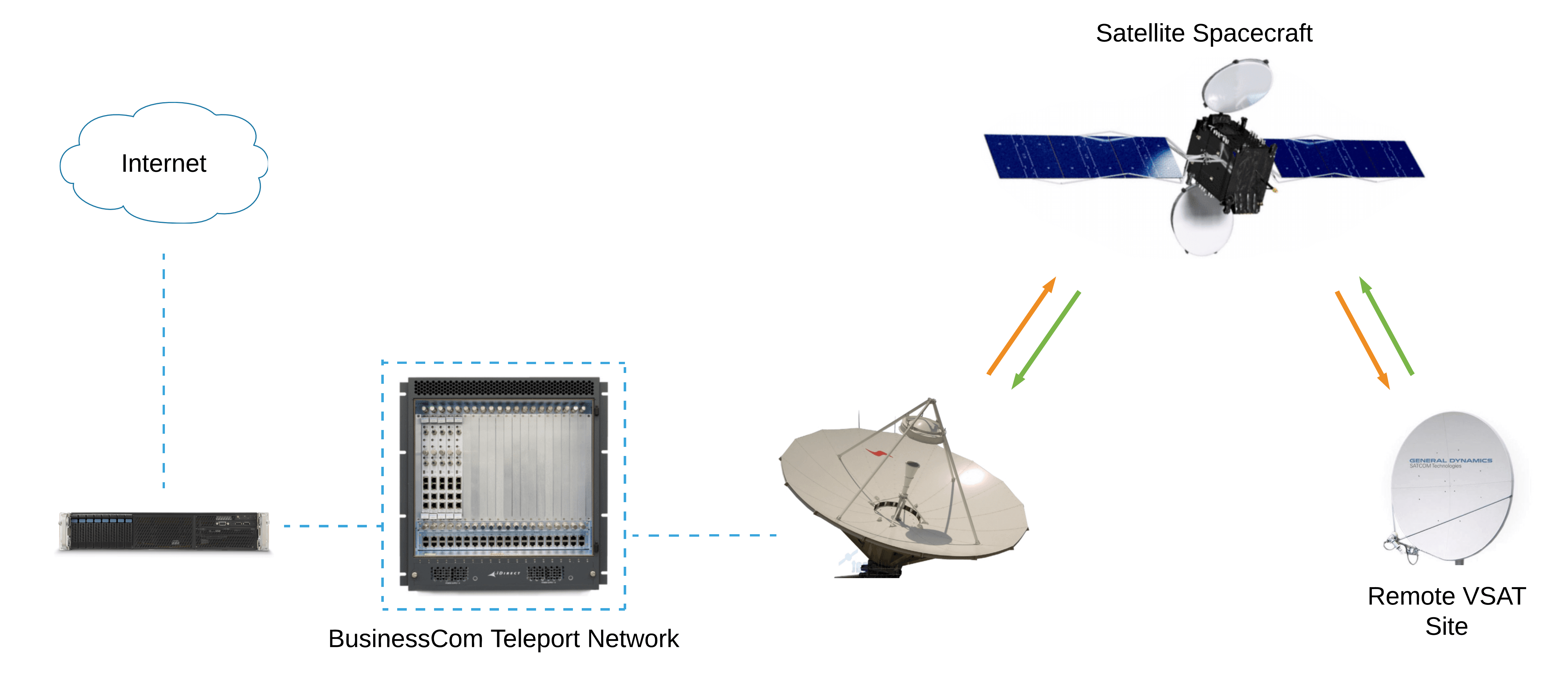 Private Satellite Networks
For business clients and other organizations with multiple remote sites BusinessCom offers private satellite networking on a number of VSAT platforms, such as iDirect, Comtech EF Data, Newtec and UHP. A remote site running VSAT connection can be seamlessly integrated into any terrestrial IP network. A private network can be set up to operate within the existing shared carriers on the satellite, minimizing provision time and allowing dynamic on-the-fly bandwidth scaling as you add or remove sites, or change bandwidth or QoS configuration.
Dedicated Bandwidth Connectivity
BusinessCom Dedicated Bandwidth services deliver 100% CIR connectivity anywhere on Earth and are perfect backbone and trunking solutions for Internet service providers and mobile network operators. A remote VSAT can be configured to support any bandwidth from 64 kbps to multiple hundred Mbps with uptime exceeding 99.5% or 99.9%.
BusinessCom uses a number of platforms, such as Comtech EF Data, UHP and Newtec, to provide dedicated services with maximum spectral efficiency and the best cost per bit/s.
For all the projects, BusinessCom can provide full turn-key service, including VSAT equipment and delivery, professional installation and on-site maintenance. For clients with mission-critical applications, BusinessCom provides fully redundant systems (1:1 and above) for both satellite and ground segments. A variety of network architectures are supported, such as hub-and-spoke (star) and mesh, depending on the needs of the organization.