Space Debris Pursuers Hit Design Target for Two Satellite Mission
Oct 13, 2023
The UK Space Agency (UKSA) is moving forward with plans for a robotic mission to de-orbit two derelict satellites from low Earth orbit in 2026. The agency has completed key reviews with two competing companies vying to build the spacecraft that will grab and dispose of the space junk.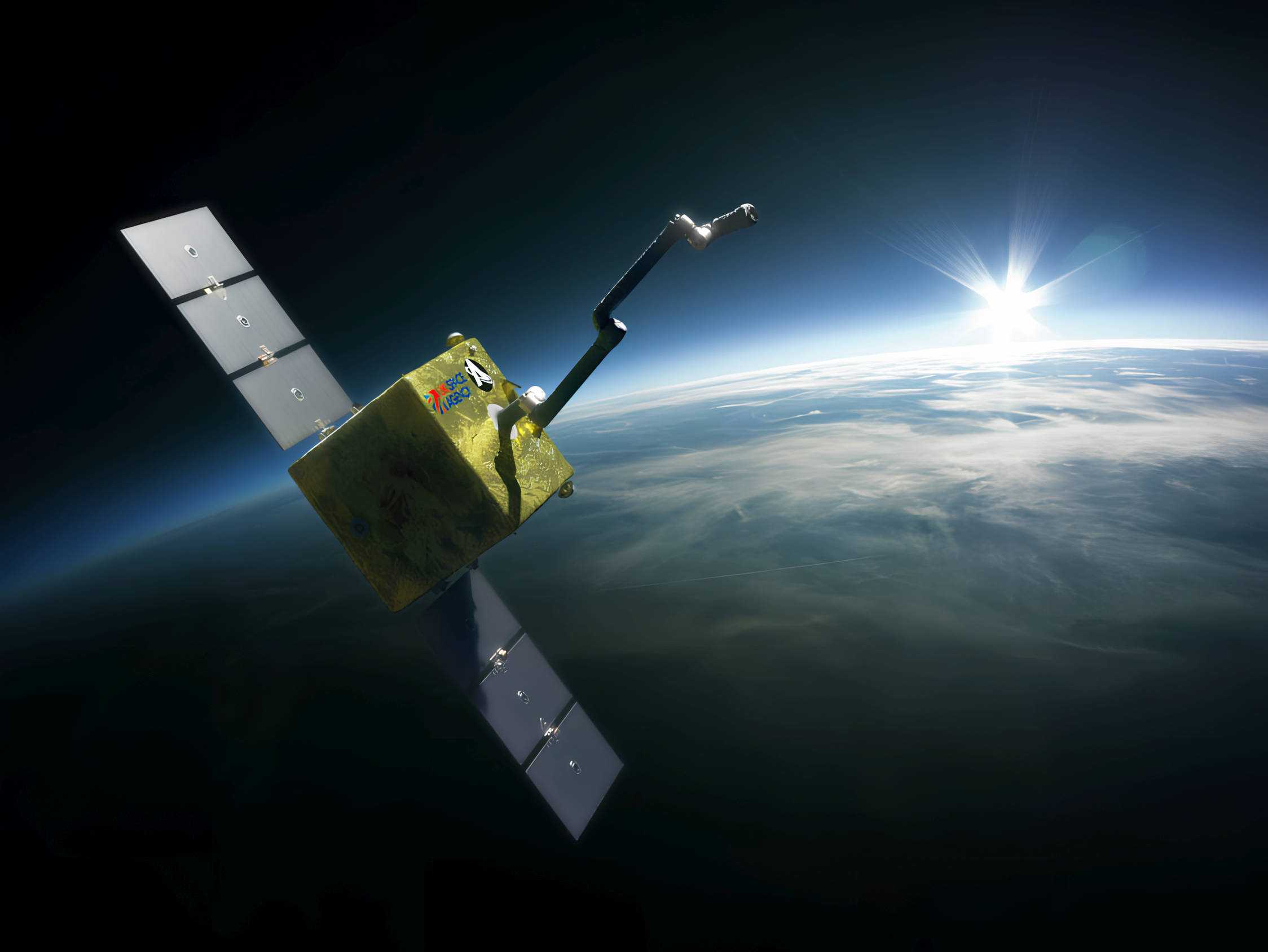 An artist's rendering of the spaceship Astroscale plans to utilize for taking two low Earth orbit satellites out of commission. Credit: Astroscale
UK-based subsidiaries of Astroscale and ClearSpace recently wrapped up the system requirements review phase of the project under initial UKSA study contracts. This review verified the feasibility and preliminary design of their proposed debris removal concepts. The mission aims to demonstrate active space debris removal, tackling the growing problem of defunct satellites and rocket bodies cluttering up orbits around Earth. Removing old spacecraft reduces collision risks for active satellites vital for services like telecoms and weather monitoring.
Astroscale and ClearSpace have now delivered their system requirements reviews to UKSA after refining the spacecraft design and technical parameters needed to rendezvous with, capture, and de-orbit two large derelict objects from low Earth orbit.
For ClearSpace, this review verified the initial configuration for a chaser spacecraft equipped with four robotic arms to grapple the two targets. The company can leverage core technologies from its ClearSpace-1 mission for the European Space Agency in 2026 to dispose of a discarded Vega rocket upper stage.
Astroscale's review covered the robotic mechanisms needed to secure and de-orbit the dead satellites. The company aims to adapt systems demonstrated on its ELSA-d and upcoming ELSA-M technology missions that utilize magnetic docking plates.
With the reviews complete, UKSA will assess the proposals and aims to down-select one provider by mid-2024 to proceed with building the flight-ready vehicle. A more extensive preliminary design review is the next major milestone for the finalist to finalize parameters.
The mission requires de-orbiting two satellites originally launched under a UK license. Target candidates include many legacy spacecraft still in low Earth orbit. The selected payloads and chaser design will be optimized for rendezvous and capture. By spurring new technologies and capabilities, UKSA intends the 2026 mission to catalyze more robust commercial debris removal services. Both Astroscale and ClearSpace aim to establish ongoing spacecraft servicing and disposal businesses.
Active debris removal is garnering increased attention as low Earth orbit becomes more congested. Defunct satellites and rocket bodies are at risk of colliding with vital operational spacecraft. Experts warn debris could spiral out of control without remediation measures. Missions like ELSA-M and ClearSpace-1 in 2026 will help validate rendezvous, proximity operations, and capture techniques. UKSA's project can demonstrate applying these technologies to de-orbit actual space debris threats.
The UK aims to strengthen its role in the fast-growing field of on-orbit servicing. Conducting an active debris removal demonstration will showcase British technical capabilities and innovative spirit.
ClearSpace is a Swiss startup founded in 2018 focused on debris removal technology. Headquartered in Ecublens, Switzerland, ClearSpace is developing robotic spacecraft to capture and de-orbit space junk in orbit. Its first ClearSpace-1 mission in 2026 will capture part of a discarded rocket for the ESA. ClearSpace aims to offer satellite life extension and orbit cleaning services commercially.