Project Kupier is Breaking New Ground
May 15, 2023
Amazon has been authorized to provide Project Kupier broadband satellite service in Argentina. According to resolution No. 560/23, published May 9 in the country's official newspaper, Amazon's Project Kupier was granted a license to provide fixed or mobile, wired or wireless, national or international information and communications technology services, with or without its own infrastructure.
The authorization by the telecommunications regulator Enacom is in line with an initiative launched in 2023 to help improve communications and reduce the digital divide in Argentina, following a government directive declaring the Internet an essential service.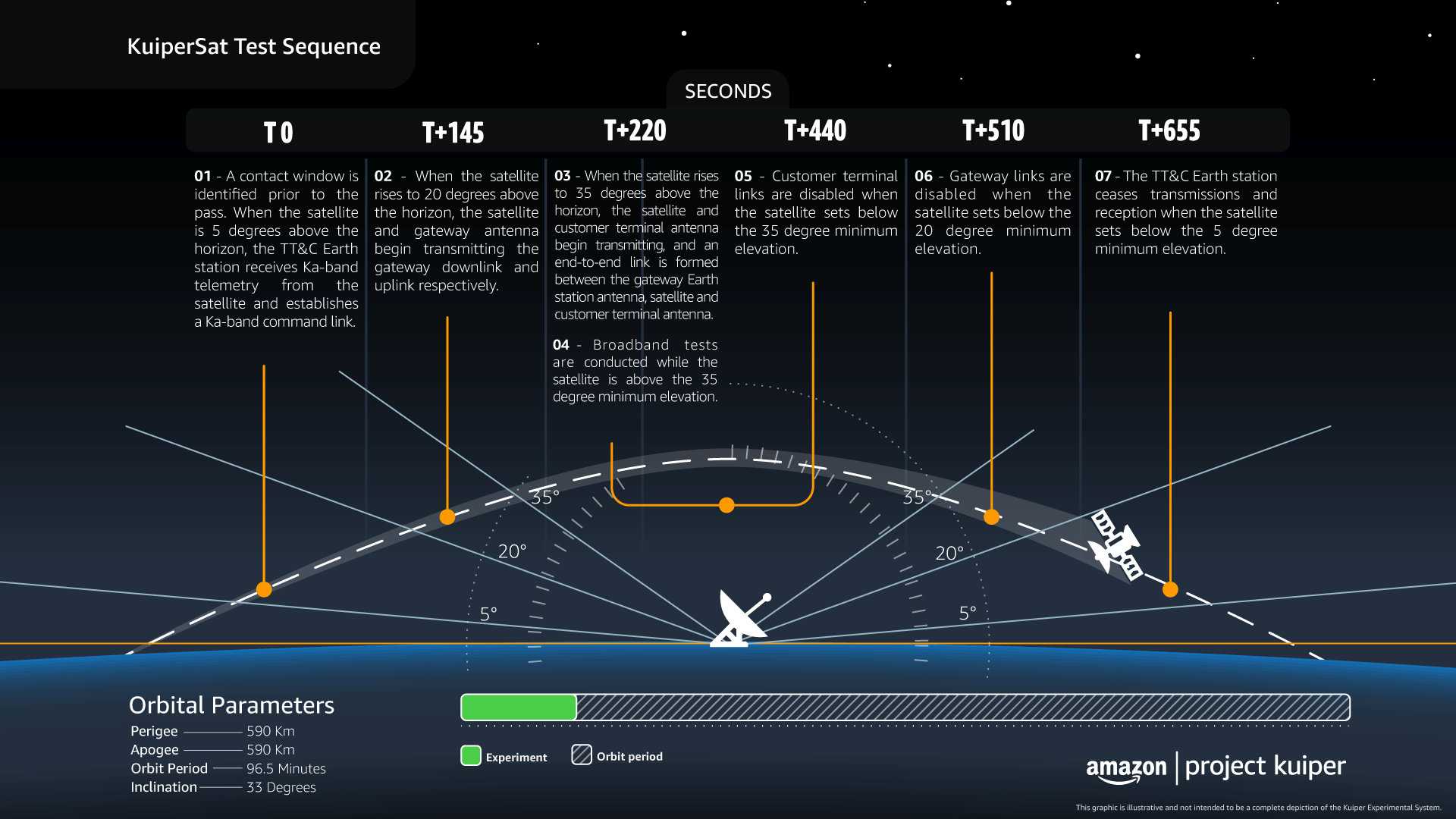 KupierSat Test Sequence
Credit: aboutamazon

Amazon's Project Kuiper plan involves 3,236 satellites into LEO (Low Earth Orbit) to provide broadband Internet access for underserved people, similar to what Starlink and OneWeb are doing.
The prototype satellites under Amazon's Project Kupier are scheduled for launch circa Q4 2023. In the first half of 2024, serial models are planned to be launched. The first customers will be connected in the first quarter of 2024. Amazon has also received approval for Project Kupier services in Brazil and United States.
"We'll definitely be beta testing with commercial customers in 2024," Dave Limp, head of Amazon devices, said at a conference in Washington.
"When we look at the answers to those four questions, we are very enthusiastic about our investments in streaming entertainment devices, our Low-Earth Orbit satellite Kupier [constellation], health care and a few other things. Do I think every one of our new investments will be successful? History would say that would be a long shot. However, it only takes one or two of them becoming the fourth pillar for Amazon for us to be a very different company over time." said Amazon CEO, Andy Jassy.
"Every technology and business decision we've had has centered on what will deliver the best experience for different customers around the world, and our range of customer terminals reflect those choices," Rajeev Badyal, Amazon vice president of technology for Project Kuiper, said in a statement.
The permission from Argentina's telecommunications regulator coincides with the fact that Amazon also received approval to operate in Brazil a few months ago. The license granted by Anatel (Agencia Nacional de Telecomunicaciones) is for five years for "98 orbital planes and 3,236 satellites in the 17.7 to 18.6 GHz and 18.8 to 20.2 GHz frequency bands (downlink) and 27.5 to 30 GHz (uplink), corresponding to the Ka-band".