Global Bandwidth Management Now Available for SES-10 and SES-14
Jan 16, 2020
SES-14 
BusinessCom Networks was an early provider of iDirect enabled services in the northern countries of South America, on the new HTS satellite SES-14. These services were activated on iDirect's new operating system "Velocity" which builds on the mature and powerful Evolution operating system running on most of our other satellite beams. SES-14 stationed at 47.5W, replaces NSS-806 and supports SES's cable services in Latin America. It also provides both wide and spot Ku-band beams, and a couple C band beams. SES-14 is an HTS (High Throughput Satellite) that deploys frequency reuse and spot beams to offer high speed, lower cost connectivity. See HTS Basics. These small spot beams support the growing demand for railroad, large transport, aeronautical and maritime mobility applications. BusinessCom will be able to offer cellular backhaul, mobile and fixed broadband delivery and a range of VSAT services for our enterprise clients.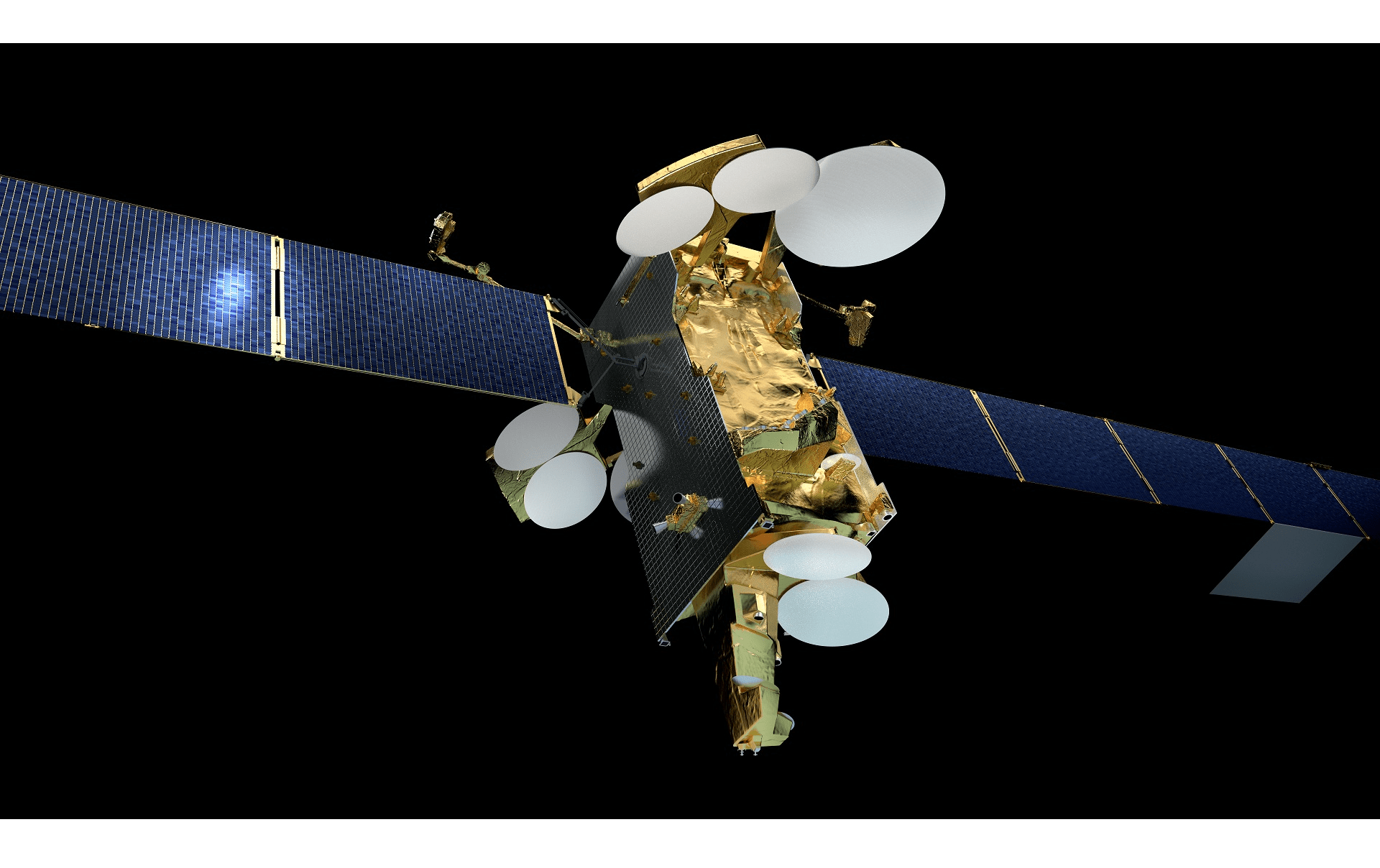 SES-14 is very interesting in that it also carries an additional payload – the Global-Scale Observations of the Limb and Disk (GOLD) as a hosted payload for NASA designed to help us learn more about space weather. GOLD Hitches a Ride with SES-14 The satellite, built by Airbus Defense and Space was launched on an Ariane 5 ECA launch vehicle on January 26, 2018 and has a designated lifetime of 15 years. The satellite footprints are as follows:
As of the date of this article, BusinessCom is providing services on all the spot beams and the two regional beams covering South America. As additional beams are activated going up the east coast of the US and across the Atlantic, back down to Africa, we plan to expand the offering. In addition, we've expanded C band coverage on the Europe America beam. As of the date of this article, we are providing only dedicated circuits on this footprint.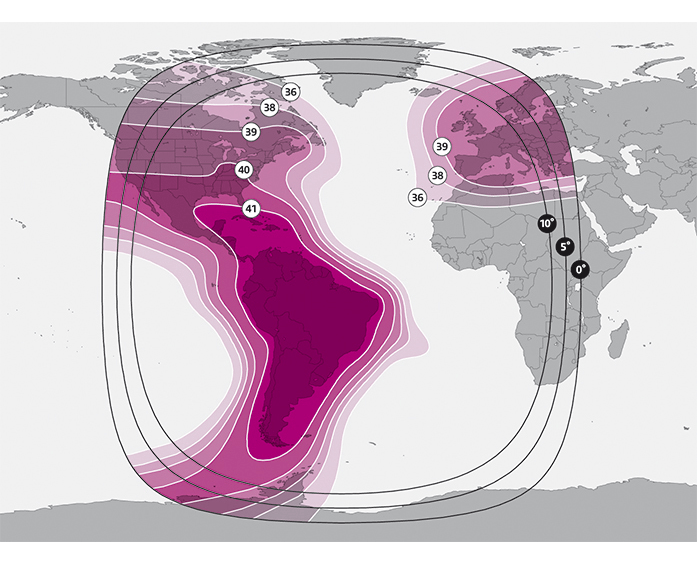 SES-10
SES-10 was launched in late March 2017 by a SpaceX Falcon 9 launch vehicle. The satellite was manufactured by Airbus Defense and Space and has an expected life of 15 years. From its orbital position of 67W, the satellite provides extensive services over Latin America. BusinessCom has deployed services on the Mexico, South America and Caribbean Beam. SES-10 is also supporting our iDirect Broadband services on the Velocity operating system.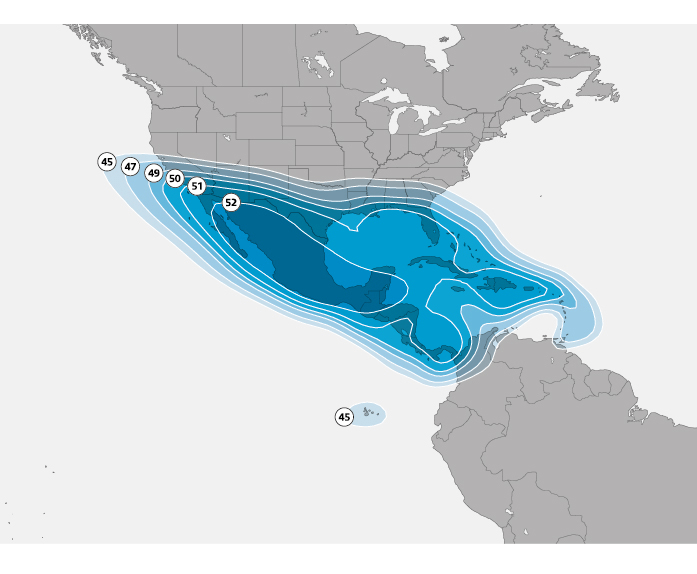 The SpaceX Falcon 9 that launched SES-10 was the first to reuse an orbital rocket's first stage, previously launched on the 23rd Falcon 9 mission. The first stage landed on a drone ship, becoming the first orbital rocket stage to return from space for the second time. In addition, one clamshell half of the payload fairing remained intact after successful splashdown accomplished with steerable parachutes and thrusters.
iDirect Velocity Operating System
Except for the SES-14 C band beam, the other footprints displayed above, are delivering our iDirect Broadband services, supported by the iDirect Velocity operating system. This operating system has been previously discussed in some detail here: What is Velocity, and why the iQ modem? The new operating system brings a number of new features and capabilities, one of which we'll cover in a little more detail.
Velocity is built on DVB-S2 with ACM, with Adaptive TDMA and other technologies designed to provide bandwidth with higher efficiency, which reduces costs, and to permit the service to adapt dynamically to changing traffic demands and network conditions.
Velocity brings advanced mobility support so that fast-moving remotes on airplanes, maritime vessels, large transport vehicles and trains can cross multiple spot beams, automatically switching beams while maintaining IP sessions. Spread Spectrum waveform, another feature, supports very small antenna designed for aircraft, maritime and land-based vehicles. A Multicast Overlay feature provides an operator with the ability to offer broadcast and unicast services simultaneously over the same network. Additional features supporting COTM (Communications on the Move) include Doppler compensation, the ability to rapidly re-acquire the satellite after its been blocked by a tunnel, trees, buildings, etc. and fast beam-switching.
Of special interest is the Global Bandwidth Management capability. BusinessCom has offered private networks since iDirect introduced their Group QoS technology, some years ago. This feature allows us to carve out a pool of bandwidth and share it between several sites, say regional or branch offices. Normally individual services are deployed for each site, meaning there's a separate service contract for each site, and normally each site shares bandwidth with other commercial sites on the service. A GQoSPN or Group QoS Private Network, allows an organization to have its own pool of bandwidth used exclusively by its own sites, so they do not compete for bandwidth with other commercial users of the service. This is a single contract covering some number of sites sharing a pool of bandwidth. This model leads to improved predictability, since only the client's sites are using the bandwidth, and with BusinessCom traffic management capabilities, this can all be accounted for. The organization's sites are only competing with themselves, as if they were one large site. This allows busy sites to take advantage of bandwidth that would otherwise be wasted if other sites are idle.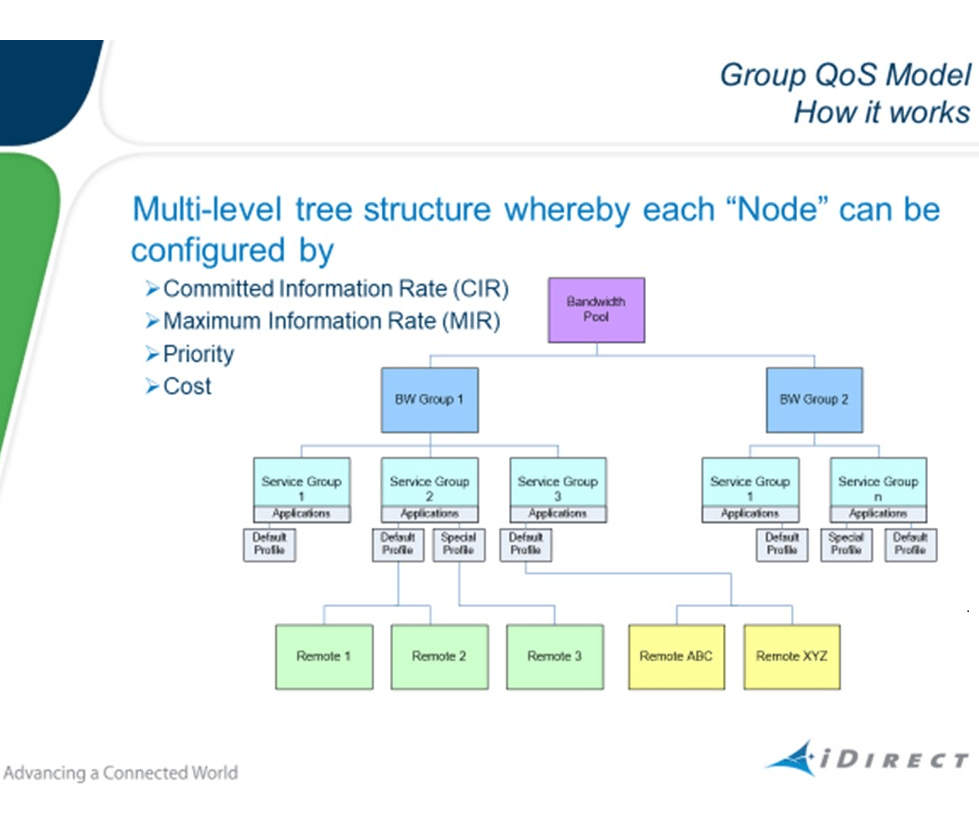 BusinessCom offers larger regional beams, such as Anik F1, that covers the entire continent of S. America, but pricing is higher on the legacy services. The spot beams and other Velocity efficiencies reduce the pricing, so clients want to move to this platform, and partners bring their new sites to the new platform to take advantage of the pricing. In the past, all the sites that wanted to share bandwidth in a GQoSPN had to be in the same satellite footprint. As noted above, the new HTS satellites achieve much of their efficiency and power by having a lot of small beams. This, it seems, would make it more difficult to deliver GQoS private networks outside of a single beam. For example, if a business had a headquarters and several sites in Columbia, but had other sites in Brazil, Paraguay, Chile and Bolivia, they could not all share bandwidth with each other across multiple spot beams. However, Velocity's new Global Bandwidth Management feature allows BusinessCom to deliver GQoSPN services over multiple regional and spot beams, as though they were a single large beam like Anik F1.
There are over 20 spot beams that cover South America. We can build a private network that spans any, or all of those beams. For example, a business might want us to carve out a pool of bandwidth and share it with regional offices located in each country, even though they are mostly on different beams. The Global Bandwidth Management feature allows us to deploy these networks over the new spot beams. Additionally, we will be able to include sites that fall on the SES-10 beam, so that they too can share the same pool of bandwidth. Building large scale, multinational networks on a new, highly efficient, cost effective platform, just became a lot easier for those who know how to engineer them.
Application Ideas
There is a lot of river traffic in South America and some of it crosses multiple spot beams. A fleet of vessels could share a pool of bandwidth and beam-switching would keep them connected as they passed from beam to beam. Trains that pass through multiple beams would stay connected and could share a pool of bandwidth with other trains, some of which might be idle at any given time. With individual services to each train, that bandwidth would be wasted, but with a private network it can be used by other active trains. Of course, organizations with sales offices or other branch offices across the continent could share a single pool of bandwidth regardless of which beam they were in. Oil and mining companies can share a pool of bandwidth between multiple remote operations. State Departments who might want secure private satellite services, separate from local ISPs at embassies across the continent, would be able to put up a pool of bandwidth for them to share, regardless of where they are located. This feature is great for disaster recovery, where the enterprise doesn't want to buy and waste bandwidth for every site, but can keep available a pool large enough to support a single site or a couple sites that might need backup and have it instantly available. Please contact BusinessCom to inquire about solutions for your multi-site operations.