Amazon to Build Facility at Kennedy Space Center
Jul 23, 2023
Amazon has started construction on a new spacecraft processing facility at NASA's Kennedy Space Center in Florida. The 31,000 square meter building will support Amazon's ambitious Project Kuiper broadband satellite constellation by preparing the satellites for launch.
The company announced plans for the facility on July 21st. Located at Kennedy's Launch and Landing Facility, the site will ready Project Kuiper satellites for liftoff atop rockets from Blue Origin and United Launch Alliance. The goal is to have the facility completed in 2024.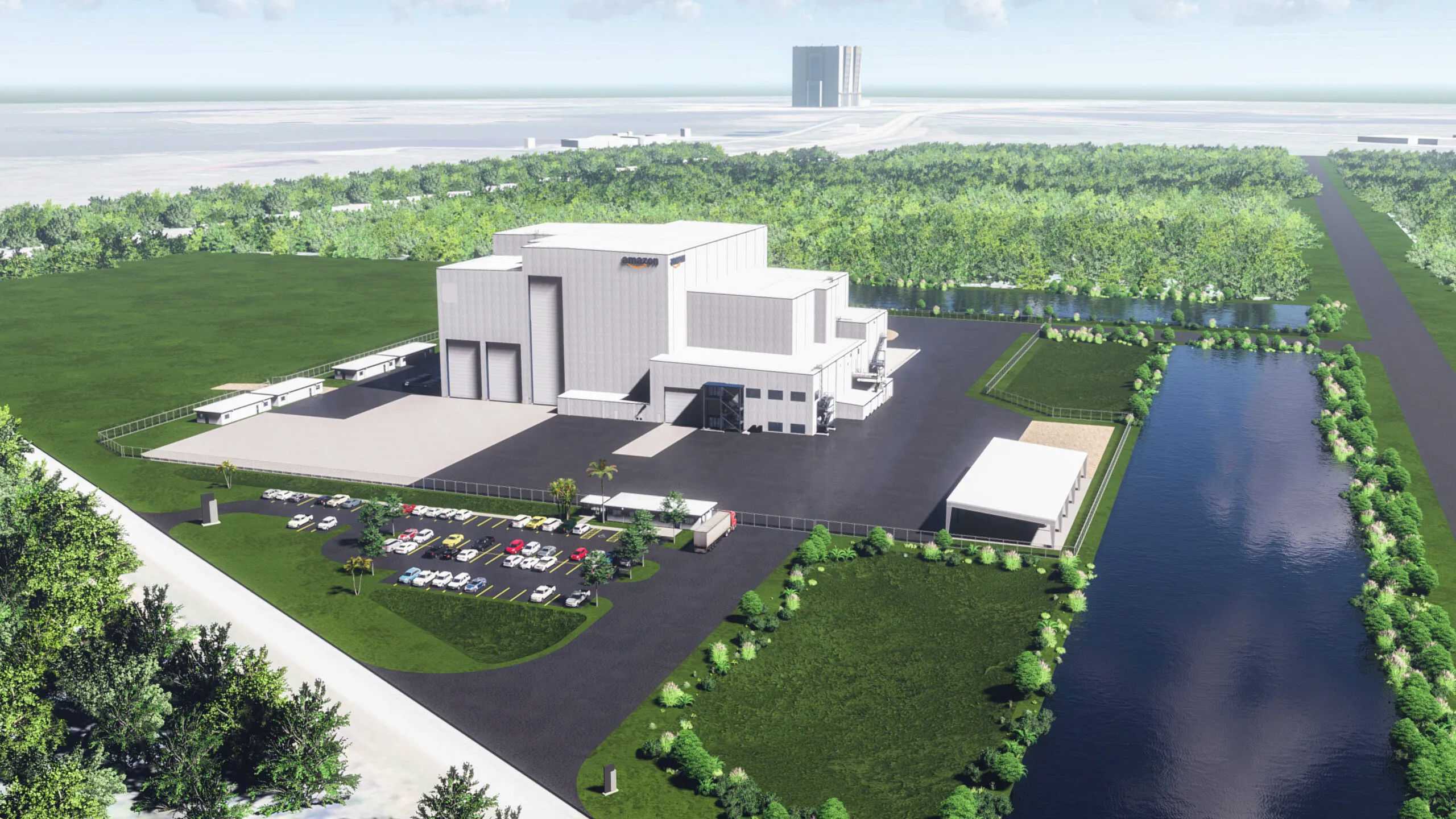 A rendering of Project Kuiper's facility at Florida's Launch and Landing Facility at Kennedy Space Center. Credit: Amazon
Project Kuiper aims to launch over 3,200 satellites into low Earth orbit to provide global high-speed internet connectivity. Amazon secured a major launch deal earlier this year with Blue Origin, ULA, and Arianespace for up to 92 dedicated Kuiper missions. The launches could begin as soon as late 2023.
Blue Origin's heavy-lift New Glenn rocket will be one of the primary launch vehicles. Each New Glenn can carry 15 metric tons to orbit, enabling over a dozen Kuiper satellites per launch. ULA's reliable Atlas V will fill out the manifests. To meet its ambitious timeframe, Amazon must manufacture and launch hundreds of Kuiper satellites per year. The Florida facility will integrate the spacecraft with their rocket payloads and perform final tests before transport to the pad.
Amazon's satellite production is already underway in Kirkland, Washington. The first satellites are expected by the end of 2023 to provide early service to enterprise customers in 2024. But the Florida facility likely won't be ready until early 2025.
This indicates Amazon intends to dramatically scale up Kuiper launches and deployments in 2025-2026. The company must launch half its constellation – over 1,600 satellites – by July 2026 to comply with FCC license requirements.
Deploying the full network of 3,200+ satellites by 2029 will be a massive technical and logistical undertaking. But Amazon appears confident in its aggressive timeline. Once operational, Kuiper stands to connect tens of millions of customers currently lacking broadband access.
The project faces competition from SpaceX and other planned mega-constellations. But Amazon believes its $10 billion investment will pay dividends and change the satellite internet market at all. Kuiper may also offer connectivity services to airlines, military users, and telecom companies.
The new Florida facility demonstrates Amazon's serious commitment to establishing its footprint in the new space economy. Just as Amazon pioneered e-commerce and cloud computing, it now aims to make affordable, global satellite broadband a reality.
The ambitious Amazon's Project Kuiper was conceived in 2018 under the leadership of Amazon CEO Jeff Bezos. By deploying thousands of advanced satellites starting in late 2023, Project Kuiper hopes to expand high-speed internet connectivity to tens of millions of underserved households, schools, hospitals, and businesses.
Despite fierce competition, Amazon believes its $10 billion investment in Kuiper will establish the company as a disruptive force in the satellite broadband industry. The full constellation is slated for completion by the late 2020s.