"We Will Never Desert You" is Second Launch for Capella in Four Weeks
Sep 08, 2023
Rocket Lab USA has scheduled its next Electron rocket launch for September 19th out of New Zealand, launching a new radar imaging satellite for American company Capella Space.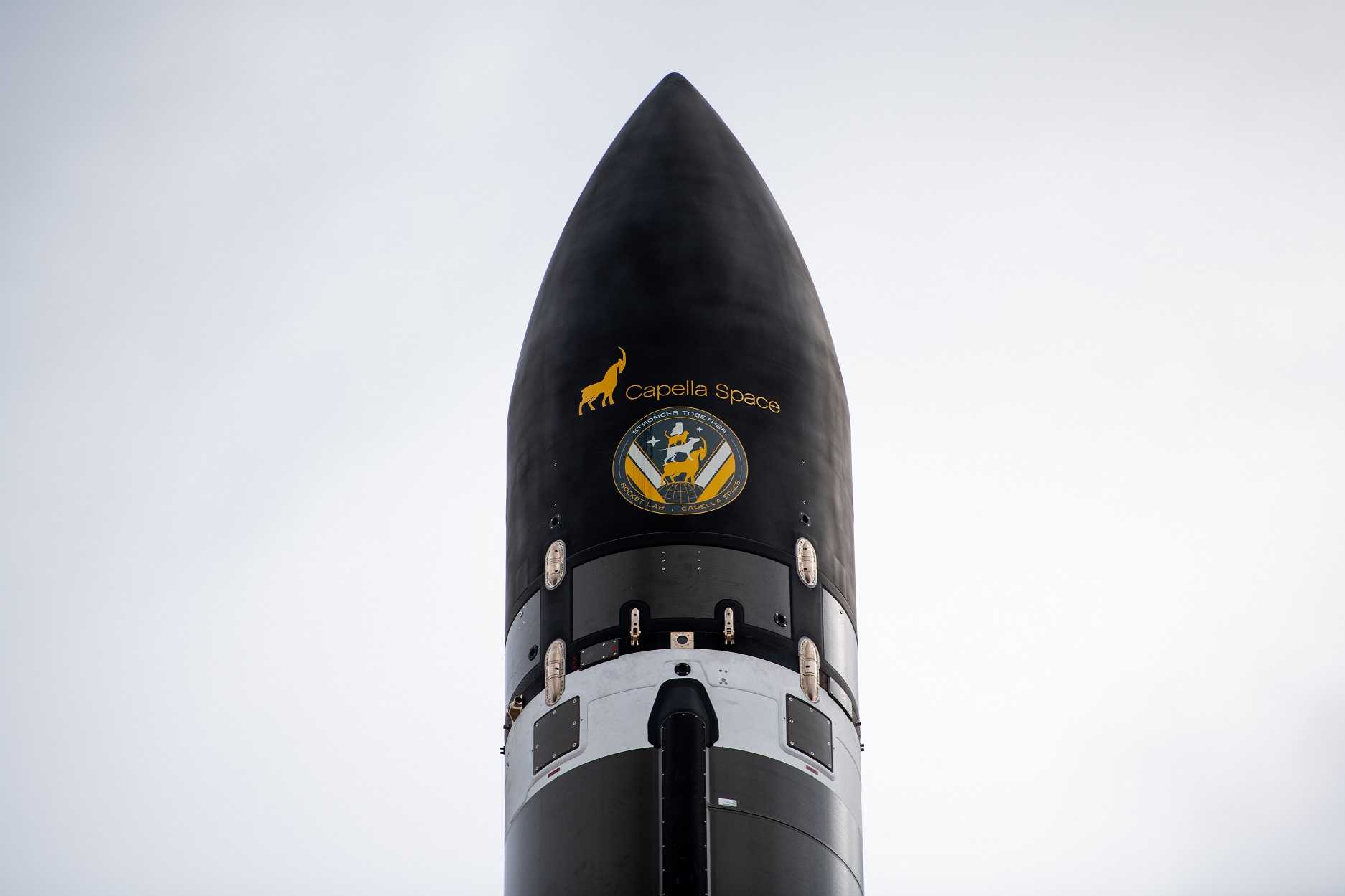 Rocket Lab's "Stronger Together" mission. Credit: Rocket Lab
The mission, titled "We Will Never Desert You", will launch Capella's second third-generation SAR satellite to low Earth orbit. Rocket Lab said this will be its third dedicated launch for Capella in 2023 and the second under a four-launch contract between the companies. Rocket Lab provides end-to-end launch services, handling all aspects from manufacture to mission management and launch operations for small satellite customers like Capella seeking frequent, reliable access to space.
The upcoming mission will blast off from Rocket Lab's private Launch Complex 1 on the Mahia Peninsula of New Zealand during a launch window opening on September 19 at 23:00 NZST (11:00 UTC).
Aboard the Electron rocket will be a Capella Synthetic Aperture Radar (SAR) next-generation satellite. Weighing around 130 kg, is the second of Capella's third-generation Acadia-class SAR satellite. Capella is a leading commercial provider of high-resolution SAR Earth observation data on demand. Its constellation can image areas of interest on Earth continuously at high resolution, day or night, and in all weather conditions.
SAR satellite uses an active radio frequency sensor to produce detailed 2D and 3D imagery by analyzing the reflected signals from target areas on the ground. This allows Capella's satellites to generate precise sub-0.5 meter resolution imagery that can detect minute changes for various applications. The addition of the new SAR will allow Capella to improve revisit rates and refresh intervals for its customers. Capella's services are used across industries including defense, energy, mining, insurance, and urban development.
Rocket Lab's Electron rocket provides a dedicated ride to space optimized for launching small satellites like those built by Capella. Weighing just 12,000 lb at lift-off, Electron can directly inject up to 300 kg payloads to 500 km mid-inclination orbit.
The first stage booster for the upcoming Capella mission will be recovered by Rocket Lab's helicopter after a parachute-assisted ocean splashdown. Reusing the first-stage boosters helps Rocket Lab increase launch frequency for smallsat customers. This will be Rocket Lab's 8th recovery and 6th for this booster which was previously recovered after the CAPSTONE mission to the Moon for NASA. Rocket Lab aims to make Electron the first reusable orbital small launch vehicle.
The upcoming "We Will Never Desert You" mission represents a key milestone as both Rocket Lab and Capella push to revolutionize access and applications in space. The launch will expand Capella's industry-leading SAR constellation as well as demonstrate Rocket Lab's accelerated launch cadence.
Both companies aim to ultimately provide real-time monitoring of anywhere on Earth. By making space more accessible, responsive smallsat launch will empower worldwide advances in science, business, defense, and environmental monitoring. This milestone mission keeps Rocket Lab and Capella at the forefront of the commercial space renaissance. It highlights their technical innovations as well as the rapidly evolving capabilities in low Earth orbit thanks to dedicated small satellite launchers.