Amazon Picks Atlas 5 to Debut Kuiper with Vulcan Holdups
Aug 11, 2023
Amazon plans to launch its first pair of Project Kuiper broadband internet prototypes on a United Launch Alliance (ULA) Atlas 5 rocket this fall, the company announced on August 7th. This launch comes after Amazon switched rockets for the second time to avoid mounting delays with other providers.
The two test satellites, KuiperSat-1 and KuiperSat-2, were originally supposed to launch aboard the debut flight of ULA's new Vulcan Centaur rocket. However, the Vulcan has faced multiple delays, with its first launch now pushed back to the fourth quarter of 2023. Previously, Amazon had planned to launch the prototypes using a rocket from ABL Space Systems. But ABL's RS1 vehicle has also faced significant setbacks.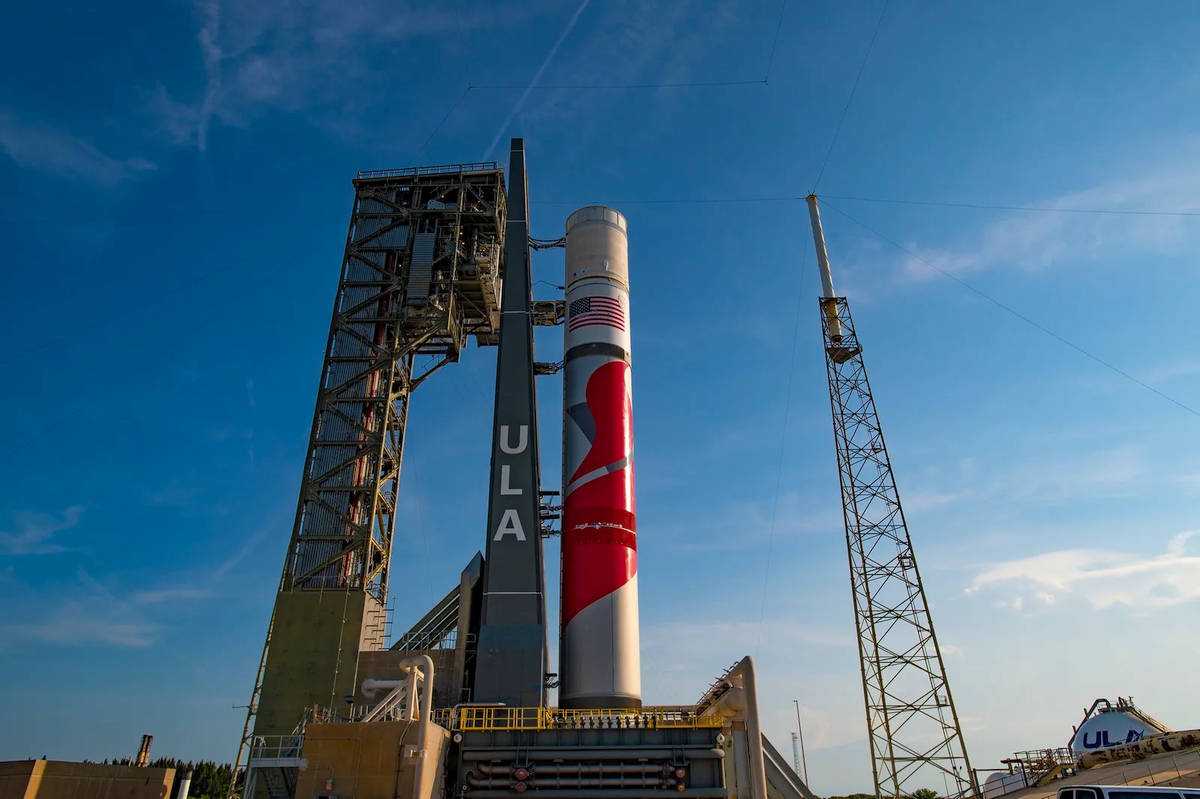 ULA's Vulcan Centaur on the launch pad for tests. Credit: ULA
With launches from both ULA and ABL delayed, Amazon has now booked an Atlas 5 rocket dedicated just to flying these first two Kuiper satellites. According to Amazon spokesperson James Watkins, the launch could occur as early as September 26th.
The Kuiper constellation is Amazon's ambitious plan to provide global broadband internet coverage through a network of over 3,000 satellites in low Earth orbit. The company has secured contracts for a total of 92 launches on various rockets to deploy the full constellation before regulatory deadlines in 2026 and 2029.
This includes 9 Atlas 5 rockets from ULA, 38 of ULA's next-generation Vulcan Centaur rockets, 18 launches booked with Arianespace, 12 missions on Blue Origin's New Glenn rocket, and an additional 15 launches from unspecified providers. Amazon plans to start launching operational satellites in 2023, with half the constellation deployed by mid-2026.
The Federal Communications Commission license requires Amazon to launch half of its authorized satellites by July 30, 2026, and finish deploying the full system by July 30, 2029. Meeting these deadlines is crucial for Amazon to hold on to its licensed radio spectrum for Kuiper.
To ramp up manufacturing capability for the thousands of satellites needed, Amazon will open a new 30,000 square meter production facility at NASA's Kennedy Space Center in early 2025. This facility will integrate, test and conduct mission management for the Kuiper satellites.
If the first two prototype satellites launch successfully this fall, it will be an important demonstration of Amazon's end-to-end capabilities for the ambitious Kuiper program. The company can then start launching operational satellites next year as it works to meet its FCC-mandated deployment deadlines.
Amazon is racing against other companies, including OneWeb, to establish competitively-priced global satellite internet coverage. Access to affordable broadband is increasingly seen as a necessity, not just a luxury, so there are potential billions of customers worldwide for this kind of satellite service.
Unlike Amazon's Kuiper, OneWeb already has working satellites launched and extensive experience deploying a large constellation. OneWeb's spectrum enables faster connections, while its satellite orbit (low Earth orbit, LEO) minimizes latency for real-time use. With billions invested from major partners like Softbank and Qualcomm, OneWeb has secured the funding and partnerships needed to lead the emerging global broadband industry.
While Kuiper has potential, OneWeb's head start with proven satellites, ideal spectrum, low latency design, and financial backing give it advantages over Amazon's offering. However, the market could support multiple players long-term.
BusinessCom Networks' OneWeb Service is designed to provide enterprise-grade, low-latency satellite connectivity for businesses and similar enterprises. The fiber optic-like service delivers sub-150 ms RTT (Round Trip Time) anywhere in the world. Features such as MSO, Secure Link, and other valuable features supported on our legacy GEO service platforms, differentiate BusinessCom OneWeb services from other generic offerings of the service.
We have decades of experience delivering broadband satellite solutions and solving problems for a broad range of enterprise clients around the world. If you want a cutting-edge OneWeb's LEO satellite connection and need cost and timing information, contact BusinessCom.